It is a refreshing, airy April evening on The Yard.  
Activist Victoria Kirby York (BA '09, MPA '11) is wearing a breezy, rainbow jumpsuit as she leads me to the Blackburn Center on a campus tour to discuss Howard's queer Black icons, and prominent spaces containing their history.  
"Every Friday at 7, we had our meeting. Always in the same space," York says as we move to rooms 150 and 148. She was a member of BLAGOSAH, the Black Lesbian and Gay Organization of Students at Howard University. "Part of the reason why we were able to have a lock on those rooms was Roberta McLeod, who was director of the Blackburn Center."  
We stopped outside to acknowledge the Divine Nine's sorority plots. Lucy Diggs Slowe, Alpha Kappa Alpha Sorority, Inc.'s first president and Howard's first female dean (Dean of Women), refused to relocate on campus and leave her housemate of 15 years, playwright Mary P. Burrill who is believed to be Slowe's partner.  
Zora Neale Hurston, the famed alumna and author of "Their Eyes Were Watching God," who was also thought to be bisexual, co-founded the student-ran newspaper, The Hilltop in 1924. Even across The Yard, York mentions that Banneker Field is a landmark location where the very first Black pride celebration took place on May 25, 1991.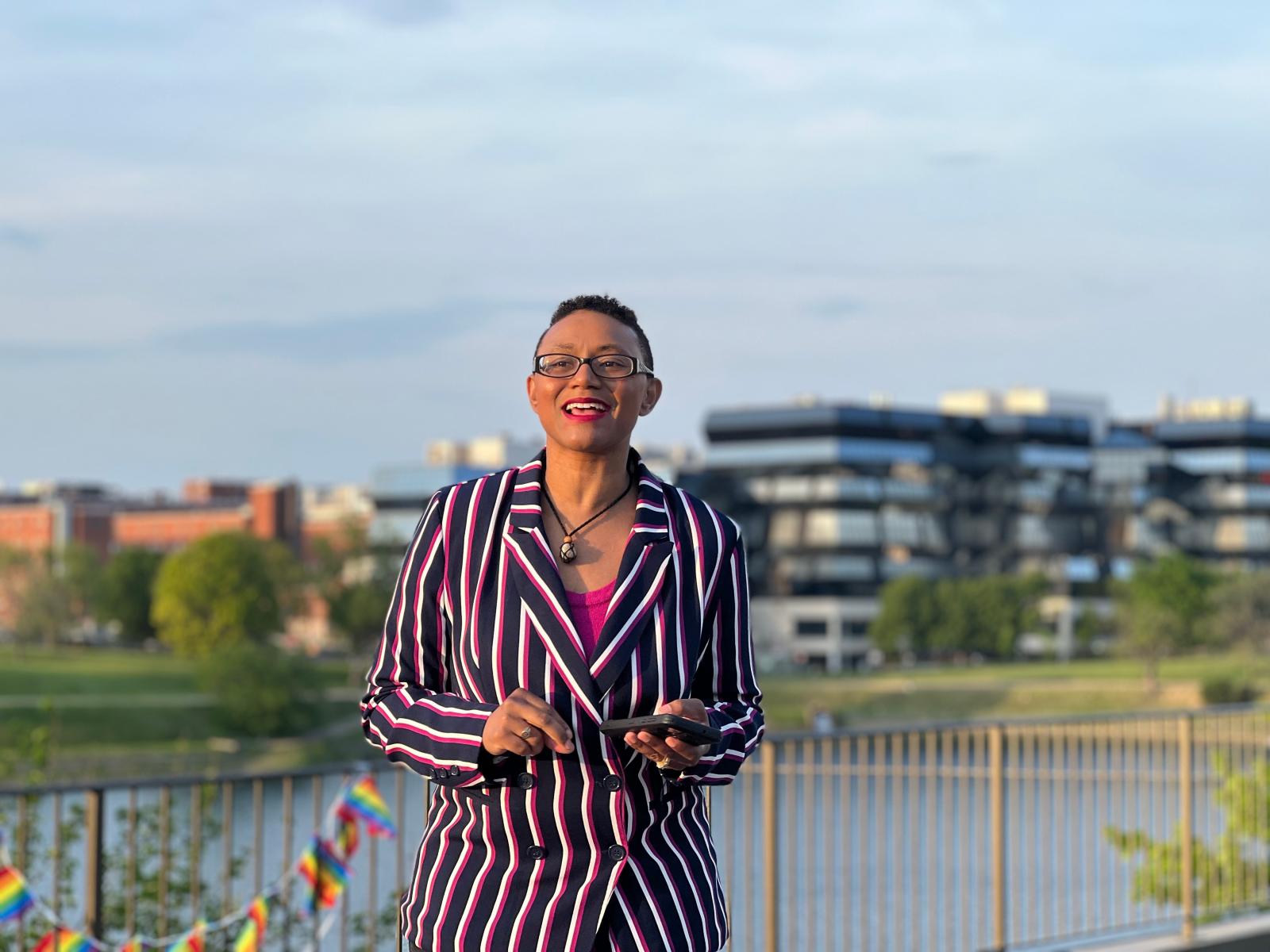 "The next stop on the tour is Alaine Locke Hall," York says.  
Considered the grandfather of the Harlem Renaissance, Locke was private about his sexuality publicly though his friends and inner circles knew he was gay.   
"He was the first African American Rhodes scholar back in 1908," she says. "Many of his students first started off honing their craft and writing here at Howard, then went on to start the Harlem Renaissance." 
York is Howard's queer history too; she was the first openly gay student member to serve on the Board of Trustees. She drafted legislation such as The Lavender Report to highlight the importance of LGBTQ+ resources on HBCU campuses, nudging Howard's administration to implement a full-on LGBTQ resource office. 
"It was pre-marriage equality, pre-Obama and [Howard administration] were slow-walking me," she recalls. "Eight years later, we have our LGBT office, they also hired an intercultural affairs coordinator, so it wasn't a full office, but a playoff on that concept. Gaëlle Amazan-Ivory was the director when CASCADE got its first office and student LGBTQ group."   
Emotions consumed her when she stepped foot in room G-18 of the Blackburn Center, current home to the Intercultural Affairs and LGBTQ+ Resource Center, established in 2022.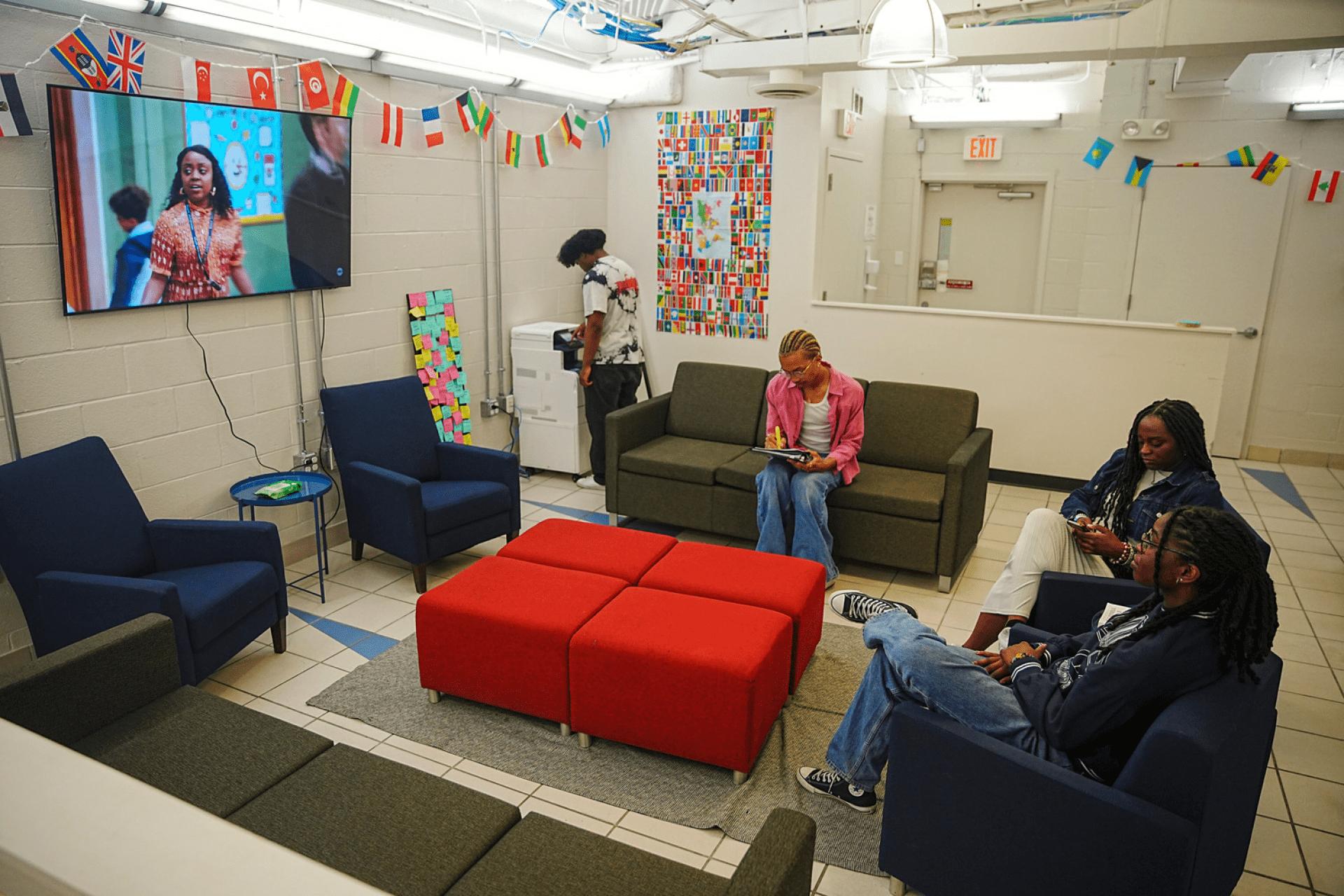 'My Blackness is gorgeous' and 'My Blackness is queer' is written on periwinkle blue sticky notes by the entrance. Four navy loveseats face one another to spark fellowship. Student study sessions take place in the corner where two tables and a bookshelf await them.  
It was a dream actualized. Out of the 107 HBCUs, only 10 house a LGBTQ student resource center. Among those ten, Howard is the only private institution. 
"We left really feeling like we put all this effort into this idea and then it never happened, so that's part of why I'm feeling so emotional right now," York admits with glossy eyes. 
According to BestCollege.com, in partnership with the Campus Pride Index Tool, Howard was named the no. 1 most inclusive HBCU for LGBTQ-identifying students. But what makes an HBCU "LGBTQ inclusive," and how do these practices span throughout the University's innerworkings?
LGBTQ+ Resources at HBCUs 
After crowning Howard the most inclusive HBCU, Best College.com editor Vanesha McGee, MEd, describes challenges for LGBTQ students as HBCU administration's lack of LGBTQ knowledge and the stronghold of gender roles and gender binary throughout the African diaspora. Lack of accountability and shortages of mental healthcare are problems as well.  
"Homophobic and transphobic actions at HBCUs, including verbal and physical violence, aren't always met with adequate consequences. A lack of institutional action on this bigotry allows it to continue," McGee says. 
Steve Mobley, PhD (BA '05) is currently an associate professor in the Department of Advanced Studies, Leadership, and Policy at Morgan State University. He specializes in Black queer and trans communities at HBCUs.  
As a student in the early 2000s, Mobley cherishes his undergraduate experiences around The Mecca, but only when he removes his queerness from his identity.  
"I will say during my time period, Howard was not safe for LGBTQ folks," Mobley remembers. "When I was there, I decided to shut out an entire part of me, which was being gay, because I wanted to ascend this sort of social hierarchy."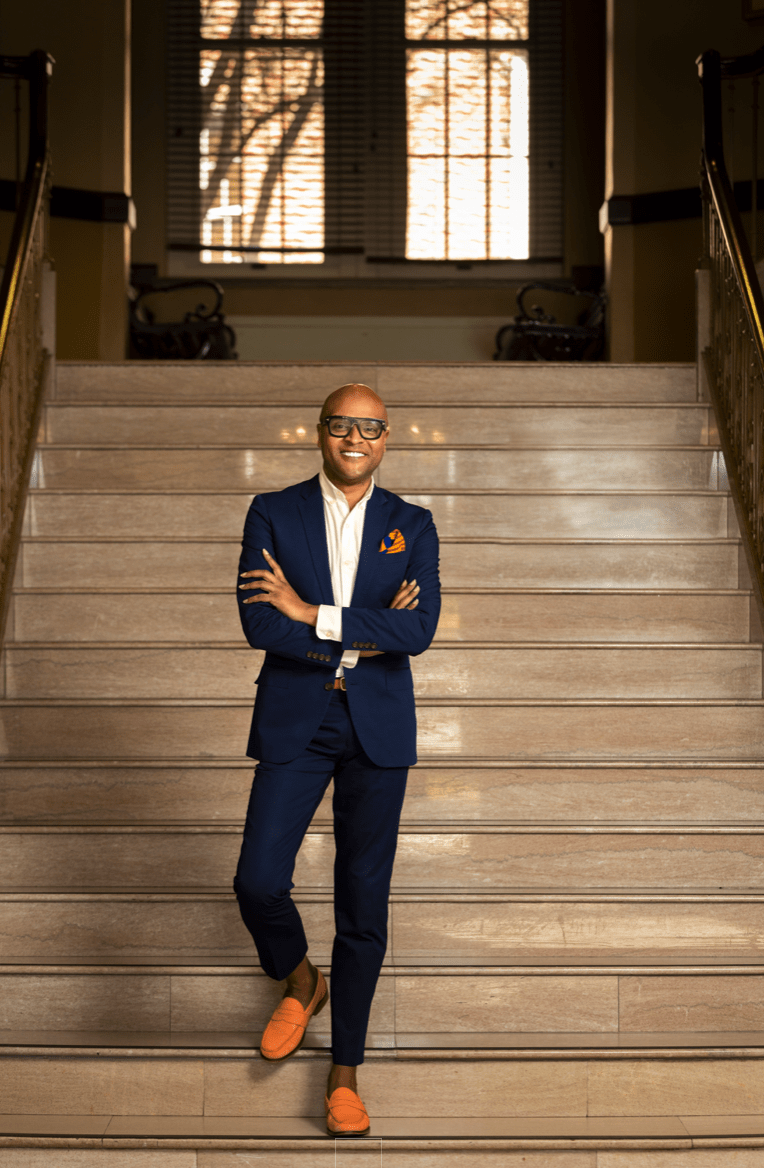 As Mobley matriculated, his fellow classmate Darryl Payton was bashed by members of the Howard's Showtime Marching Band for being gay. He recalls the moment when the student body protested the visiting author, J.L. King and his book, "On the Down Low: A Journey Into the Lives of Straight Black Men Who Sleep with Men." 
"It started this witch hunt on campus, which was always ever-present, about who's gay and wanting to out people," Mobley says. "I knew of Black, heterosexual women, some classmates, many of whom would go to gay clubs to have fun with their friends, but there were some who would legit go there to see who was who and, in turn, out people." 
From student handbook policy audits to gender inclusive language in campus messaging, Mobley says "deliberate intentionality" that uplifts, affirms, and encourages queer students to be their authentic selves should be implemented at every HBCU.  
In 2020, Mobley and Leslie Hall, a PhD student in Higher Educational Leadership and Policy Studies at Howard, examined prominent themes of queer student success in their study "(Re)Defining Queer and Trans Student Retention and Success at HBCUs."  
Enrollment management, academic/classroom experiences, out of classroom experiences, and queer and trans HBCU alumni engagement were four prominent themes when discussing HBCUs' student engagement and retention models.  
The study also highlighted systemic issues regarding the intersectionality state that "Black queer and trans HBCU students are also forced to reconcile the fallacious belief that Blackness and queerness are incongruent." 
.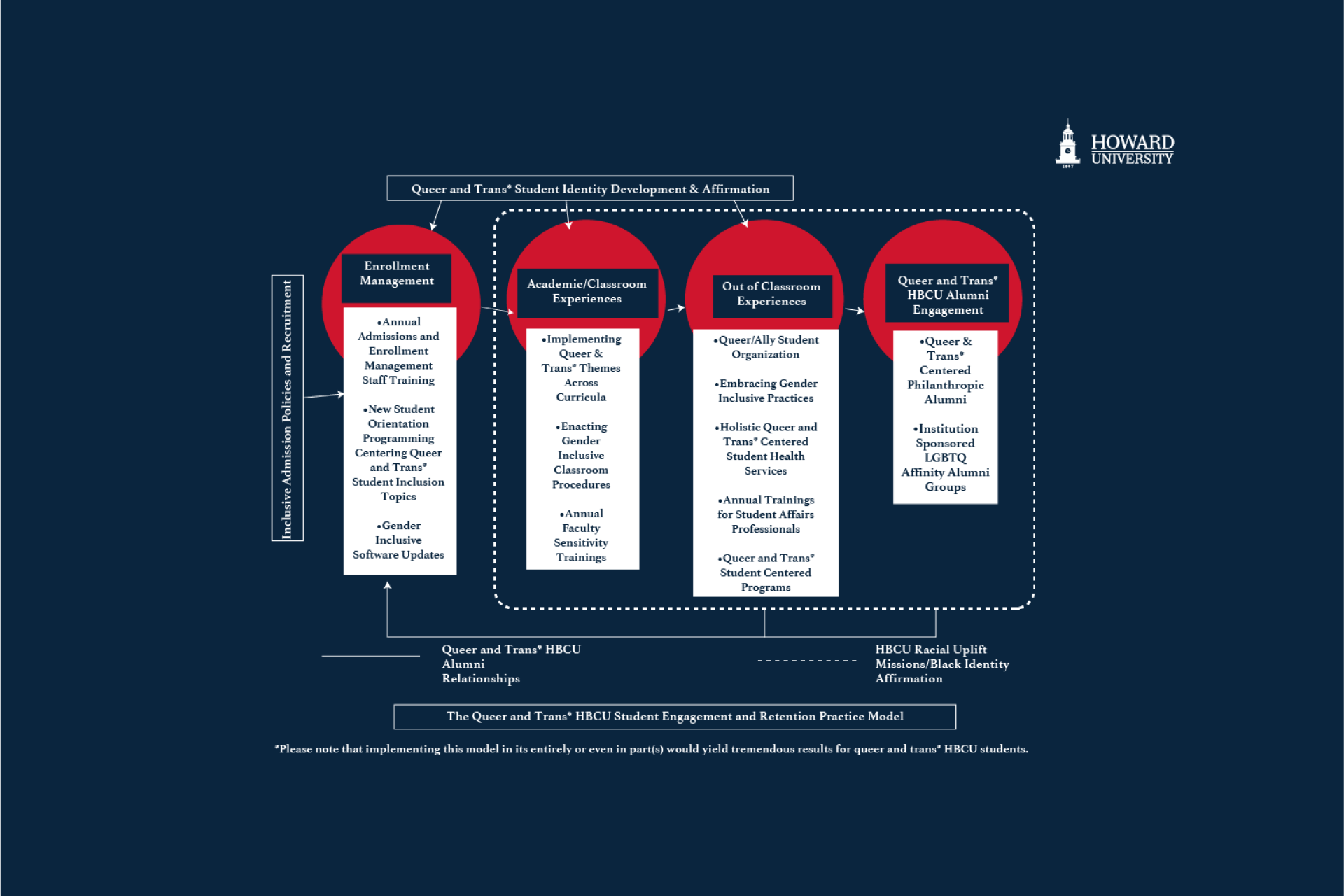 The Campus Pride Index measures the queer student safety through 15 categories of resources such as active LGBTQ student groups, support services, safe zones, queer living spaces, counseling groups and HIV/STI testing. Howard checks 10 categories. 
"It needs to happen from recruitment to graduation and wrapped back around," Mobley says. "Once [students] arrive, are they going to have to fight for their preferred pronouns and names to be on these rosters? Do you have gender inclusive housing available? At bare minimum, do you have gender inclusive bathrooms? It doesn't have to be everyone's work, it just can't be the work of one center, if even fortunate enough to have a center."  
Howard's 17th president, Dr. Wayne A.I. Frederick, has made strides in serving the LGBTQ+ communities through support and advocacy. The raising of the Pride flag at the Blackburn Center and the Bison basketball teams hosting the first-ever Pride night this past February are a few prominent moments under President Frederick.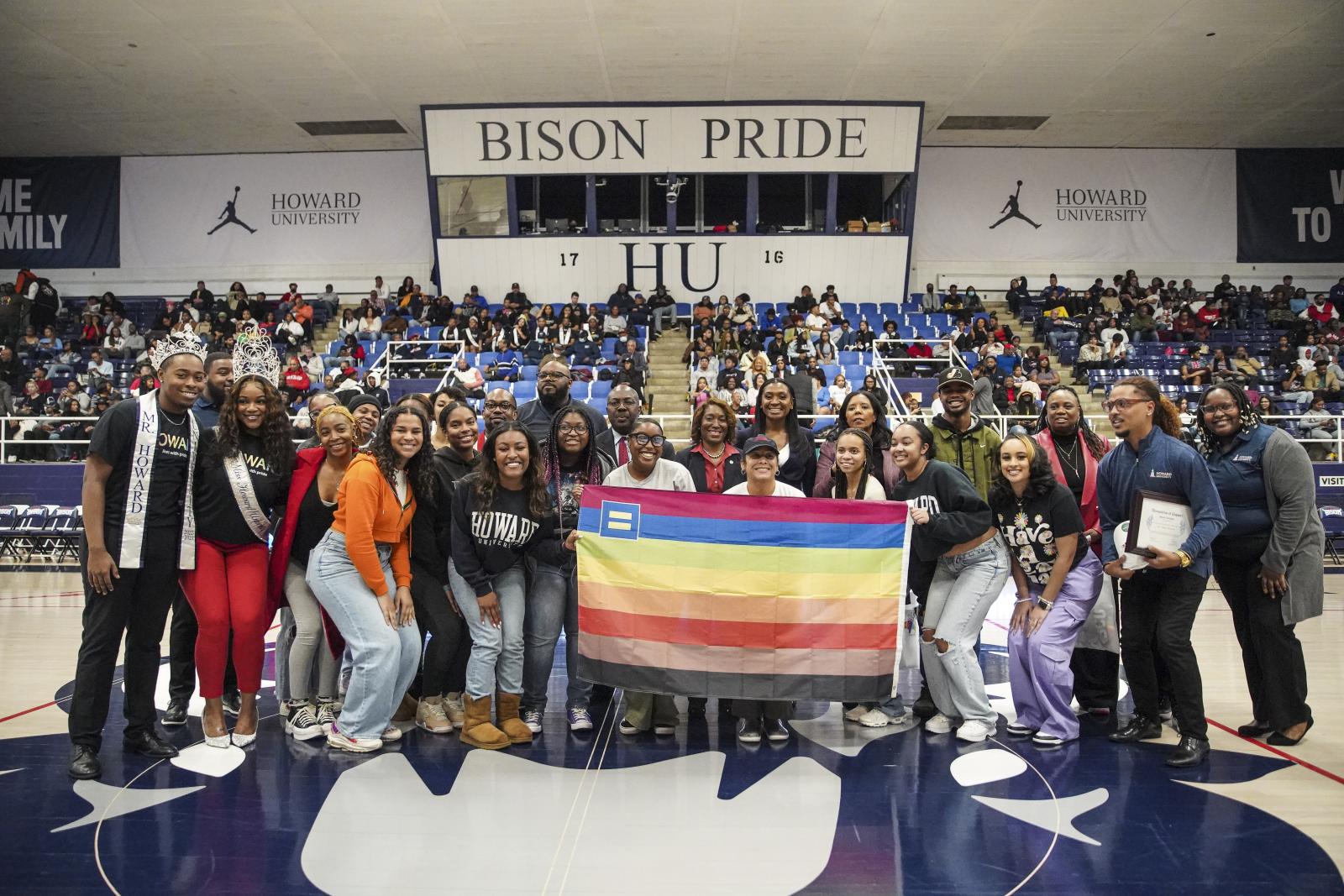 In various statements, he has deemed the University's ongoing LGBTQ+ support as a matter of student mental health and wellness. 
"In a society that has long tolerated the subjugation of all that falls to conform with accepted norms, LGBTQ people have suffered indiscriminately," Fredrick wrote in the Bison Beat's October 2021 newsletter. "Because they have been deprived of wholeness, so many who identify as LGBTQ+ have experience physical and mental health challenges as a result. There should never be a distinction between who a person is and who they are allowed to be."  
Amongst the number one inclusivity rank, the University's Lavender Fund is one of Howard's distinct LGBTQ+ resources. Howard is the only HBCU with a fund dedicated to LGBTQ+ life such as the $1,000 scholarship given to excelling queer students. Howard's Rainbow Alumni Association also hosts a homecoming lavender reception. The event was started by Christopher Cross, the first openly gay man to serve an elected student trustee.  
Queer student organizations such as CASCADE, oSTEM, and Outlaw provide community opportunities, however, the new resource center's ability to house, support, and fund their efforts is a gamechanger. Laten Jordan, a political science major from Columbus, Ohio, served as CASCADE's president for the 2022-2023 school year and found that the center's role on campus push CASCADE's mission as an advocacy group further. 
"It's been a really big advocate for queer students to use it as a safe space and a resource center because Howard doesn't really have a student center, and it operates as that for Howard's queer student community," Jordan recalls.
HBCUs have LGBTQ+ resource centers and initiatives
10 out of 107
Murphy Jones, Vice-President Elect of the HU Student Association, Details his Journey of Queerness and Self-Acceptance
There is an effortless display of gender fluidity that oozes from Murphy Jones' aura. 
 When referring to Jones, all pronouns are game: he/him, she/her, and, according to Jones, that/girl too. He floats throughout campus with poise and a posh wardrobe to match: milky white press-on nails complement the pink undertones of his supple, unblemished flawless face where an eye-catching silver nose ring grabs your attention. The wardrobe palette is powder pinks, neutrals, cremes and Bison blue and red. A fan favorite is the vintage, creme two-piece skirt suit with black glasses and kitten heels that he wore on The Yard during the election results party for student government roles.  
Jones will begin his journey as Howard University's Student Association (HUSA) vice president during the 2023-2024 academic year.  
"The queer student body and queer students of Howard University are continuously growing," Jones says. "We are no longer at a place, no longer in a culture where we can say 'We don't see you.'"  
During his Greensboro, North Carolina upbringing, Jones remembers questioning his sexuality early on as his Christian parents viewed homosexuality as a sin.  
After attempts to assimilate into America's heteronormative society, Jones recognized the freedom that came with their queer identity. Jones' first tastes of self-acceptance were during student government association in middle school. 
"One of the most influential people in my life was one of my mentors, Mr. Alfred Wilson, and the thing I will never forget that he ended up teaching me, was that, if you're not yourself, there's nobody else you can be, so you might as well just be," he says. "That simple lesson that he engrained in me helped shape me."  
Jones' bubbly spirit and influential leadership resonated with the fellow eighth graders, but began an inner dilemma of authenticity beyond his parents' wishes.  
 "Leadership taught me to be authentic. You can't be an effective leader if you're not authentic with yourself first," Jones recalls. "My eighth-grade year, I was faced with this kind of moral conundrum. Like I even tried to date girls, but something in me was telling me, 'that's not who you are as a person'."  
Jones recognizes the events and initiatives that embrace and highlight the queer student body population but looks to transform the Black, queer experience at Howard at a policy level. As the '22-'23 Mr. College of Arts and Sciences, Jones has seen first-hand the prolonging and additions to Howard's queer history. In his pursuit as HUSA's vice president, Jones championed additional resources for the queer community and is set to become a prominent, queer voice within the student body. 
"I talked to [LGBTQ+ Resource Center co-director Jose Cadiz] about this as well: programming is good, but means nothing if we don't have policy changes [as] support," Jones says. "I want the same kind of implementation on the administration level, whether that be the ability to teach more queer classes, [or] ensuring we have working, accessible gender-neutral bathrooms in every single office or every building." 
Jones will begin the vice president term in the wake of the U.S. Senate's assault on trans and queer rights. But Jones' mere existence, and the ability to thrive and advocate for Howard's Black queer community, is filled with hope, self-love, and the simplistic example of what many Black queer children struggling with their identities need to hear: It can be done.  
"I do this for all the little gay boys down south who haven't gotten a chance to dance," he says. "I want me to be a reminder that it's your chance to dance, because the world is waiting for you."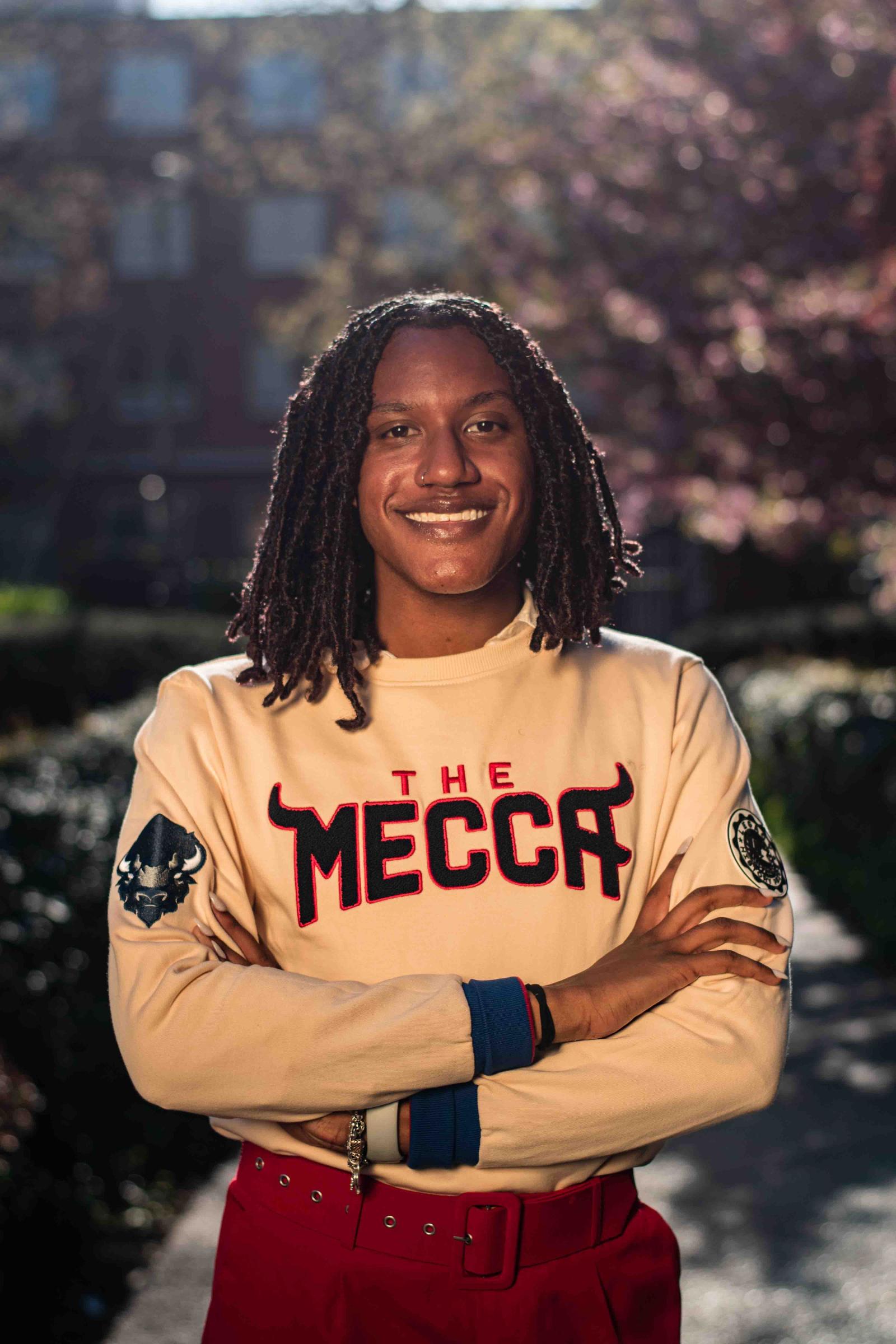 The Intercultural Affairs and LGBTQ+ Resource Center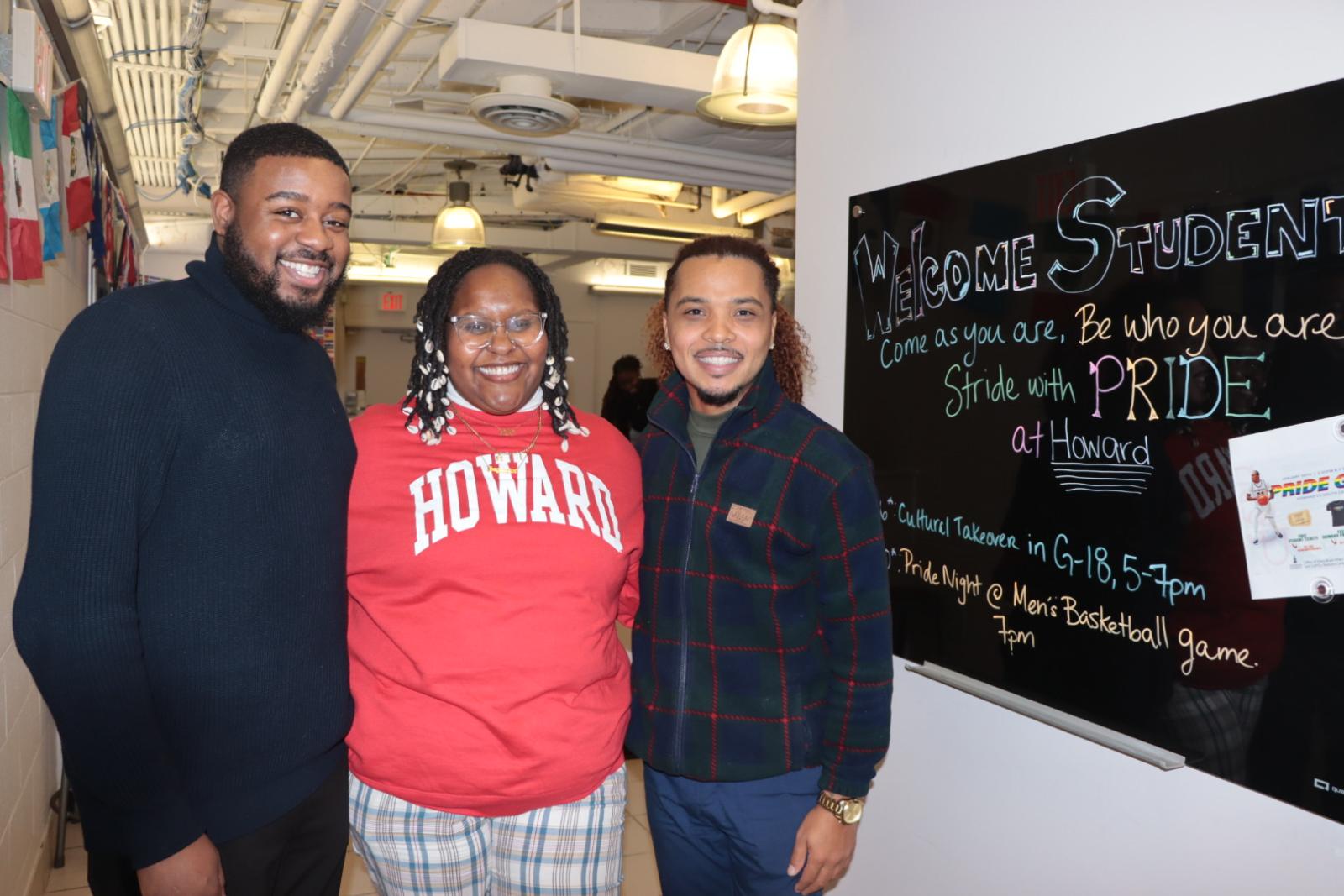 Jose Cadiz, MPA, MEd, is the founding director of Howard's Intercultural Affairs and LGBTQ+ Resource Center with JaQuwan Ward, the center's program coordinator. The pair focuses on the LGBTQ+ initiatives as fellow director Jenelle Howard, MBA, spearheads the center's intercultural affairs mission.
The trio is tasked with formatting many of Amazan-Ivory's LGBTQ+ work she proposed as an assistant director of intercultural affairs from 2018 to 2021.  
Amazan-Ivory implemented the Safe Space Intergroup Dialogue Series, facilitated the LGBTQ+ advisory council, and administered the Lavender Fund scholarship. She also facilitated Inclusive Language 101 for students, faculty, and staff. "The vision of the alumni and students I think were actualized through Mr. Cadiz and his team. The students at Howard are in the best hands I could have imagined," Amazan-Ivory says. 
The Intercultural Affairs and LGBTQ+ Resource Center operates on a three-tier model; support and advocacy, education and awareness, and community building. These three tiers ensure Howard is an "inclusive campus community that promotes social justice and diversity." 
Most of the advocacy work, Cadiz says, is about recognizing the power of not only existence, but having a space dedicated to doing so.  
"Students were just feeling like there was no sense of accountability from faculty and staff to utilize their preferred pronouns to the very limited programming to celebrate the LGBTQ+ community here at Howard," Cadiz, who identifies as a gay, Afro Latino man, says. "I think, with the physicality of gender expression, a lot of our students weren't really presenting as who they really were. [There] was a lack of authenticity."  
The resource center's programs like The Red Door, where the University community donates to a no-cost clothing drive, empower that authenticity. From teal corduroy pants, button downs for an internship interview, or lightly used Express jeans, The Red Door is fueled by a University commitment to ensure quality clothing options and embrace gender expression. The clothing drive is a dual partnership with Us Helping Us, People into Living Inc., a nonprofit resource organization born out of the AIDS epidemic in 1985. 
"We wanted a space where students could feel authentically themselves as they do on the inside on the outside," Cadiz explains. "This gives them that [message] of 'Hey, you come in here, you can grab what you need to find, and if you don't see something, please let us know so we can get that for the next wave of clothing coming in."  
Celebrating Queer Student Life
Students also come in and out of the University in their own fashion: graduation. Created by lesbian activist Ronni Sanlo in 1995 at the University of Michigan, lavender graduations are the respective ceremony for queer students to safely celebrate their achievements. Howard has conducted lavender graduations since 2015.  
On May 1, this year's Lavender Graduation was an intimate gathering in the Blackburn Center's Reading Lounge, seating about 40 people throughout the Howard University network; alumni, staff and faculty, student members of CASCADE and external partners and queer allies.  
As you journey away from here, it's my hope that you will continue to be leaders, game changers and change makers in your community." 
The ceremony showcased what could be when institutions embrace their queer student population: Classmates received lavender and black regalia cords to honor CASCADE's As Queer As It Is Black Conference which prioritizes the intersectionality of Black queer lives. Students announced their post-grad plans. Brandon Henry, a graduating political science major, described his upcoming role as an associate in the Capital One Management Rotational Program this summer.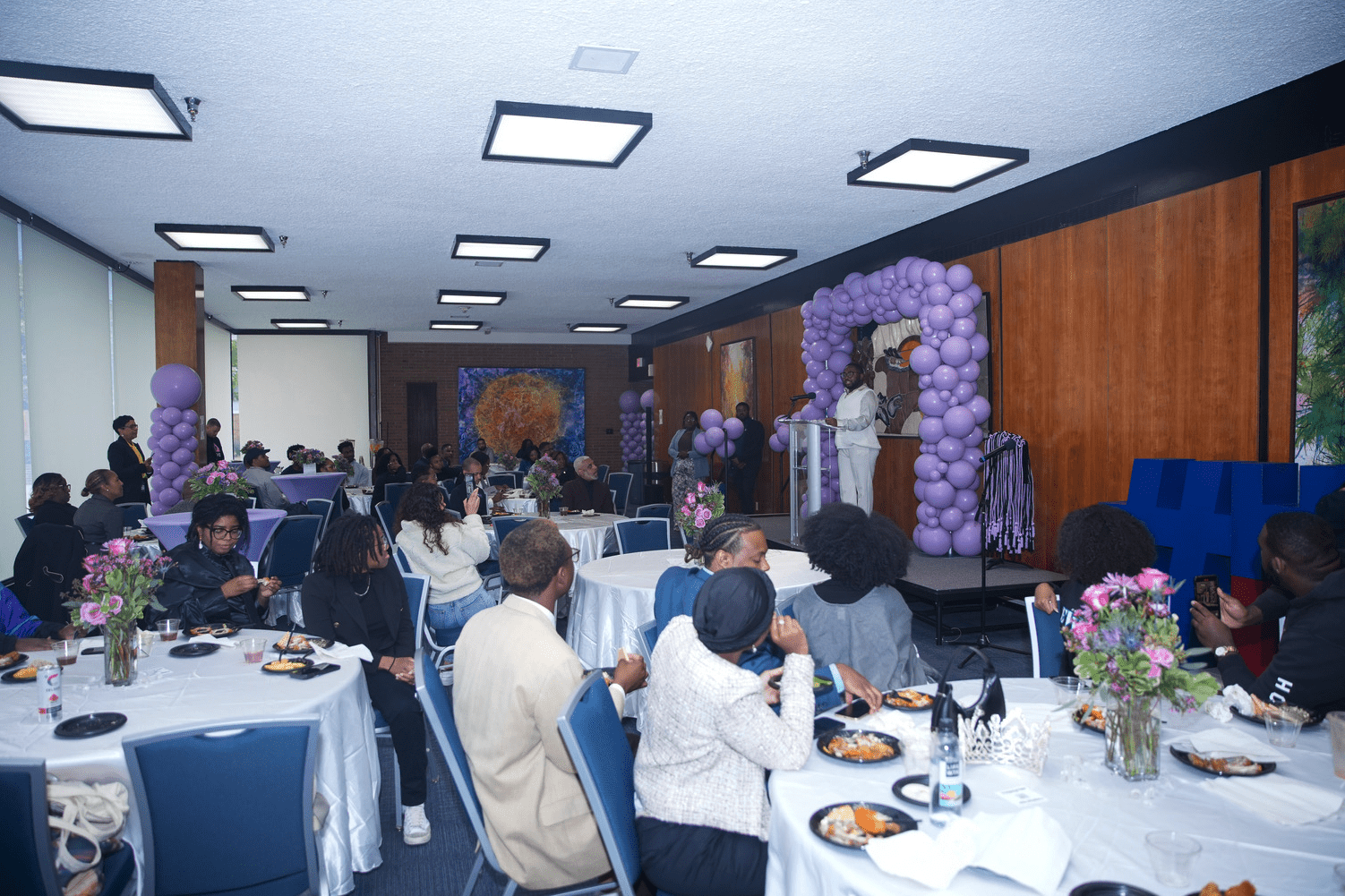 Jordan's presidential farewell speech was filled with colloquial language created by the Black queer community. 
"For the first time in Howard's 156-year history, we were able to raise the pride flag, sending a clear message that Howard accepts and acknowledges their queer students. We were able to facilitate the first-ever pride festival at any HBCU, bringing the entire campus community together," said Jordan.
The keynote speaker was Eshe Ukweli, a trans graduating senior who urged her fellow classmates to embody braveness, lean on community and dream big but reach further.  
"I urge you all to carry the totality of your memories and identities with you, as you embark on new paths away from home that is The Mecca," Ukweli says. "As you journey away from here, it's my hope that you will continue to be leaders, game changers and change makers in your community." 
The existence and celebration of queer life is one that has taken place in all forms of Howard's legacy. As Howard continues to lead institutions, just like their no. 1 rating by the Campus Pride Index, the University showcases the reasons that thriving Black queer life is also a signature of Howard's commitment to truth and service.   
"I didn't come out to my mom as bisexual until my sophomore, junior year," says Henry. "Being at Howard and being aware of the queer community definitely pushed me in that direction of being open and honest about who I was and the life I wanted to live."