2020 was a year that changed so much for everyone. But if history has taught us anything, it's that hip-hop is a versatile music genre, able to adapt and reinvent itself in challenging times.  
As the pandemic descended on the world, COVID pounced on the Black community. According to the COVID Tracking Project, Black people died at 1.4 times the rate of white people nationwide. The gap widened by age and location.
Fred the Godson, a 41-year-old Bronx rapper, was one of the first reported hip-hop artists to die from COVID on April 23, 2020. In his honor, the South Bronx corner of Leggett Avenue and Kelly Street was renamed Frederick "Fred the Godson" Thomas Avenue. Hip-hop legends, such as Mary J. Blige, Jay-Z, and Diddy, paid tribute to his work.   
Social distancing took hold. Zoom meetings emerged. Howard University shut its doors and shifted to virtual events and online workflows. Even Yardfest was virtual. For hip-hop and Howard, COVID lockdown meant reinventing the music genre and HBCU culture.
And just as it always has, hip-hop transformed itself into a digital and stream-based landscape as people and the genre reemerged into a new normal.
Tragedy as a Catalyst
While many were held to the confines of their homes and screens, community remained digitally accessible during the early stages of the pandemic.
In the wake of the George Floyd protests, the longing for self-expression and creating safe spaces for young African Americans resurfaced.
We use the word 'artivism' which is activism through art and advocating for creative expression, the protection of Black women, and really coming together as a community to spread love."
Howard junior Alani Hodge, who spent her freshman year online, rekindled her love for music after realizing pre-law was not for her. "[At the time] I was a part of a lot of activist groups... and on the front lines of the Black Lives Matter protests and it was emotionally draining for me," Hodge says.
While her passion for music was self-cultivated, Howard contributed to her motivation through professors and music industry-based opportunities. She is now a television and film major with a concentration in audio production.
Other Howard students found other ways to keep hip-hop alive. "My freshman year began in 2021 and there were still some COVID restrictions, so I spent a lot of my time in my dorm creating music, but the issue was I couldn't go out and perform, so it made it extremely difficult to advocate for myself publicly," says junior Zuri Franklin. "It was a lot of personal growth that came from quarantine despite the mental struggles that ensued because of it. I was able to turn it around."
Howard's Warner Music/Blavatnik Center, a space run by School of Business professor Jasmine Young where students can learn from visiting music industry professionals, is not only a beacon of what is to come surrounding the relationship between hip-hop and Howard University, but also HBCUs.
Franklin mentions how Howard programs like the Warner Center and on the campus club, 360 Creativity Saves Lives, served as major support systems in his musical endeavors. "360 Creativity Saves Lives is my family at HU. We're a community of people who use art to make a difference in the world," says Franklin. "We use the word 'artivism' which is activism through art and advocating for creative expression, the protection of Black women, and really coming together as a community to spread love."
School's in Session
In the '90s, artists used HBCU campuses as a platform to launch their careers, and slowly hip-hop found its way into the classroom as well. Howard fostered the established connection between hip-hop and HBCU culture through offering curriculum majors.
"The moment you step into that classroom, it's like being front row to Black excellence every single day," says Msia Clark, PhD, associate professor in the Department of African Studies. "These Generation Z students have no fear. I love the fact that we can talk about issues in our community and be vulnerable with one another."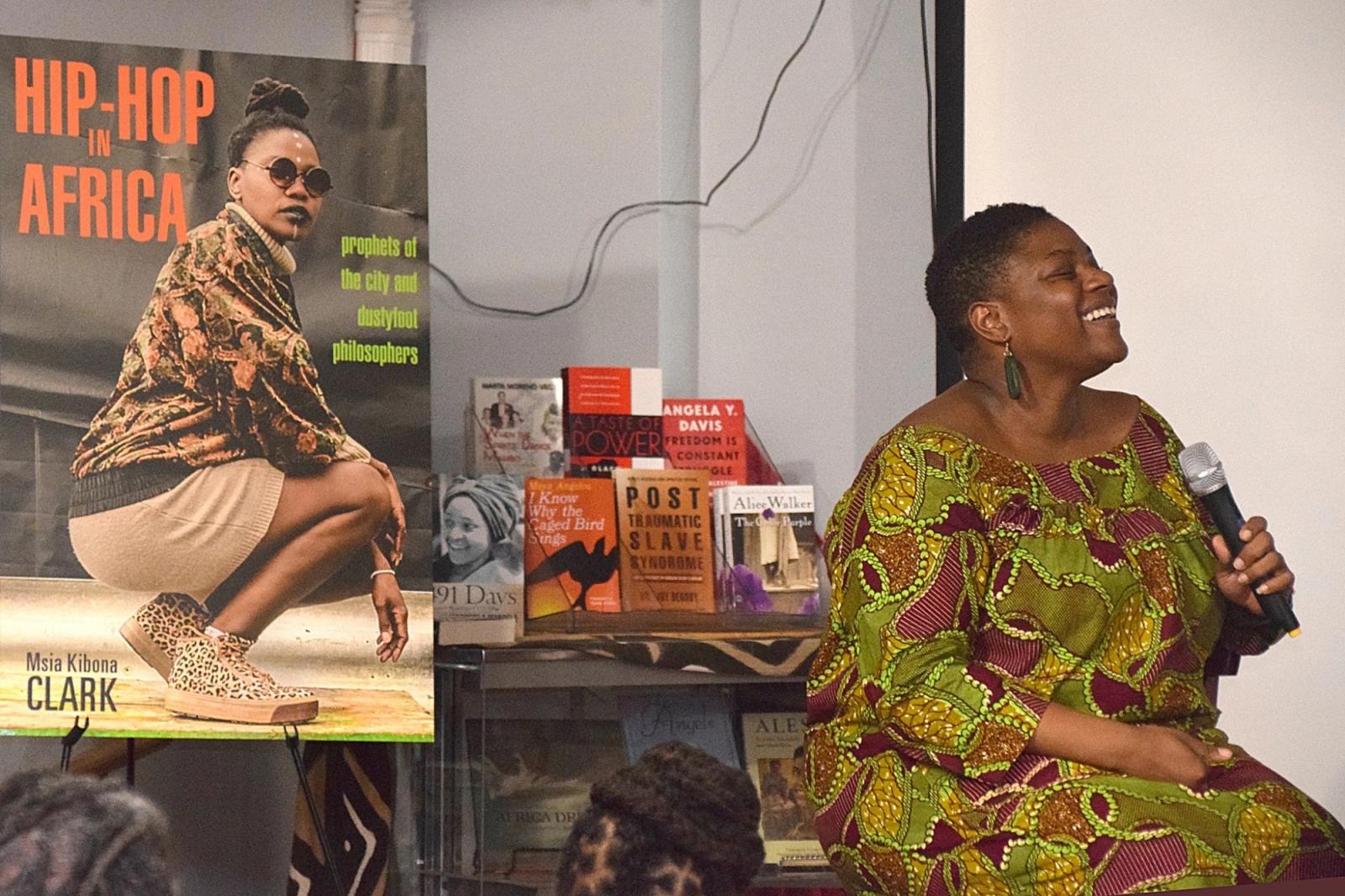 Beyond the curriculum, faculty members also hosted the Howard University Hip-Hop 50: Past, Present, Future conference which invited the Howard University community and hip-hop's major players to showcase the genre's multiple facets, from visual arts to its socio-cultural impact.
A hip-hop studies minor is currently in the works at the University that will feature several courses ranging from fashion to dance, poetry, and hip-hop's international history. 
The Future of Hip-Hop
360 Creativity Saves Lives founder and student artist Aisha June has high hopes for increased resources of artist development focused courses, majors, and recording studios on campus. She believes that Howard will continue to be one of the driving forces in changing the narratives surrounding hip-hop culture.
When hip-hop comes to DC, it considers Howard as its first stop. For hip-hop in 2023 and beyond, at Howard, it is unstoppable."
"The future of hip-hop at Howard will... [promote] music that is empowering our community while remaining true to the genre," June says. "As for 360, I can see us navigating a label for college students on all campuses, but let's start with the HBCUs first. Howard can be one of those schools that shows, you want to be a rapper? You should go to college, and you should come to Howard."
The hip-hop genre is about the people. The message. The emotion. The culture. "Howard University is a centerpiece and emerging hub for hip-hop, not only in DC but on the east coast," says Young. "When hip-hop comes to DC, it considers Howard as its first stop. For hip-hop in 2023 and beyond, at Howard, it is unstoppable."
The New Class of Howard's Hip-Hop Scholars
As the story goes, Bonita Clark, a Howard administrator, saw the need for hip-hop to be introduced to the curriculum. This was brought to her attention through her son, a Howard student at the time, as he felt hip-hop's absence from his education.  
Now, born of a mother's love for her son, Clark's vision has been realized. Howard University is gearing up for a new hip-hop minor.  While the timing is perfect in relation to the 50th anniversary of hip-hop, this academic endeavor has been in the works since 2019.  
In collaboration with Howard professors Msia Clark, PhD, and David Green, PhD, Bonita Clark began taking the steps necessary to make her son's dreams a reality. Bonita Clark's work within the Office of the Dean of Howard's College of Arts and Sciences made her specially equipped to navigate the complicated waters of this project.  
The minor will go to the interdisciplinary studies department, something that Msia Clark describes as "the best solution" to the metaphorical tug of war between the University's schools and colleges for control over the minor.  The interdisciplinary studies' flexible program allows students to fulfill the minor with classes all over campus.  
With courses ranging from the college of fine arts to the school of communications curriculums, the minor offers a little bit of everything. "The idea was to really get courses that weren't just focused on hip-hop, but also on the Black experience, which contributed to the creation of hip-hop culture," Msia Clark explains. 
The minor's curriculum comprises of classes already available to students with an emphasis on including the performance aspect in studying hip-hop. Courses offered under the umbrella of fine arts will prepare students looking to get into the entertainment industry, while other courses are concerned with the historical aspects of the subject.  
The journey to getting the minor on the Board of Trustees' docket includes a proposal advocating for the minor. Penned by Msia Clark, the proposal laid out some of the primary research methodology in hip-hop studies. "It was important to present it not just as pop culture, but as something that is its own legitimate field of study," says Msia Clark.  
Currently, Bowie State University is the only historically Black college or university with a hip-hop studies minor program. Its program, introduced in 2016, also focuses on visual culture.  Many predominantly white institutions already have hip-hop studies programs of their own. Schools such as Yale University, University of California - Los Angeles, and Loyola University all have programs that acknowledge hip-hop's impact academically.  
According to Msia Clark, the future of the minor is already very bright, with advantages such as Howard's wide, preexisting network of connections. Organizations such as the State Department Hip-Hop Diplomacy Program, D.C. Hip-Hop Museum, and Trinity College in Connecticut which hosts the Trinity International Hip-Hop Festival have already expressed interest in partnerships.  
"To use those relationships, and hopefully let that develop into internships or other opportunities for our students is the goal," says Msia Clark. —Autumn Coleman
This story appears in the
Fall 2023
issue.
Article ID: 1711