On a morning in May 2020, GiShawn Mance, PhD, returned from a walk and checked her mailbox. Inside was a card from a close friend, Latisha, who had died unexpectedly just days earlier. "She was having headaches and went to sleep and never woke up," recalls Mance, an associate professor of psychology at Howard University.
Soon, video would surface of George Floyd's murder by police in Minneapolis, which sparked global protests for racial justice. Nearly eight months pregnant at the time, she was also readying for the birth of her child in a pandemic. She welcomed a daughter; then, her father's cancer returned. 
The weight of it all – navigating grief, inconsistent daycare, work responsibilities, doctor's appointments, and racial stressors – led her to seek professional mental health therapy. "My anxiety had heightened because of everything that was going on with me," shares Mance, who purposefully chose a therapist that worked with Black mothers. "I needed to talk to somebody."
Black women have a storied and complicated relationship when it comes to their mental health. Despite being uniquely affected by conditions like depression, anxiety, and traumatic stress, they are less likely to get treatment. Comprehensive data is scarce. Still, when compared to their white counterparts, Black women are more than two times less likely to ask for help managing their mental health, according to a 2015 national survey by the Substance Abuse and Mental Health Services Administration (SAMHSA).
Understanding the reluctance surrounding Black women prioritizing their mental health means peeling back the layers of their lives — and the personal and racial traumas to which they are exposed.
A Mental Health Crisis Defined
For some, the reasons for seeking therapy – or not – may rest in a question not so easily answered. "If I seek help, what does that mean about me and my ability to handle all things?" poses Mance. Understandably, it can be a lot to unpack.
Within Black families and communities, the woman is often viewed as the backbone, capable of juggling motherhood, career, and countless other responsibilities; she is labeled a "strong Black woman," even if it means sacrificing her emotional well-being.
"The strong Black woman feels that she cannot show pain or ask for help. She reflexively puts the needs of others first," explains author and literary activist Marita Golden. In her recent book, "The Strong Black Woman: How a Myth Endangers the Physical and Mental Health of Black Women," she states that this persona "requires that Black women perpetually present an image of control and strength."
Being a woman who is also Black means there are multiple identities that people target, notes Alfiee Breland-Noble (BA '91), MA, PhD, MHSc., founder and president of AAKOMA, a nonprofit dedicated to empowering Black, indigenous, people of color (BIPOC) and their families about mental health. So the anti-Blackness is real, she says, as is the anti-woman misogyny and gender discrimination. "We get that all rolled up into one."
On top of that is the intergenerational impact from a legacy of slavery, in which it was literally punishable to stand up for yourself, Breland-Noble notes. "That's in our DNA," she says, and these factors can make it difficult for Black women to either actively reach out for help or feel comfortable doing so.
Studies show manifestations of chronic stress and depression include hypertension, or high blood pressure, a risk factor for cardiovascular disease. Black women suffer at disproportionately higher rates – 60% – compared to white women, according to statistics from the Health and Human Services' Office of Minority Health. "We know that African American women are living in the midst of a health emergency," Golden continues. "We have extremely high rates of diabetes, stroke, and heart attack, much greater than the percentage of our population would seem to dictate."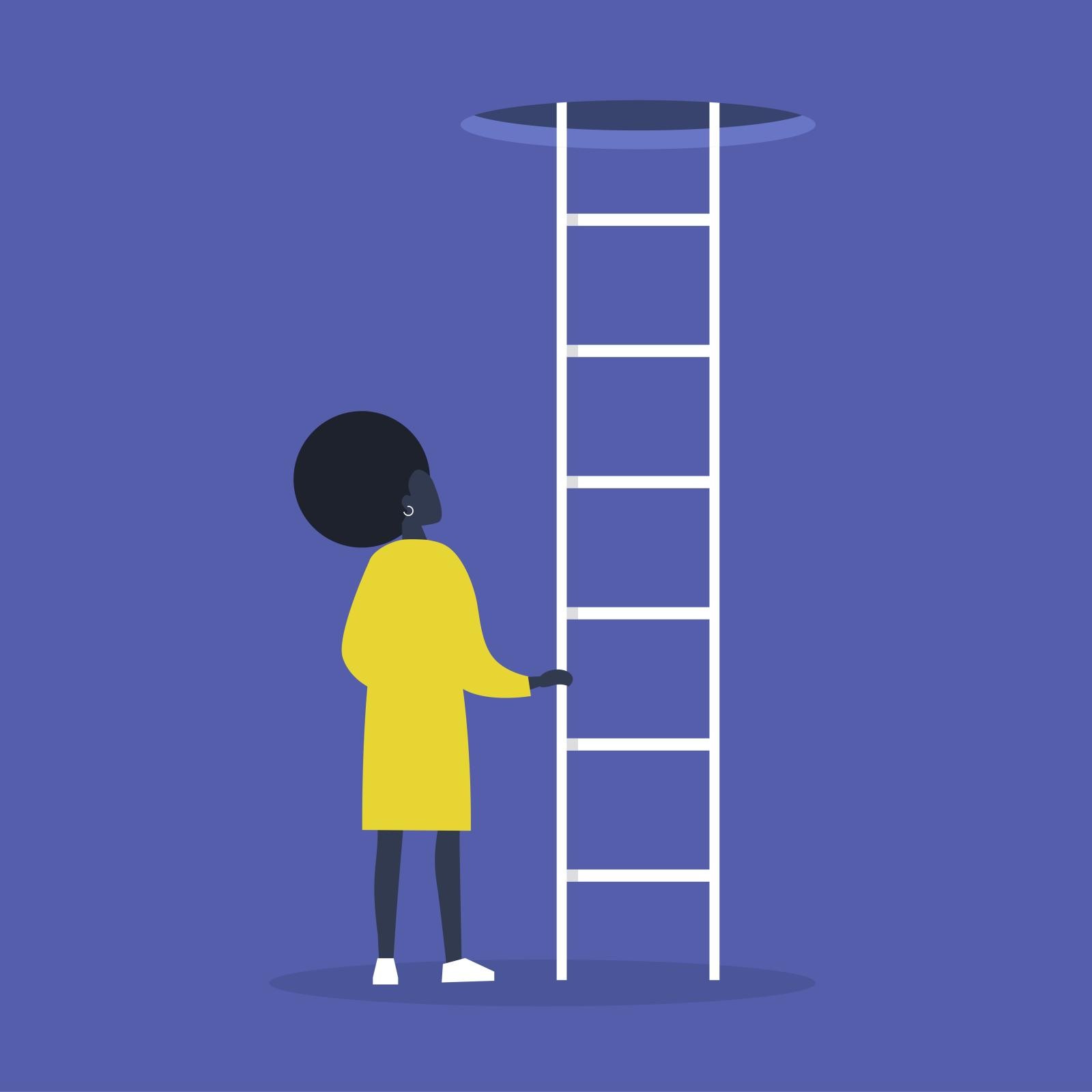 Stress Shows Up Differently
Stress, anxiety, and depression manifest in some very unique ways for Black women, says Danielle Hairston (MD '12), assistant professor in the Department of Psychiatry at Howard University.
They're less likely to describe their feelings in these psychological terms that you hear with white people."
"Black people are less likely to come out and say, 'Hello, I'm feeling depressed. I'm feeling down,'" explains Hairston. Instead, body complaints and physical symptoms are more commonplace. Signs include exhaustion, lack of concentration or motivation, not caring about one's job, or loss of interest in what's happening in life.
"They're less likely to describe their feelings in these psychological terms that you hear with white people," Hairston points out.
Some people withdraw. Still others "go hard," so to speak. Overworking, showing up for everyone, and staying busy is not unusual for Black women, adds Mance. "You're not allowing yourself to slow down and to be and feel because if you do, then there's the sadness or numbness," she says, noting sometimes the person who's the life of the party socially when alone settles into darkness and low-key isolation.
There may be other, unexpected behavioral changes as well. While most associate depression with loss of appetite, actually the opposite is sometimes true. Or anxiety and depression can surface as anger.
For Leslie Tarleton, those emotions stemmed from childhood. Her dad committed suicide when she was nine. Within six months, she received a Type 1 diabetes diagnosis. Tarleton remembers wondering why everything bad was happening to her. These experiences left her sad, angry, and overwhelmed, feelings that followed her into adulthood. "I was really angry at life. I would lash out," she shares. At 24, she decided to seek professional help because, "I did have suicidal thoughts. But I knew I couldn't do what he did."
Finding Culturally Appropriate Care
Cultural beliefs, social stigma, and cost are all barriers to accessing mental health treatment. And so is the lack of mental health professionals with diverse racial and ethnic backgrounds; 3% of 41,000 psychiatrists identified as Black, according to data analyzed by Medscape. 4% of psychologists are Black, according to the American Psychological Association.
3%
psychiatrists are Black
4% psychologists are Black
An older white man was Tarleton's first psychiatrist. He said she was bipolar. For a second opinion, she turned to a Black woman therapist and recalls receiving much more compassion throughout the process. "Honey, you have anxiety and depression," she recounts being told.
Now 32, Tarleton still has weekly therapy sessions with her. "I was talking to a Black woman that looked like me, and understood my pain and my trauma," she says. Prayer, walks, meditation, and meal prep for healthy eating habits (she takes insulin four times a day) are now part of her practice of self-love, self-care, and mental health awareness, which she shares through her online community, Brown Girls Embrace.
Training Ground for Service
Hairston, also the psychiatry residency training director at Howard University Hospital and College of Medicine, says she purposefully recruits residents, or doctors-in-training, who care about the University's mission and diverse patient population, and understand the struggles of the Black community. For the first time since being appointed to the position in 2019, she has all Black residents – and predominantly women. Training opportunities include an AI (artificial intelligence) virtual reality-based project called The Visibility Project, funded by a Microsoft grant. Hoping to encourage empathy, the project immerses doctors in the day of a misdiagnosed patient experiencing racism and biases.
She and Mance agree there are ways to overcome the shortage and infuse the pipeline with much-needed Black mental health professionals. Hairston advises networking and mentorship, so emerging psychiatrists can see others like themselves in leadership roles. "It's about influencing a large number of people who are really interested in improving the mental health of Black people and other marginalized groups in this country," says Hairston, herself the youngest Black person in the U.S. at the time to step into that role.
Campus and Community Outreach
With the dual traumas of a pandemic and Black women's mental health, some might ask: "What's the role of the faith community?" There may not be a definitive answer but it's an important part of the discussion that shouldn't be overlooked. "The faith community needs to be intentional about the importance of mental health and its relationship to spiritual health," says Bernard Richardson, dean of Andrew Rankin Memorial Chapel at Howard University. "Sometimes the church itself has to do some soul searching as it relates to their role in either supporting or even hindering mental health."
Mance, for one, emphasizes that faith has been a part of her personal journey. "My faith, family support, and therapy helped," she shares. "My faith in God was also important in coping with everything."
There are readily available resources for mental health support available to students, faculty, and staff, and the community. One that has grown during the pandemic is the HU Wellness program, a University-wide initiative led by Richardson and his Office of the Dean of the Chapel. Much of the program's focus is on mindfulness, a practice of deep awareness of the moment and self, without judgment. Its Mindful Training Initiative started at the beginning of the pandemic specifically to train faculty and staff to emotionally support students.
The chapel also coordinates a series of faith-forward sessions for students, faculty, and staff across campus. These include mindfulness trainings, walking meditations, prayer and meditation moments, with plans for a more immersive free, four-week meditation and mindfulness class for students.
Normalizing the Discussion
High-profile women like former first lady Michelle Obama, tennis stars Serena Williams and Naomi Osaka, gymnast Simone Biles, and actress Taraji P. Henson (BFA '95) have all been candid about their struggles with anxiety and depression. In her self-titled "The Michelle Obama Podcast" in 2020, Obama shared that amid the pandemic and racial unrest, she dealt with "some form of low-grade depression," acknowledging the impact on her mental health.
"I'm waking up in the middle of the night 'cause I'm worrying about something, or there's a heaviness," Obama said, revealing that there were also periods where she just "felt too low."
Henson has been equally outspoken, telling SELF in a 2019 interview that mood swings and feeling apprehensive – "almost agoraphobic" – about going out in public signaled it was time to get help. To break the stigma around mental health and offer support to the Black community, she founded the Boris Lawrence Henson Foundation, named after her father, who also grappled with mental health issues. The foundation offers scholarships and other resources.
Their openness has drawn increased attention to a once tucked away topic. "Not only are they sharing their stories, but also their creative platforms so other people can share their stories," says Mance. "Absolutely, they are normalizing the discussion around mental health."  
The AAKOMA Project
Psychologist Alfiee Breland-Noble (BA '91), MA, PhD, MHSc., known as Dr. Alfiee, recalls her days at Howard being an empowering and political time, from the 1989 student takeover of the Administration Building to the rallying cry of Public Enemy's "Fight the Power" against racism. Together, these experiences ignited a spirit of activism and inspired her to pursue psychology – and eventually create the The AAKOMA Project.
The nonprofit helps all young people of color know they, too, are valued and supported in their mental health, says Breland-Noble. "AAKOMA is about raising consciousness, empowering people, and changing the system of mental health," she says, with a focus on Black, indigenous, and people of color (BIPOC) youth and their families.
AAKOMA has a network of partners to provide suicide prevention resources, mental health information, and free virtual therapy sessions addressing conditions like depression, anxiety, and traumatic stress. It also has convened candid conversations with students on racial trauma, built relationships with BIPOC teens that serve as youth advisers across the U.S. and internationally, and collaborated with Lady Gaga's Born This Way Foundation, among other organizations, to specifically reach teens and young adults. Whether discussing types of depression with actress Jada Pinkett-Smith on "Red Table Talk" or leading dialogues about suicide in the Black community, Breland-Noble emphasizes this: "I'm gonna be unapologetic about being for Black young people." — AAH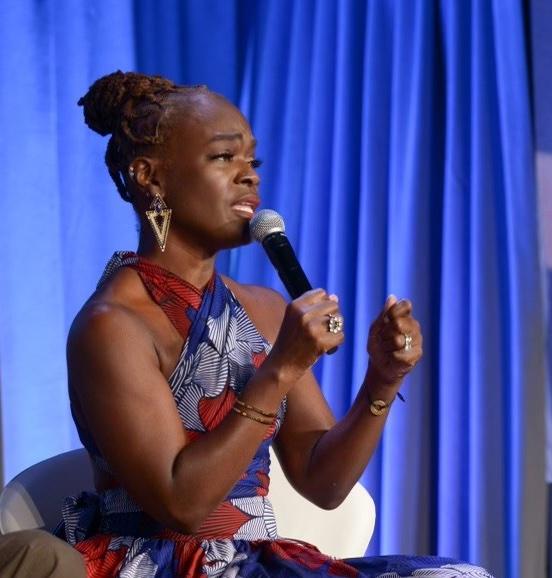 Resources
The Steve Fund
The organization offers a variety of mental health-centered symposiums, free monthly virtual "community conversations," and resources for HBCU leaders on issues of race, gender and mental health for young people of color. 
Podcasts+
Therapy for Black Girls Podcast. A weekly podcast chatting up issues surrounding mental health and personal development.
The Homecoming Podcast with Dr. Thema. Dr. Thema Bryant, Ph.D., aka Dr. Thema, takes the listening community on a "journey home" to self through shared poetry, mental health tips and inspirational guidance on holistic topics.
Between Sessions Podcast. From napping for mental health to therapy affordability, this podcast hosted by "two brown chicks" and founders of Melanin & Mental Health talks all topics mental health.
Black Psychiatry. A YouTube channel promoting Black mental health by tackling issues like suicide prevention, managing stress and anxiety, and healing from addiction. The collective has presented virtual town halls and readings.
PsychoHairapy.org. Psychologist, hairstylist and founder Dr. Afiya M. Mbilishaka, Ph.D., explores mental health through hair. Services include talk therapy and online "listening hours."
TheLovelandFoundation.org. A nonprofit centering Black women and girls by providing financial assistance through its therapy fund.
Blackmentalwellness.com. Black Mental Wellness provides the Black community with free wellness information, mental health resources and access to virtual conferences. 
This story appears in the
Fall 2022
issue.
Article ID: 1091
Keep Reading
With 1 in 5 adults in the United States experiencing mental illness, there is growing acknowledgement of mental health as an aspect of overall health.