Reverend Dr. DeWayne L. Davis (BA '93) believes in the inherent goodness of people. "Everything that I do is an invitation, a reconsideration and rewriting of your story and who you are, all under the assurance that you are loved," he says.
That message resonated beyond the church and into politics, when Davis became the first Black, gay chaplain appointed in the Minnesota Senate in January, 2023.
Davis' unwavering commitment to advocating for the oppressed has marked his life's journey. He left the Pentecostal church due to its lack of inclusivity and championed public policy on Capitol Hill. Despite initial resistance to ministry, a compelling force drew him back to seminary, affirming his purpose. As a reverend, he anchors his beliefs in liberation theology, a perspective that seeks liberation from all oppressive systems, emphasizing the principle of "do no harm."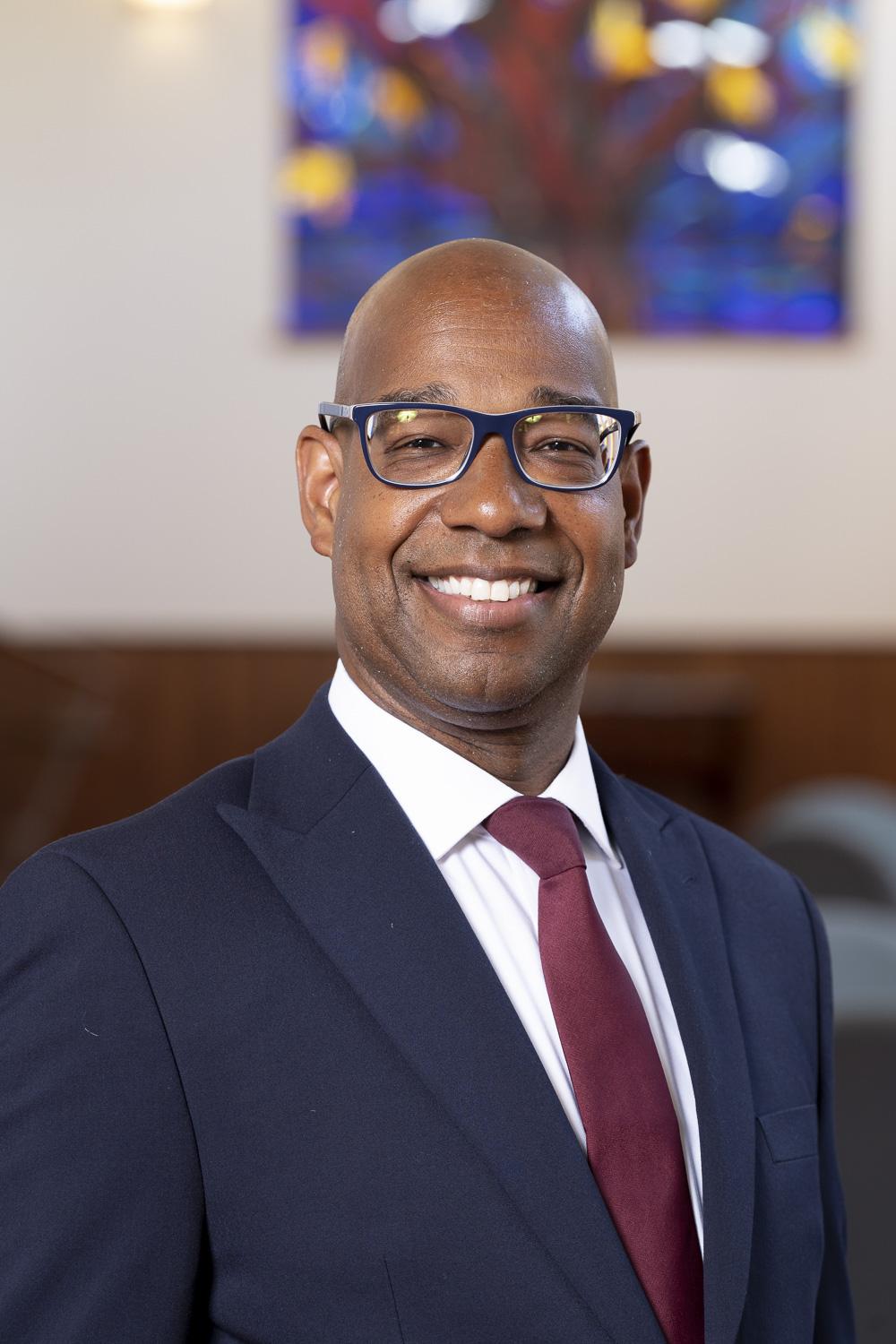 The principles of human goodness and facilitating the exploration of identity and faith underpin Davis' political pursuits. He began his political career as a legislative aide, advising members of Congress on LGBTQ+ rights, healthcare, and law enforcement. As chaplain, he continues to do the same. "Since I have moved to Minneapolis, I have made it a point to go to the capital to fight and advocate. To have these same people recognize my ministry and voice, and have me be the spiritual face of the effort, was very humbling."
Upon his appointment, Davis aimed to inspire the Senate leaders through prayers highlighting their commitment to justice-focused objectives, including reproductive justice, Family Medical Leave Act, and safeguards for LGBTQIA+ individuals. He stressed their collective responsibility to serve every citizen, urging them to transcend partisan divisions and engage in respectful dissent without dehumanizing each other. Davis offered spiritual and pastoral leadership to a chamber that achieved several historic successes, including banning conversion therapy, restoring full voting rights for ex-offenders, and protecting abortion access.
To have these same people recognize my ministry and voice, and have me be the spiritual face of the effort, was very humbling."
Rooted in his own experiences, Davis' career has been defined by a commitment to speak up for the marginalized and disinherited. "I am convinced that the God of my understanding impresses upon me that the existence of oppression…is not what humanity was created for. It [white oppression] created in our religion and politics, a demonizing and oppressing of Black bodies, and by extension, the woman body and the queer body. And so, I have to speak up because I exist in that body."
Davis met his husband, Kareem Murphy (BA '94) at Howard. They met through Murphy's twin brother in calculus study sessions, built a strong friendship, and became inseparable. Despite existing intolerance and adversity on campus, Davis credits Howard for teaching him how to stand confidently within their queer love. "We had to fight for our right to exist and protect what we were creating. I know that better in hindsight, but at the time, it was difficult…And now, we remember our time there with joy and remember what we learned and what it meant," asserts Davis. 
Today, Davis continues the fight for the rights of the oppressed, leveraging his intersectional social justice and theological principles. His courage and dedication to his mission have yielded substantial victories, uniting legislators and amplifying the voices of marginalized communities.
This story appears in the
Fall 2023
issue.
Article ID: 1526