After an arduous first year in their PhD programs came to a conclusion in May 2022, three Howard University students had little time to rest before beginning a labor-intensive Summer experience.
From June to August 2022, Ayanna Woodberry, a student in the Department of Biology; Omotola Ogundipe, a student in the Department of Pharmaceutical Sciences; and Shantol Graham-Hyatt, a student in the Department of Microbiology, participated in the Partnership for Careers in Cancer Science and Medicine (PCCSM) Graduate Student Summer Research Experience at The University of Texas MD Anderson Cancer Center.
"There [are] so many people working on so many different types of cancer," says Woodberry. "Just being here at MD Anderson, attending webinars, and meeting with different people has been extremely beneficial for me."
The students participated in important cancer research studies while building skills that will enhance their doctoral projects at Howard – and their future career ambitions.
Ogundipe worked in a wet lab studying the synergism between three drugs for the effective treatment of bladder cancer. Her Summer research poster won the prize for the graduate student category in the 2022 MD Anderson Partnership for Careers in Cancer Science and Medicine poster competition.
"It's been quite interesting. This is my first time doing biological characterization," Ogundipe says. She carried out in vitro drug assays using bladder cancer cell lines to assess synergism between a currently approved targeted therapy and two other candidate drugs. Additionally, she carried out DNA cloning for the evaluation of drug resistance in a colorectal cancer cell line. "I feel more confident doing similar experiments now."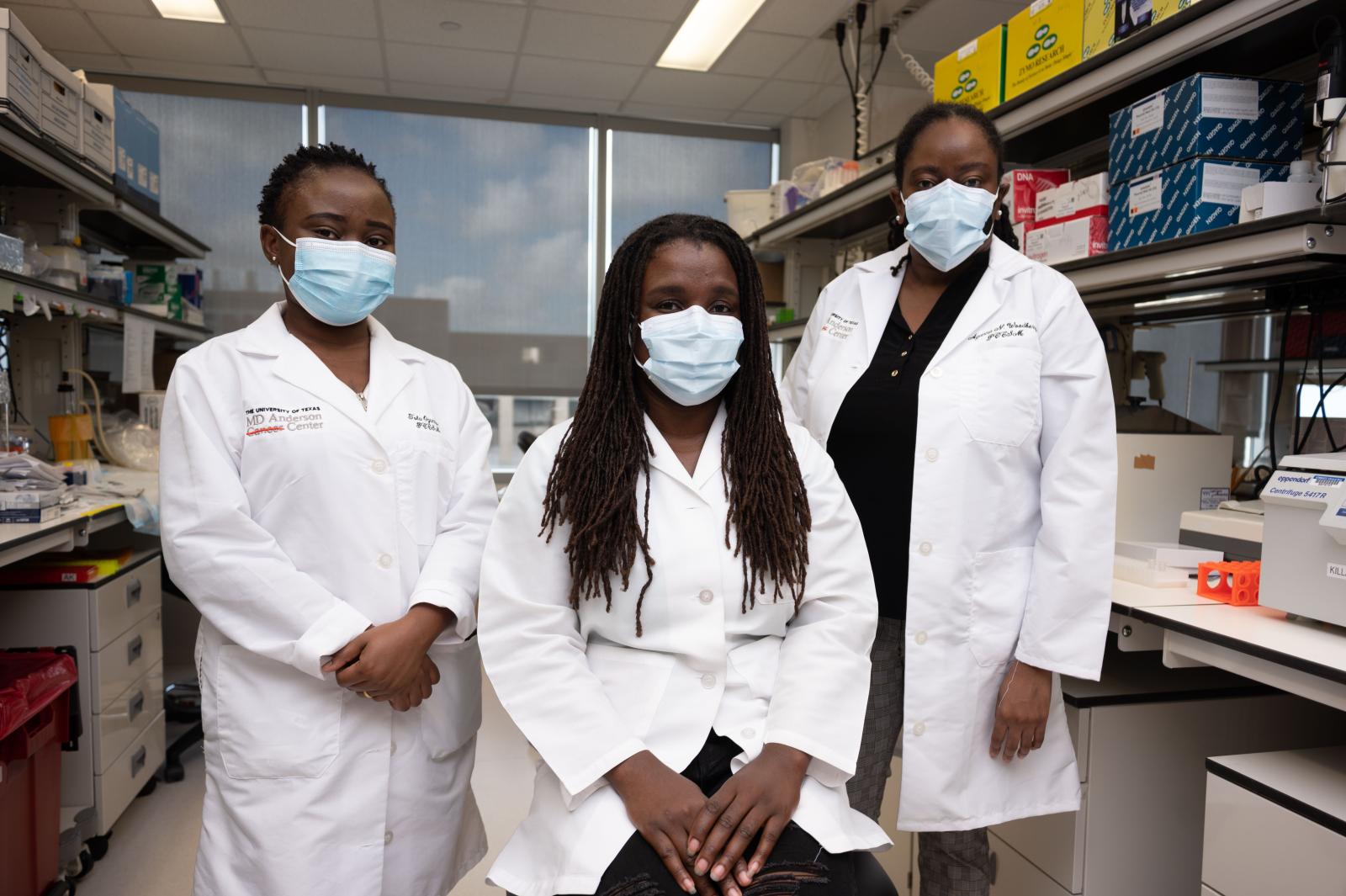 The research she participated in at MD Anderson was particularly relevant for her doctoral studies at Howard.
"[The MD Anderson team] uses at least two drug combinations to reduce the chance of resistance in cancer treatment. I'm working on this as well because I'm targeting two particular indicators in ovarian cancer," Ogundipe says. "That was why I was really interested in working with [the MD Anderson team] because [they're] using combinational approach in overcoming chemoresistance, a major challenge with cancer treatment."
Ogundipe says research like this has the potential to reduce the rate of chemoresistance, minimize treatment-induced toxicity, and improve cancer survival rates.
Graham-Hyatt says that, by the end of the program, she was running experiments on her own with limited supervision from the researchers she was supporting. Her experiments at MD Anderson focused on the DEAR1 gene, which is found in breast cancer.
"This will definitely help in developing laboratory techniques as well as my research at Howard, which is to find out if exercise or non-exercise lifestyle has an impact on early onset of Alzheimer's," Graham-Hyatt says.
Woodberry used a coding program called RStudio to analyze large data sets created by her research team, which was studying prostate samples obtained through the Harvard University Health Professionals Follow-Up Study. The purpose of the study was to assess the relationship between mosaic chromosomal alterations (mCAs) and cancer outcomes. Ultimately, the pilot informs a larger study with 1,000 patients with advanced prostate cancer and 1,000 patients without advanced cancer.
She has done research with the Howard University Cancer Center about the role of patient navigation in reducing breast, colorectal, and prostate cancer disparities. Woodberry wants to apply her research skills to look at the environmental and biological factors that could enhance cancer outcomes, particularly for minority patients. 
"I was a little nervous at first," she says. "But I'm coming away from the experience definitely feeling more comfortable, and I'm hoping that I can use RStudio for my future research."
This story appears in the
Fall 2022
issue.
Article ID: 1006