When Kamala Harris shattered the political glass ceiling to ascend to the vice presidency, the swell of Bison pride reached a fever pitch heard across the nation.
Howard is used to experiencing #BisonPride for many of its notable alumni across the public sphere – Thurgood Marshall, Toni Morrison, Vernon Jordan, Chadwick Boseman, to name a select few. But this time, it was different.
"Because of the moment we find ourselves in right now – the post-Trump moment, the Black Lives Matter moment and what we can say are the dual pandemics of COVID and systemic racism – there needed to be someone that had both the skill and the moral center to be able to solve problems," says Dana Williams, Ph.D., dean of the Graduate School and professor of English. "It wasn't just a situation where it's good to have a Kamala Harris elected; it's a situation where we absolutely needed a Kamala Harris to be elected."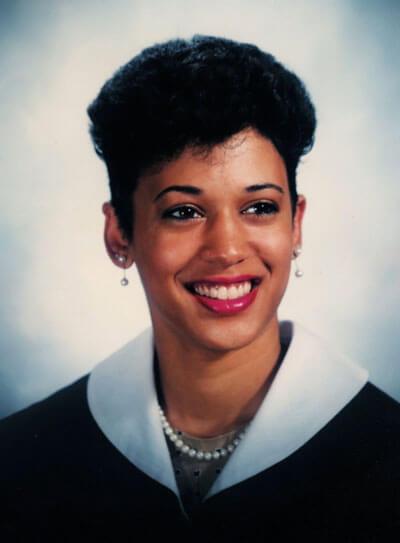 Faculty and students are keenly aware of what Harris' election means to Howard and its mission of creat- ing leaders across disciplines and throughout the world. For one thing, having a Howard alumnus attain the second-highest office in the United States is "affirming that we have been doing what the University was chartered to do," says Provost Anthony Wutoh, Ph.D.
"What I'm expecting and anticipating is that her performance is going to highlight the fact that there are excellent students at HBCUs beyond her," he says. "A number of our graduates are doing significant things, and it provides a platform for Howard to be in a spotlight in a positive way."
The love affair Bison have with Kamala Harris has not been one-sided.
"Every time she has had the opportunity to speak about Howard, she has been effusive in her praise of the educational experience she had at Howard and how it prepared her," Wutoh says.
Following the Legacy
When Harris first arrived at the mecca in the Fall of 1982, a Howard alumna also named Harris had shattered her own political glass ceiling not long before. Patricia Roberts Harris (B.A. '45) had become the first Black woman selected to join a president's Cabinet under President Jimmy Carter. During his presidency, she served as secretary of housing and urban development and later as secretary of health and human services. As a result, she was also the first African-American woman in the line of succession to the U.S. presidency, at number 13.
At the time, the women of Howard were celebrating her position in the White House, not knowing – the younger Harris included – that the woman who would become the second-in-line of succession to the presidency had moved into Eton Towers and settled into the Howard scene.
Kamala Harris, however, was well aware of the legacies who had passed through the halls of Howard before her and made it possible for Howard graduates to move another step further than they had. In her memoir, "The Truths We Hold," Harris describes her lifelong interest in law and how, when deciding on a college, she wanted her career to "get off on the right foot. And what better place to do that than at Thurgood Marshall's alma mater?" she writes.
Other Howard alumni were changing the face of the nation during that time. Edward Brooke (B.A. '41) had already cleared a path for future Black politicians after being the first African-American popularly elected to the U.S. Senate. Andrew Young (B.S. '51) had wrapped up his stint as the first African-American United States ambassador to the United Nations and was serving as the 55th mayor of Atlanta. And Phylicia Rashad (B.A. '70) was helping to change the world's perception of the Black family as Clair Huxtable, lawyer and mom, on the hit sitcom "The Cosby Show."
The Making of a Vice President
Plenty of external influences were also making their way to Harris during her Howard days. Flipping through the student newspaper, The Hill- top, her freshman year, Harris probably read about Congresswoman Shirley Chisholm – one of her "sheroes" – chairing a legislative workshop during the Congressional Black Caucus Foundation's Annual Legislative Conference, a decade after becoming the first Black woman to run for president. Jesse Jackson launched his historic run for president in 1983. And during her sophomore year, crowds celebrated the 20th anniversary of the March on Washington.
Meanwhile, as violent anti-apartheid protests in South Africa were broadcast on American televisions, Howard students did not sit back. Harris soon joined the busloads of students who regularly went to the National Mall and the South African embassy to protest, calling for schools and corporations to stop investing in South Africa and for the U.S. government to take action as well. Shortly after Harris graduated from Howard, Congress enacted the Comprehensive Anti-Apartheid Act of 1986 imposing sanctions on South Africa.
She would later tell Howard students, in a 2017 Commencement address, about the importance of speaking up and speaking out for what's right. It was a motto that lived with her since her Bison days.
People looking back at college-aged Harris would see the beginnings of the vice president in the making. Some of the lessons Harris learned while at Howard have been instrumental to her success; for example, her deft skill and confidence when debating – immortalized in her famous line in the vice-presidential debate, "Mr. Vice President, I'm speaking" – were honed at Howard when she joined the debate team. As a political science and economics major, she also chaired the economics society and pledged Alpha Kappa Alpha Sorority, Inc., Alpha Chapter, during her time at Howard.
In her sophomore year, she interned with Senator Alan Cranston of California, the same seat she would win more than 30 years later.
Once, while working as a tour guide at the U.S. Bureau of Engraving and Printing, Harris ran into Howard alumnus and actor Ossie Davis and his wife Ruby Dee. "I've never forgotten how it made me feel as a young person to have these two icons, both larger than life, take the time to show an interest in me," she recalls in her memoir.
Ready for Whatever Comes Next
Just as Harris admired the alumni before her, she too has inspired current and future Bison.
For one thing, there's been a spike in interest among students contemplating political science careers. "We've seen interest in our department grow and our minors trend upward since the Kamala Harris moment occurred," says Niambi Carter, Ph.D., associate professor and director of graduate studies for the department of political science.
She also noticed the excitement in her classroom throughout the election season.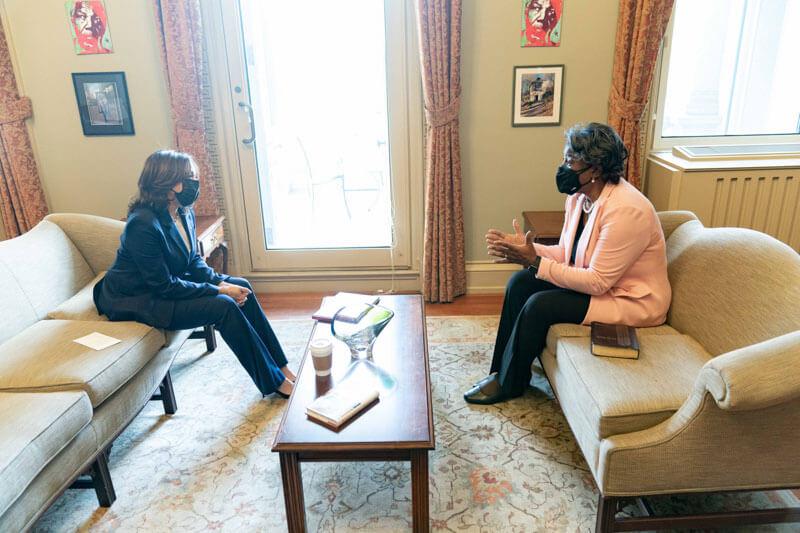 "Students were curious. These are young peo- ple coming into their own politically. Some people weren't sure if Kamala Harris' politics matched their own, but there was still a sense of pride that this person who is doing this thing went to this place," she says. "She sat in the same classrooms and has taken [classes with] some of the same professors."
For some students, Harris' vice presidency expands their notion of what can be. "Everything is possible because of the alumni that came before you," says Rachel Howell, a senior political science major and president of the Howard University Student Association. "It means so much just being able to walk on the Yard and think to myself, 'Wow, Vice President Kamala Harris was here. We all share the same cultural experience.'"
That is something that all alumni can take a page from, Wutoh notes. "I'd use this as an opportunity to encourage alumni to support the University, help us in the things we're trying to do to make sure the experience that Vice President Harris had continues to be accessible for the next Kamala Harris."
This story appears in the
Spring 2021
issue.
Article ID: 416