The sun beamed on Honolulu's capitol building the morning of the Hawaii for Black Lives rally, a bit of meteorological foreshadowing for the triumphant day ahead. Kylah Hughley, a Howard University junior, had worked to plan the details and publicize the June 6, 2020 event across social media. She and her co-organizer hoped for a turnout of maybe 1,000 peaceful protestors. Instead, nearly 10,000 people of all races – some with signs, some in traditional Hawaiian clothing – showed up to stand with Black Lives Matter and make the rally one of the largest in the state's history.
The Aloha State may seem like a racially and ethnically diverse paradise. Hawaii, however, is not unspoiled by the systemic racism that infects the continental states. Hughley is eager to do the work to remedy it, and that advocacy has changed Hughley's plan to become a clinical psychologist to an unknown territory of career options that she's still exploring.
"I've always had this kind of drive to speak out. But one thing that I've really gotten out of Howard is [that] everyone's there because they're a leader," says Hughley. "I think when you're in an en- vironment where everyone is a leader, you have to kind of reevaluate what it is that you bring to the table."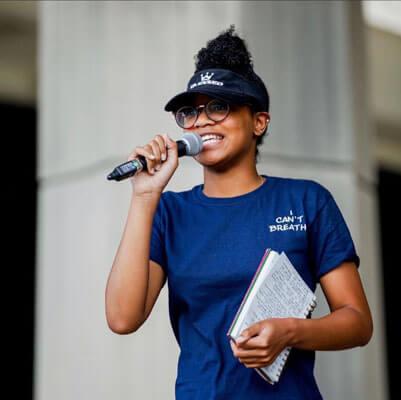 Hughley is one of many Howard students who felt a call to action during that 2020 Summer of nationwide rallies. Some participated in marches, while others, like Hughley, became organizers in their home cities. Their critical involvement in the protests, coupled with what they gained in Howard's classrooms, inevitably inspired a new generation of leaders.
Blending Education and Activism
Howard's history of grassroots activism influences what's being taught in its lecture halls. So does the do-something energy of Washington, D.C., where local, national and international politics intersect with the mission-driven work of major civil rights and social justice organizations headquartered in the city.
It's an atmosphere that's connected Howard students' engagement in sit-ins during the civil rights movement in the 1950s and '60s; Black power and the June 16 movement in the 1970s; anti-apartheid protests in the 1980s; and involvement in every activism from climate change to human rights to criminal justice, says Clarence Lusane, Ph.D., professor and former chairman of Howard's Department of Political Science.
"Howard was born out of a very critical period of the United States, during the Reconstruction era in 1867, when our country actually made an effort at democratization and inclusion. There's a long history of our students becoming leaders around critical moments," Lusane says.
From an academic standpoint, the intersection of history and leadership is a teachable moment. "What we try to do is encourage our students to see a relationship between what we study and being change agents," Lusane adds, "and that fits in with the whole idea that education should have a purpose. Of course, every student isn't going to be an activist, and every student shouldn't be an activist. But we can lay the foundation for the relationship between service and education."
From the Streets, Leaders Emerge
In the heIghtened socIal actIon of summer 2020, Howard University senior political science major Peter Lubembela organized 10 events in the span of six weeks for his Denver, Colorado community, where the number of deadly shootings skyrocketed 50 percent between Summer 2019 and Summer 2020. The founder and executive director of 10for10, an organization he started by asking 10 Black men to each donate $10 to feed people at a local shelter, Lubembela expanded its mission to confront racial inequity, police brutality and gun violence.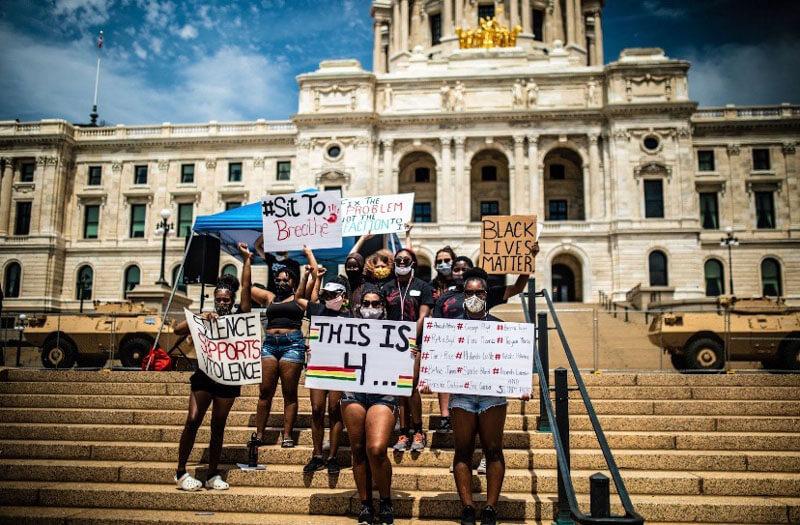 "After George Floyd got killed, my parents were like, 'Peter, we don't want you protesting. It's dangerous.' But I had to do something," he says. "It's been really exciting, being able to get people who are passionate about pushing this struggle forward to come together. I think in order to lead, you have to take a stand."
Senior David Edgerton III agrees. "Organizing has opened and expanded my world view to include, not just the people suffering in the United States, but all marginalized people across the world," he says. He helped organize several student-led protests in the Minnesota suburbs. He also addressed more than 15,000 people from the Minnesota state capitol steps as part of the "Sit to Breathe" movement. Edgerton is taking his advocacy skills to Howard University School of Law in the Fall.
Third-year Howard law student Dominique Dille gained a different set of skills: legal observing, for which she received training through D.C. Black Lives Matter. She documents cops for instances when people's civil rights are being violated and tries to help them receive bail support.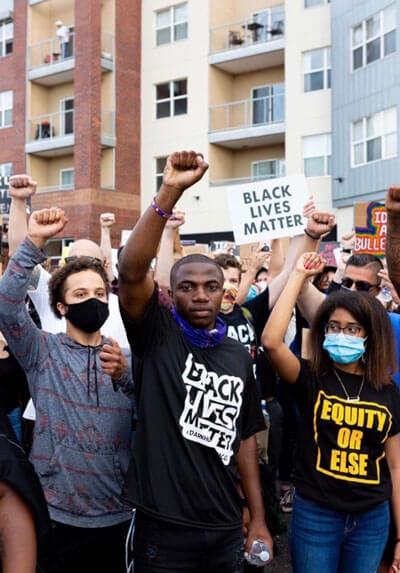 "I've always wanted to go into criminal law because I saw how corrupt the system is," Dille says.
"It is minority populations facing the brunt of the injustice of the criminal system and the injustice of America."
Hughley is switching her grassroots leadership in another direction after learning that activism doesn't happen just on the front lines of protests and marches. With three friends, she created Our Space, a youth group in Hawaii that plans and hosts events designed to affirm and support Black kids.
"I had to step away because I can't pour from an empty cup, but I felt guilty – like, 'What am I going to do now that I'm not out there?'" she says. "Once I found this project, I recognized 90 per- cent of the work is not in the streets, the marching or the signs. That's what brings attention to what's really happening behind the scenes."