In Childers Hall, several rooms are sealed off to contain the noise within; a courtesy so that the acting students aren't disturbing the art students and the music students aren't disturbing each other. Though students needs their own space to practice, there is more binding them than dividing them: the University, by reestablishing the College of Fine Arts, is demonstrating the significance of bringing them together as well. This time, it even has an official name: the Chadwick A. Boseman College of Fine Arts, named for the late Academy Award-nominated actor and Howard alumnus, who fought hard to bring the college back.
"I'm excited [to have a] real whole community within the College of Fine Arts," says Mikki Taylor (MFA '02), professor of fashion design.
"Now we're dealing with people who understand what we do," says Connaitre Miller, associate professor of music and vocal jazz coordinator. When the school was in the College of Arts and Sciences, she says, "We were lumped in with a group of people that didn't necessarily understand what we did as artists."
While the arts have a long and cherished history at Howard, the reestablished college right now has the energy of a start-up. There are new facilities to be constructed, greater funding flowing into the program, and bold ideas flying left and right.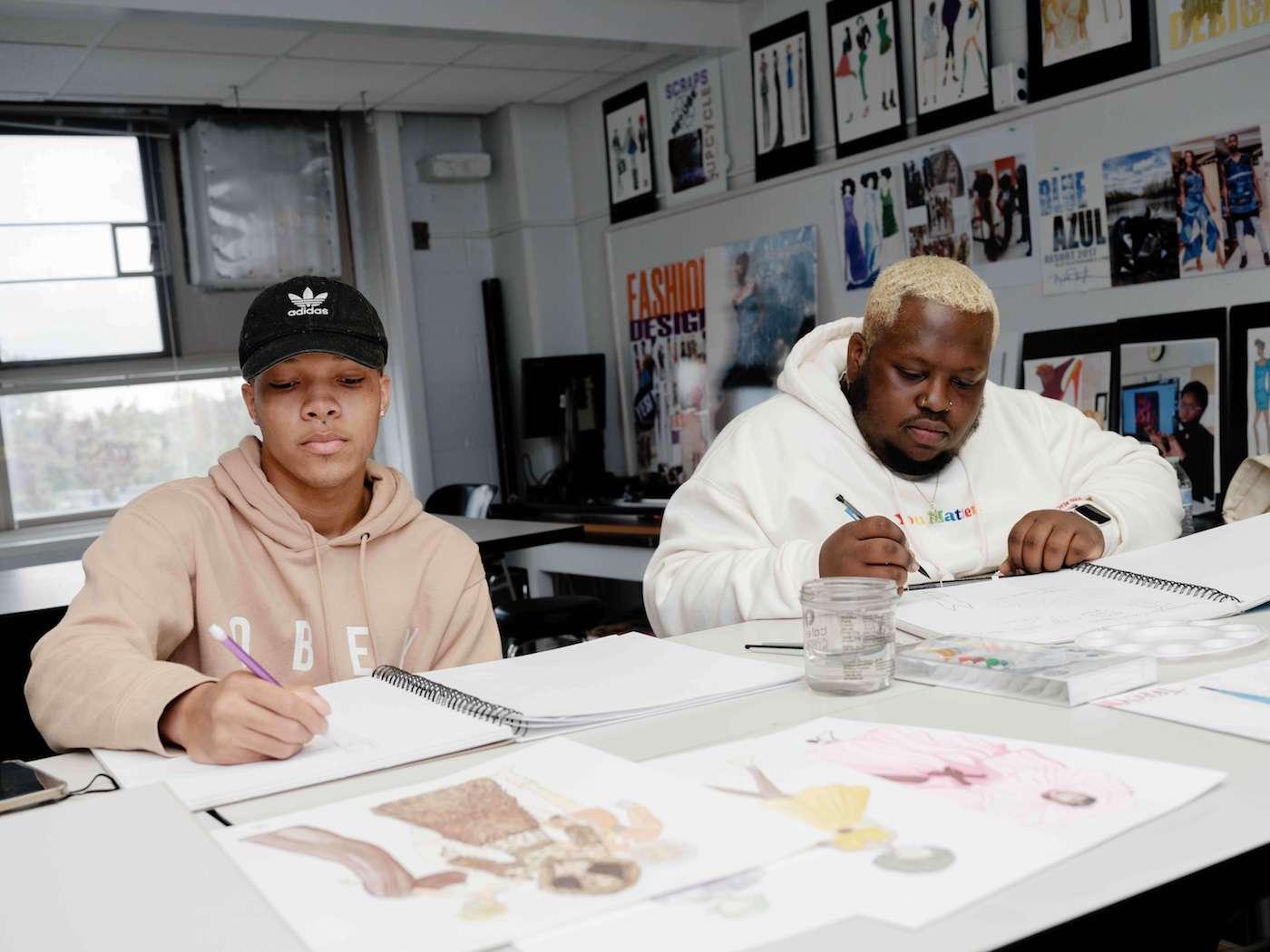 Phylicia Rashad (BFA '70, H '09), who was hired in July 2021 to be the new dean of the college, says, "After 26 years of being dormant, now [the College of Fine Arts] lives and breathes again, and [it] will grow again." A Look Back at the College of Fine Arts In some ways, 2021 at Howard feels a lot like 1961, when the College of Fine Arts was first established following a decision by the Board of Trustees to merge the School of Music and the Department of Art and Drama. 
A Look Back at the College of Fine Arts
In some ways, 2021 at Howard feels a lot like 1961, when the College of Fine Arts was first established following a decision by the Board of Trustees to merge the School of Music and the Department of Art and Drama.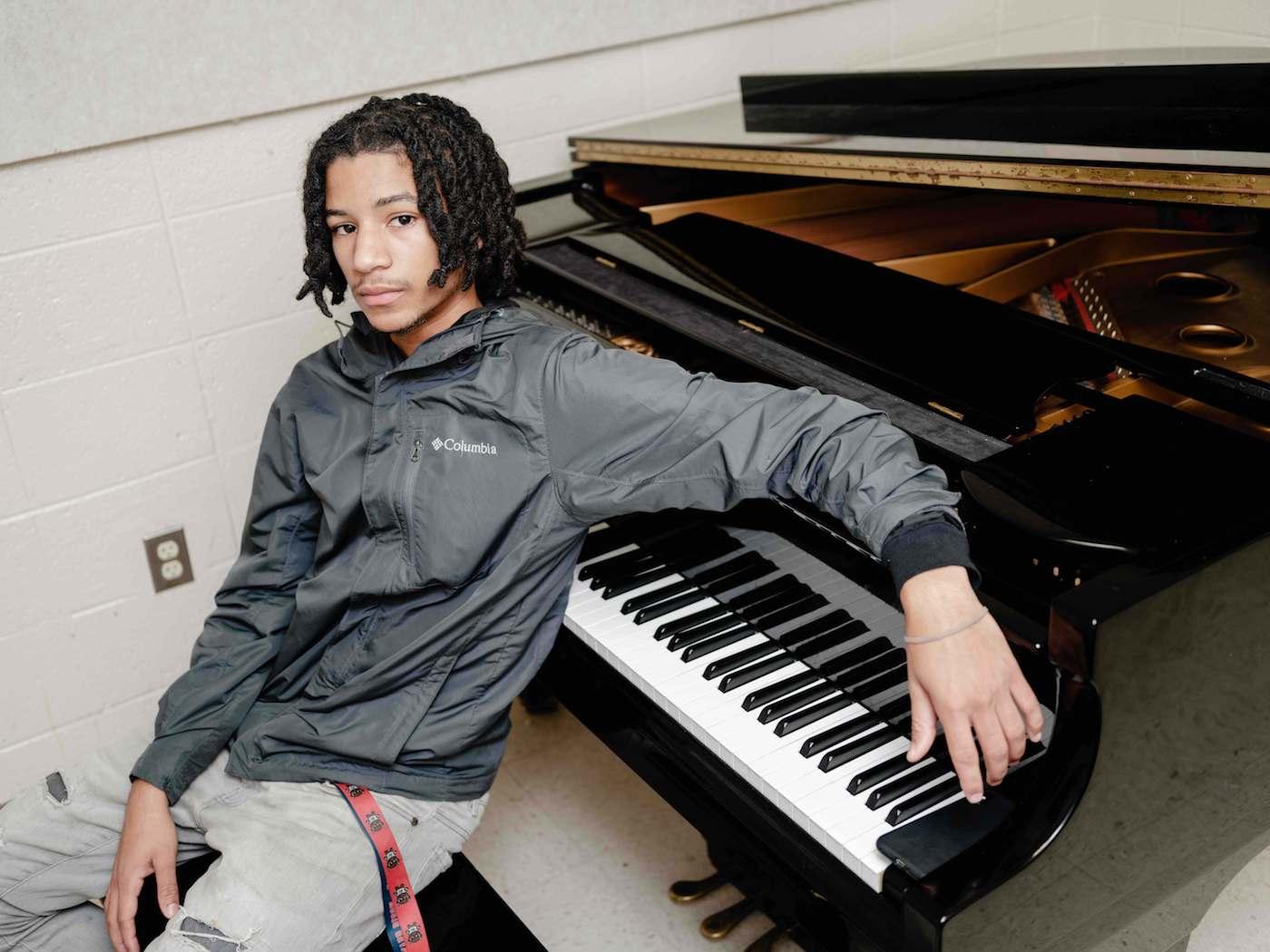 "Operating for the first time as an integrated unit under one roof, the School of Music and the Department of Art and Drama achieved effective first year evidence of 'togetherness'," the Howard University Annual Report of 1961 read. "Joint faculty meetings were entered into with enthusiasm and creative thinking by the entire faculty."
People should be able to come here and find out, and know, and see...what has been accomplished by African American people as artists and teachers and scholars."
This "togetherness" helped build the college into a foundation of creative force with shared ideas, ease of collaboration, and funding that flowed easily into research and projects. During the next few years, the college saw much physical transformation; new facilities were built, including Cramton Auditorium and Childers Hall, the Ida Aldridge Theater, art and dance studios, a recital hall, a library, a lounge, and an art gallery. It was a far cry from when art classes were held in the engineering school or when the art gallery shared space in the basement of Rankin Chapel and, later, within Founders Library.
The college produced great talent for the better part of three decades, graduating many alumni who enjoyed wondrous success in their fields and worldwide. High-profile faculty came through the doors to teach.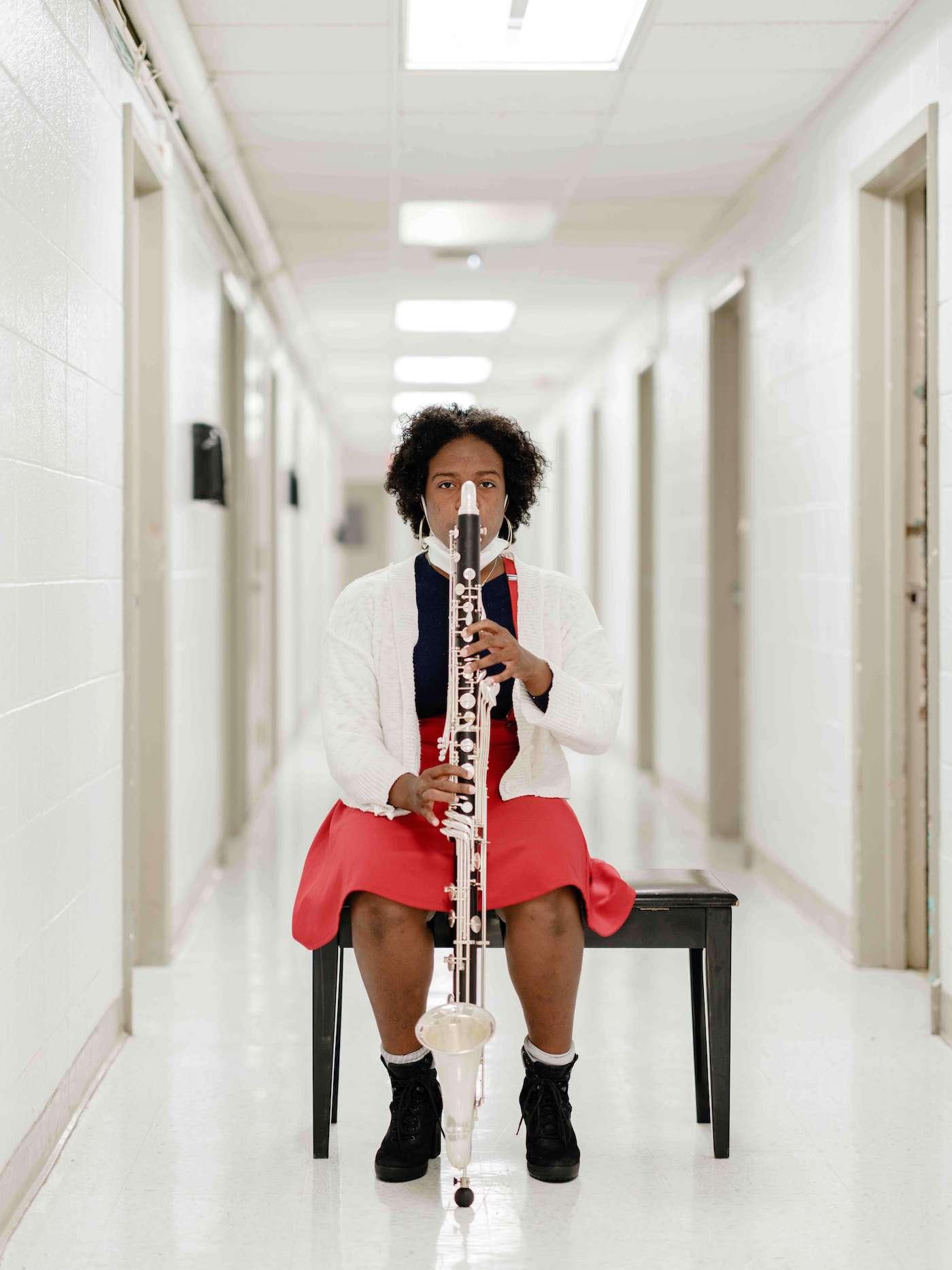 But by the 1990s, the federal government made a concerted effort to reduce the deficit by cutting back on spending, and the cautious approach impacted institutions dependent on federal appropriations, including Howard. Howard also acknowledged how expensive the College of Fine Arts was: Its per capita cost of $13,209 was one of the highest of any school or college in the Division of Academic Affairs, the result of having to fund expensive operations like the art gallery, the choirs, and the bands as well as the theater and its performances.
By 1996, as part of Howard University's Strategic Framework for Action, the College of Fine Arts was folded into the new College of Arts and Sciences. "It took years to build a College of Fine 
Arts that had full accreditation in each department," Rashad recalls, who was on the Board of Trustees when the decision occurred. "And that was changed within half an hour."
The student body did not take the news quietly. In pure Howard tradition, the students, Chadwick Boseman (BFA '00) among them, lobbied hard to bring the college back. The students interrupted the Charter Day ceremony that March of 1997 and later occupied the Administration Building.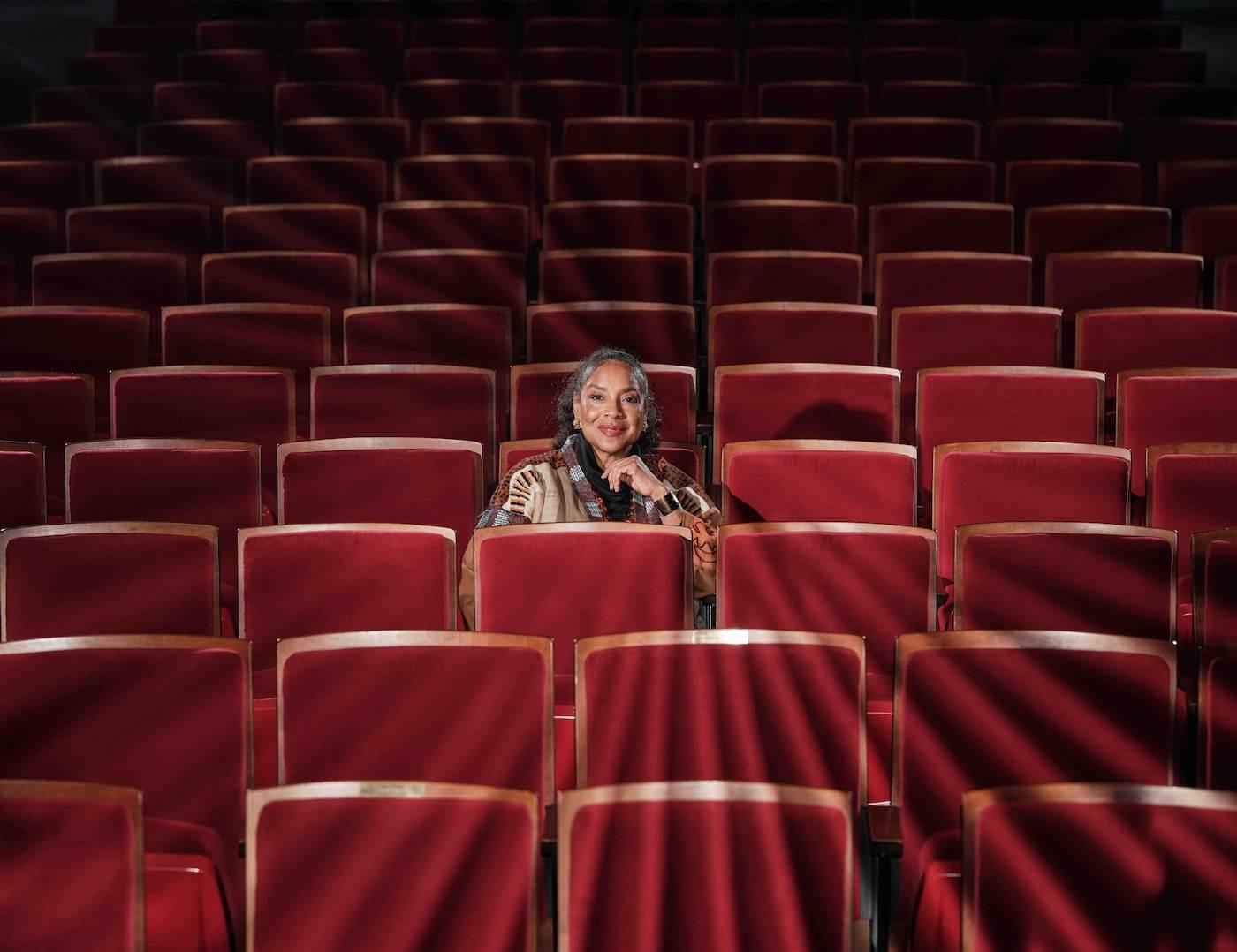 Kamilah Forbes (BFA '98) was one of the protestors. She felt the decision reflected a lack of prioritization of arts and culture at Howard, which in turn reflected how the country undervalued arts and culture as well.
"I think that this was a microcosm of that sentiment," says Forbes, the executive producer of New York's famed Apollo Theater. She calls the decision shortsighted, especially "at a school which outputted some of the most notable Black creatives in the world."
Though the protests in 1997 did not bring immediate change, Forbes, Boseman, and others remained in touch with the administration long after they graduated, working to bring the college back. In early 2018, their efforts finally came to fruition. Boseman was present for the announcement but passed away in 2020 from colon cancer before the college was officially reactivated.
"I think it's just fitting—it makes me teary-eyed thinking about it—naming the college after our brother who never stopped fighting for it," says Ta-Nehisi Coates, best-selling author and professor in the College of Arts and Sciences, who was also Boseman's classmate.
A Unified Existence
"The College of Fine Arts should be a repository of knowledge and a center of academic [and] artistic research for everyone in the world," Rashad says. "People should be able to come here and find out, and know, and see … what has been accomplished by African American people as artists and teachers and scholars." She has been talking with and listening to faculty in order to shape a larger vision for the college. The wish lists are extensive. They include piano keyboards, computers, mixers, large format printers, graphic design programs, professional rhythm sections for singers, in-house video production, instrumentalists, electronic music lab, a commercial music program, a Summer jazz camp, a rhythm workshop, art exhibits, theater trips, ensembles, and more.
For Larry Cook, assistant professor and coordinator of photography, staying competitive in the market is essential for Howard to succeed among art schools nationwide. He is hopeful about the ability to invite high-profile visiting professors and to fund unique student projects.
"The difference is we have a larger budget, and with that, being able to address various needs … with a greater sense of urgency," he says. A bigger budget, however, should not coincide with a larger tuition bill for the students. According to music theory professor Richard Desinord (BFA '10), besides trips and research opportunities, "the most important thing I would like to see … [is] helping [students] pay for school."
Bringing what's relevant to Howard is also key, Miller says. "Many students … come to America to study gospel music," she says, citing Berklee School of Music in Boston as a popular option. "I'd like to see us start a gospel music program so they can come here."
In 2020, courses were updated to "reflect 21st century standards as well as create courses to lead in this changing society," notes Robin Harris, master instructor in theater arts. She is most excited about collaborating across disciplines. "We are now at the convergence of 'possibility' and 'opportunity.'" 
Just being a re-formed college was enough to convince junior Eric January, a painting major, to transfer to Howard. "Seeing that Chadwick [Boseman] finally got honored and [with] Ms. Rashad being here and having a college where so many alumni came from, I said, 'I have to be a part of that.'"
The Legacy of Chadwick Boseman
Currently in the plans are new facilities and student funding. And behind much of the vision is the legacy of Chadwick Boseman.
A new, state-of-the-art Center for Arts and Communication is currently in the works. It will house space for the College of Fine Arts, the Cathy Hughes School of Communications, the architecture program, and WHUT-TV and WHUR 96.3FM. The space includes studio-based learning environments, classrooms, offices, and more. The design intends to create modern, interdisciplinary collaboration while maintaining Cramton Auditorium and Ira Aldridge Theatre.
Acknowledging the iconic performance Boseman played as King T'Challa in Disney/Marvel's "The Black Panther," Walt Disney Company's executive chairman, Robert A. Iger, has personally taken it upon himself to lead fundraising efforts that will build the new center and the college's endowment.
Video streaming service Netflix also established a $5.4 million endowed scholarship in Boseman's name, awarding full scholarships to students that cover their four years. The students who were selected "exemplify exceptional skills in the arts reminiscent of Mr. Boseman" and have a financial need. So far, four students have earned the scholarship.
The college's reformation has also started attracting other partnerships. Another recent scholarship includes the Capri Holdings Fashion and Merchandising Scholars Fund, established by Capri Holdings Foundation for the Advancement of Diversity in Fashion, in an effort to advance equality and promote change in the fashion industry.
According to Rashad, there's no doubt that Boseman's presence is strong at the college. "The vision of this school actually arises from remembrance of him," she says. "He carried a lot within himself. He was curious … he was strong. And you see this in his work. He was always well intentioned and purposeful."
Rashad hopes that his legacy carries on within the students who occupy the college named for him. "Learning doesn't stop in four years," she says. "Howard [is] … a gateway to adulthood in the world. I want the students to leave here confident they can go anywhere in the world and do anything."
This story appears in the
Winter 2022
issue.
Article ID: 656