East of the Anacostia River, some Washington, D.C. residents find it difficult to access critical health services. In fact, the Health Resources & Services Administration (HRSA) reports that several district neighborhoods are medically underserved, meaning there are too few medical providers. With a $1.8 million grant from HRSA, social work professor Janice Berry Edwards, Ph.D., oversees Howard University's intensive Behavioral Health Workforce Education and Training (BWHET) program specifically designed to address the behavioral health needs of underserved populations.
A cohort of 30 students participate in the program each year. For 10 weeks each semester, students attend Saturday workshops that deepen their understanding of topics like health disparity, trauma, self-care, opioid abuse and comorbidities. At the heart of this program is experiential learning – taking students beyond the classroom to gain real-world experiences and give them access to experienced practitioners who share their insights.
Angela Wilbon is a licensed social worker and the program's clinical director. She says students who participate in the training think of it as a bootcamp that prepares them for what they'll encounter in the field. "Students who have completed the program can fully appreciate the intensity because they're prepared to step into their roles in a different way," she says.
The BWHET case simulation lab is a key element of the program that gives students an opportunity to experience patient care in real time without the added pressure of working in an agency setting. Under the supervision of experienced faculty, students receive a patient care scenario and role-play engaging professionals across disciplines, making connections among the physical, mental and emotional health of the patient. The lab brings social work students together with students in medicine, nursing, dentistry, occupational therapy, pharmacy and other disciplines, exposing them to the interprofessional nature of the health care field so they learn how to interact with professionals outside their own discipline.
"When you go straight to work in an agency, there are times when your supervisor might be too busy to monitor and give feedback," says Rachel Shelton, a doctoral student and the program's research assistant. "The simulation lab was a great way to get that experience and learn those lessons."
Students can also participate in an interprofessional bus tour of various health agencies in Washington. The tour gives them exposure to the populations they'll serve and into the organizations helping those communities.
Another aspect of the program is student internships, a critical opportunity for students to put their skills to work. Joseph Perry II, MSW/MPH (B.S. '15), an alumnus of the School of Social Work and a 2019-2020 BWHET participant, says the interprofessional nature of the education he received through the program fulfilled its mission of preparing him for his current role.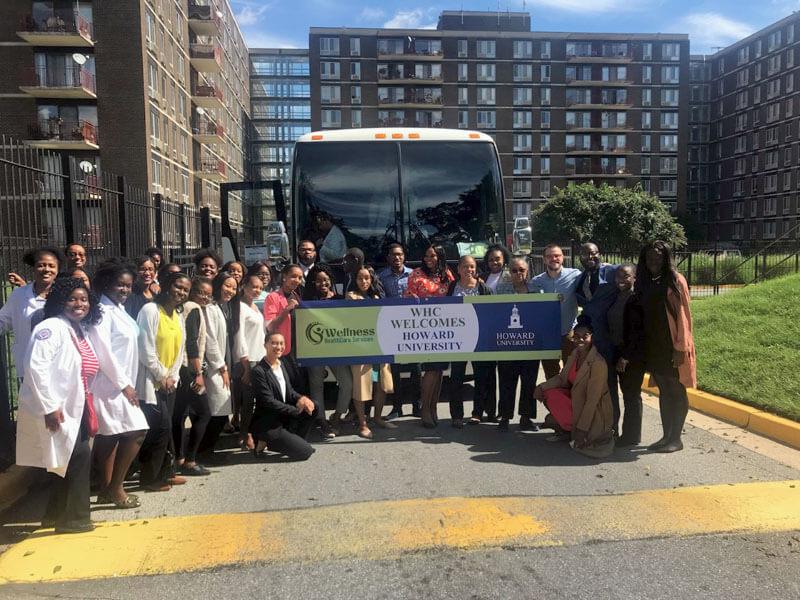 "I work on a team that consists of mental health therapists, nurses, a psychiatrist and peer support staff, and I've been able to mimic the BWHET framework in my place of service to the community," he says. "Interprofessional education is important because interdisciplinary teams help narrow the chances of fragmented and incomplete care. This increases the overall chance of consumers getting as much help as they need when they need it."