In the middle of the night in Lille, France on March 20, 2020, Micah George learned that because of the COVID-19 pandemic, the U.S. planned to close its borders within 48 hours – before her planned return on March 22. "I received a call at 3:00 a.m. and was on a flight back to the U.S. at 7:00 a.m.," says George, who was a junior marketing major studying abroad at the SKEMA Business School.
As the world scrambled, adjusting to a new global health threat, governments issued stay-at-home orders and travel restrictions. Anthony Wutoh, Ph.D., Howard University's provost and chief academic officer, first focused on the students studying abroad.
"We had already established a task force. As countries closed their borders, we knew students may not be able to leave," Wutoh says. The week before students studying abroad came home, the University announced that instruction would be remote for the two weeks for all students after Spring Break. Emergency remote instruction quickly expanded to include the remainder of the semester.
It was a new Howard, one to which few were accustomed. Everyone was navigating an unfamiliar campus in the virtual world. The University, however, was quick to provide support – financial, technological and emotional – to its students, faculty and staff as everyone scattered across the country and the world.
Supplying Equipment and Financial Support
The University was able to provide laptops, tablets and Bluetooth keyboards to those who needed equipment. "We reached out to our corporate partners and conducted surveys of faculty and students to see who needed additional support," Wutoh says.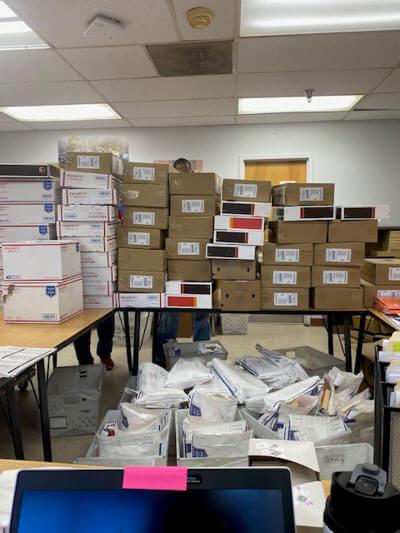 The University received donations from its trustees and other supporters. It also established an $8 million fund for students experiencing financial hardship because of the pandemic, the Howard Easement and Assistance Relief Trust (HEART) Grant. It provided up to $1,250 to more than 8,000 eligible students. When graduating students needed additional money immediately as they lost jobs because of the pandemic, the University urged people to give to the Howard University Alumni Association Emergency Scholarship Fund. The University also waived graduation fees and returned fees for student activities, parking and labs, and provided partial room and board refunds.
In addition, the University supported students studying abroad who purchased last-minute flights home. "One student took three different flights through airports that were still open on the last day that country allowed flights out of Europe," Wutoh says.
George benefitted from the financial support. The flight from France to her family's home in Lexington, Kentucky cost approximately $2,000. Howard University reimbursed her.
International students were also a concern as their home countries closed their borders, Wutoh says. "This was a public health crisis. We had to move everyone off of campus." At that time, Roger Lyn Jr. was a junior finance major from Kingston, Jamaica who lived on campus as the University sent students home. He was also captain of the men's tennis team.
"I was clueless about what to do during the rise of this pandemic," Lyn says. His girlfriend's family invited him to stay with them near Atlanta. Even though campus remained closed, Lyn returned to the Washington, D.C. area for the Spring 2021 semester when men's tennis resumed competition.
Connecting Teams Virtually
Before he returned, as captain, Lyn held Zoom check-ins every three weeks with the tennis team. "It served as a safe space to see how the team was feeling," Lyn says.
Kery Davis, athletic director, strived to keep the 400 student athletes connected through virtual programs after they left campus abruptly. A positive, he said, is that student athletes earned a collective grade point average of 3.4 that Fall semester – the highest since Davis arrived in 2015.
For Fall 2020, 40 student athletes returned to play women's volleyball along with men's and women's basketball. "This was unprecedented," Davis says. "We had to figure out how to house and feed the student athletes since the dorms and cafeterias weren't open. How do we train them? How do we keep them safe?"
Working with the NCAA, D.C. health department and University officials, the athletic department created a "meticulous plan" that included testing teams three times per week for COVID-19 and mapping out how teams would en- ter and leave facilities to reduce contact, Davis says. The additional costs and loss of revenue from spectators was offset by savings from drastically reduced travel.
Mental Health at Top of Mind
"The biggest challenge has been the mental health strains," says Davis, whose department held virtual mental health town halls and provided support.
Similar virtual support was available throughout the University. Bernard L. Richardson, Ph.D., dean of the Andrew Rankin Memorial Chapel, says the chapel streamed its services and featured guest speakers for the "Wellness Collective," which included topics such as anxiety, social justice and meditation. The chapel continued to provide its regular pastoral care virtually to families experiencing loss of loved ones, while helping families plan virtual memorials and fielding calls from students in distress.
The pandemic also forced the cancellation of Alternative Spring Break, a popular student-led service program. This inspired students to find other ways to give, Dean Richardson says. "Service, during this time of crisis, gives our students a greater sense of purpose and meaning," he said. Student leaders collected gifts for area children during the annual Angel Tree project, served as virtual tutors with the Social Justice Tutoring Program, and coordinated the first-ever virtual Howard University Day of Service and Howard University Alternative Spring Break program this year."
"I admire our students because they have used their creativity to work, serve and organize together in virtual settings. In the process, they are building community and realizing they are still able to make significant contributions," Dean Richardson says. "Our students are identifying their common struggles and talking openly about them; they are finding strength, confidence and comfort in their sharing. Truly, they are believing they have been called to Howard for such a time as this."
Morris Thomas, Ph.D., joined the University as director of the Center for Excellence in Teaching, Learning and Assessment (CETLA) in July 2020. His office integrated the different digital learning platforms, such as Zoom, Echo 360 and Blackboard, to provide a more integrated learning experience for faculty and students.
Prior to the pandemic, 28 percent of faculty completed training on using the learning management system. Now more than 90 percent completed the training for using the learning management system, increasing the efficacy of virtual instruction in the University, Thomas says. "Online learning is the fastest-growing sector of higher education," Thomas says. "This expanded the University's reach and will continue to expand the possibilities. What was once considered the future has become our present reality."
400 Tables & laptops distributed to students

600 Laptops distributed to faculty & staff

900+ Zoom licenses