When Natasha Graves (B.S. '12) was planning a trip to Scottsdale, Arizona, she found very little information about tourist activities besides hiking. It was incredibly frustrating, considering she uses multiple mobility aids to get around. As a result, she developed VacayAbility, a platform where people with disabilities or unique abilities can rate and review places based upon accessibility.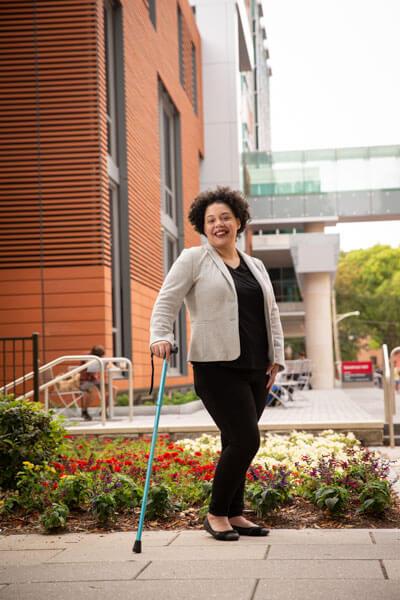 "After finding it increasingly difficult to locate reliable information on accessibility and disability resources at my travel destinations, I came up with VacayAbility," she says. "Think TripAdvisor, but for accessibility."
According to the Open Doors Organization, there are approximately 1 billion people globally with a disability. Between 2018-2019, more than 27 million travelers with disabilities took a total of 81 million trips, spending $58.7 billion on their own travel alone.
An active voice for the immobilized community, Graves lives with Sjogren's syndrome, a systemic autoimmune disorder which leads to other medical conditions, including automatic dysfunction, inflammatory arthritis and gastrointestinal dysfunction. Consequently, she now uses a feeding tube for nutrition and various mobility aids while commuting.
VacayAbility launched in February 2020, one month before the COVID-19 pandemic forced lockdowns worldwide. Due to ongoing travel stipulations as restrictions slowly lift, Graves has pivoted to working directly with establishments to ensure they're making a concerted effort to accommodate a wide range of disabilities, including physical, low vision/blindness, deafness or hard of hearing, sensory, allergy and other concerns commonly overlooked.
Thanks to her education at Howard, Graves has leaned into the power of relationships to bring further awareness to her cause.
"I earned a degree in health education/community health from Howard, but I also received a degree in networking," she says. "I believe that has been the biggest advantage over my competitors."
This story appears in the
Spring 2021
issue.
Article ID: 381