Despite the rain, Howard University graduated the Class of 2022, moving the ceremony inside to Burr Gymnasium in a return to the full-sized event for the first time since 2019 after it was canceled in 2020 due to the pandemic and limited in 2021 following a year of virtual learning.  
Howard University President Dr. Wayne A. I. Frederick hailed the graduating class for withstanding a global pandemic, cyberattacks, bomb threats, and a nation-wide U.S. racial justice awakening.   
"The challenges you faced over the course of your Howard careers brought out the very best in you," Dr. Frederick said. "You encountered disruption and responded with determination. You met uncertainty and countered that with resilience. You endured personal loss and struggle and answered with selflessness and service to others."  
Award-winning actress Taraji P. Henson (BFA '95) served as Commencement speaker. Henson was conferred an honorary Doctorate of Humane Letters, just before delivering remarks.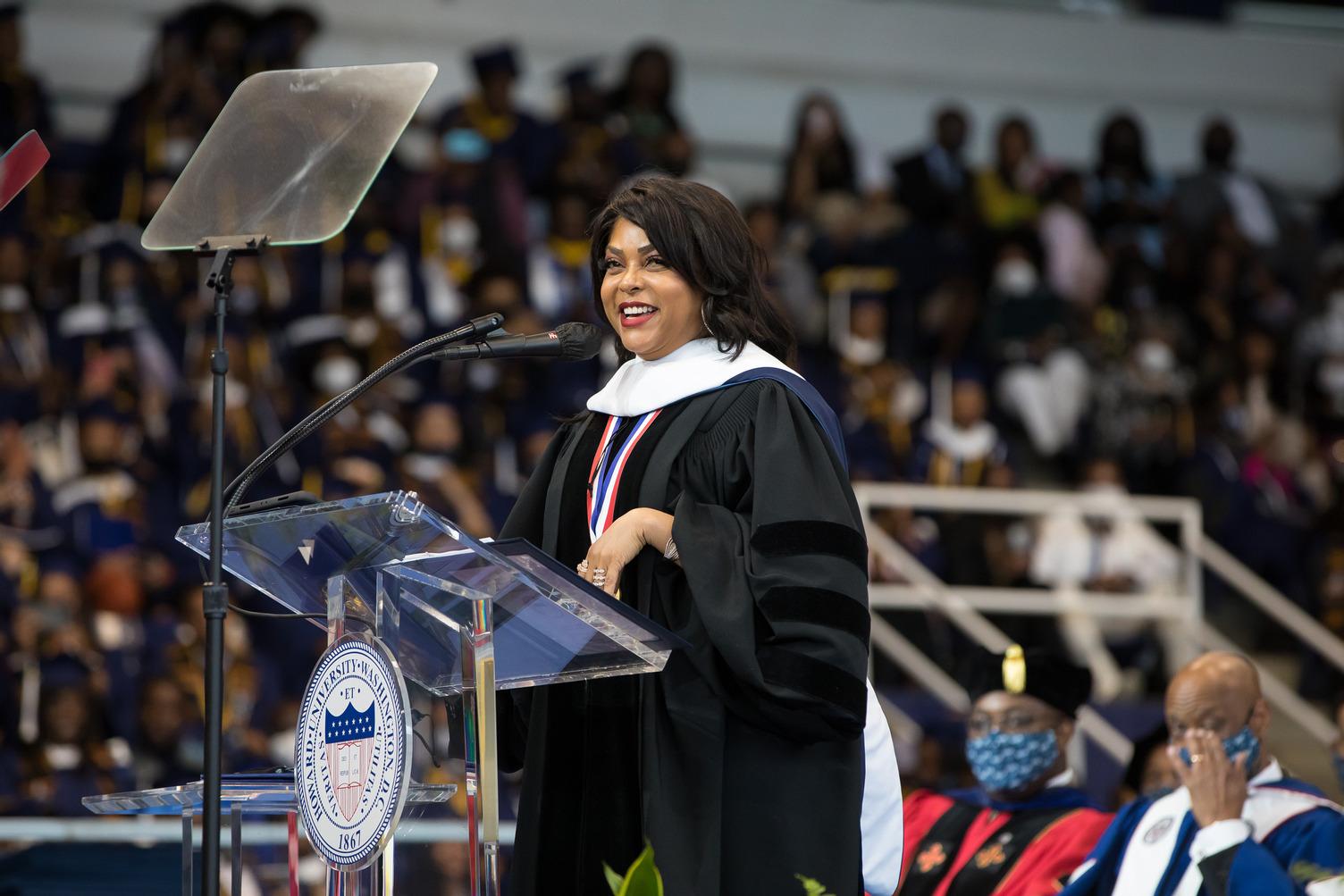 "No matter how many stumbling blocks were thrown in my way, I was too grounded in who I am and whose I am to ever be knocked off my path. See, what Howard University instilled in me, Hollywood could never take away," she said. 
In her address, Henson shared intimately about her early experiences in Hollywood as a single-mother and an undervalued Black actress. Henson spoke about how she was paid only $100,000 for "The Curious Case of Benjamin Button," a $167 million film project. Henson said the role came at a difficult period, which included mourning the passing of her father. At the time, she said she "put faith over fear," researched the role, and readied herself for the auditioning process.   
"I had been too well-schooled in auditioning for roles at the Ira Aldridge to not show up or try to phone it in or to not be prepared," Henson said, referring to the campus theater. "You know I did my homework." 
No matter how many stumbling blocks were thrown in my way, I was too grounded in who I am and whose I am to ever be knocked off my path. See, what Howard University instilled in me, Hollywood could never take away."
Henson spoke about how she used all of her energy to build the character Queenie in the movie.   
"[Queenie] was three-dimensional. She was emotional. She was no-nonsense. She had a big heart. She loved big even though she was living in the Jim Crow South, barely 50 years after the end of slavery. And in honoring Queenie, I honored all of our ancestors and sheroes who dreamed of a better future for themselves and then led lives of dignity, grace, and determination, so fiercely that it made our present possible."   
For the performance, Henson was nominated for an Academy Award in 2008 for best supporting actress, and led to Tyler Perry casting her as the lead in "I Can Do Bad All By Myself."  
Alongside Henson, 2022 Howard University honorary degree recipients included renowned public historian Elizabeth Clark-Lewis, Ph.D.; Robert L. Lumpkins, trustee emeritus of the Howard University Board of Trustees and a past vice chairman; Stacey J. Mobley, Esq., distinguished Howard alumnus and chairman emeritus of the Board of Trustees; and Jonelle Procope, president and chief executive of the Apollo Theater.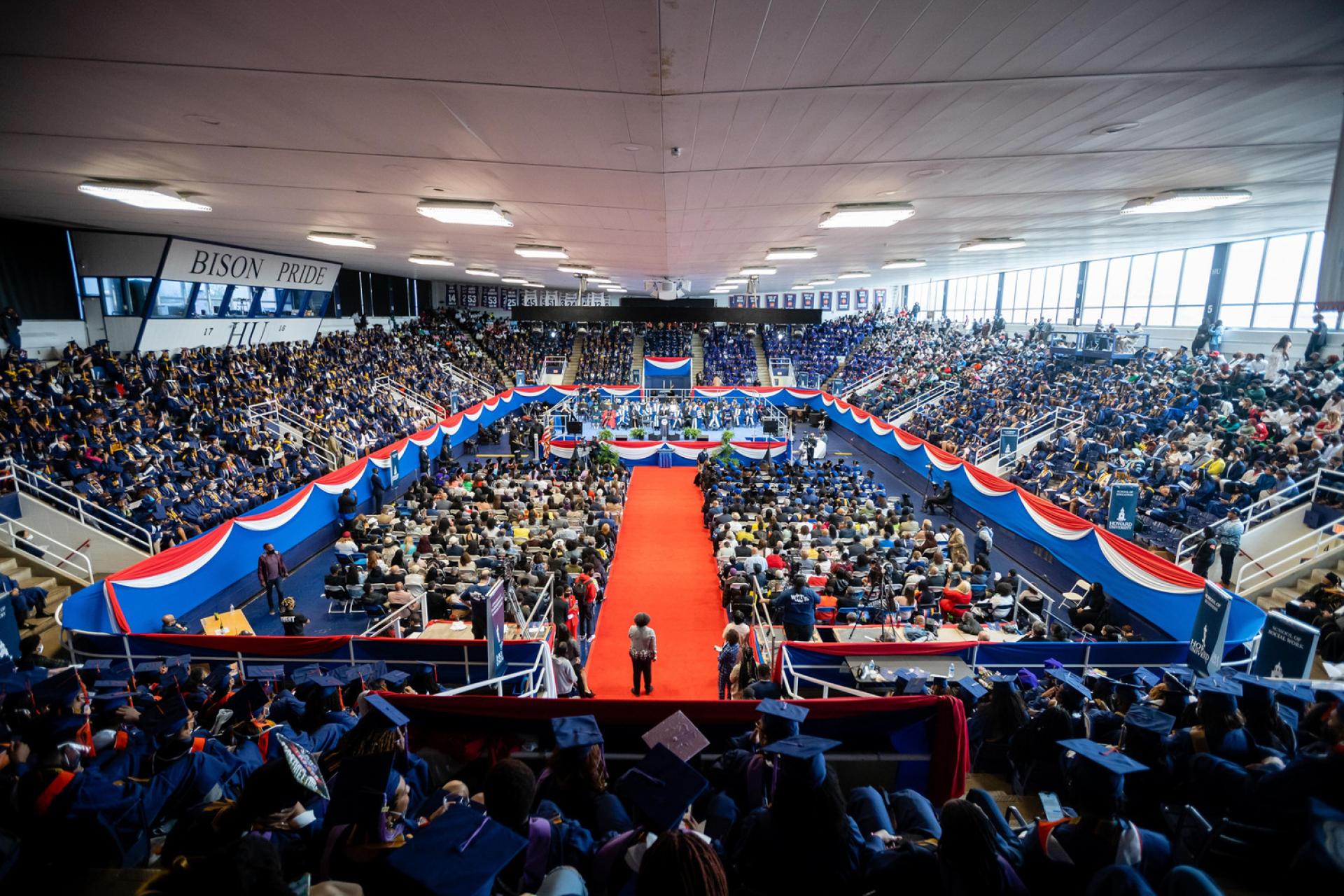 1,225 Undergraduate degrees

711 Graduate degrees

85 Research doctorates

58 PhD degrees

43 States represented

22 Countries
 Chadwick A. Boseman College of Fine Arts  
Students received diplomas and recognition at each of the individual school and college ceremonies held throughout the week, some for the first time in person since the pandemic. The Chadwick A. Boseman College of Fine Arts celebrated its first class of graduates as a re-instated college. Grammy award-winning singer Yolanda Adams performed and producer and writer Logan Coles (BA '02), a classmate and close friend of Boseman, spoke to the graduates. He recalled how Boseman wrote and re-wrote his 2018 Commencement speech until he was certain that every word was perfect.  
"Discipline and consistency are two things in this life that are completely in our control," he said, noting that those were two things Boseman held dear in his own work. 
"We are vessels, we're all vessels that are to be poured into and poured out of. So it's vital to always seek out ways to fill your creative cup, but it's also important to know when to pour from it. You've got to create room so you can be refilled."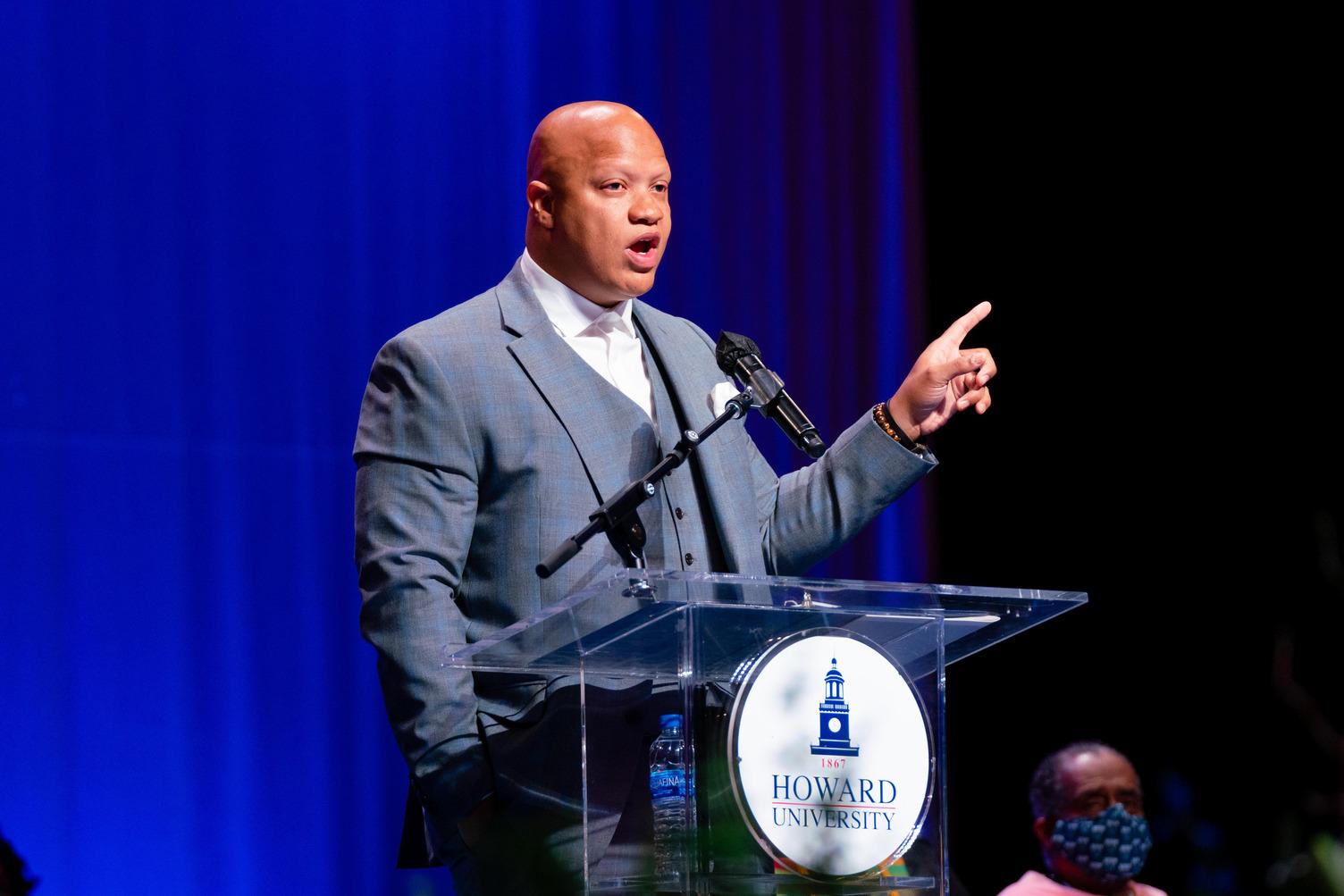 Cathy Hughes School of Communications 
At the Cathy Hughes School of Communications ceremony, Kendra Desrosiers (BA '10), senior director, global head of strategic programs and culture at Twitch, talked about launching 25 Magazine, which has since spread to 40 colleges and universities nationwide and what she gained from the experience. 
"I learned everything from data and analytics to growing and building a team, strategy and partnerships, how to scale. I even worked with an accounting major that had me set up an LLC, and I was experimenting with a new form of monetization at the time called online ads from Google," she told the graduates. "What I had not realized at the time was Howard University was preparing me for what would be the most transformative decade in our industry." 
Lavender Ceremony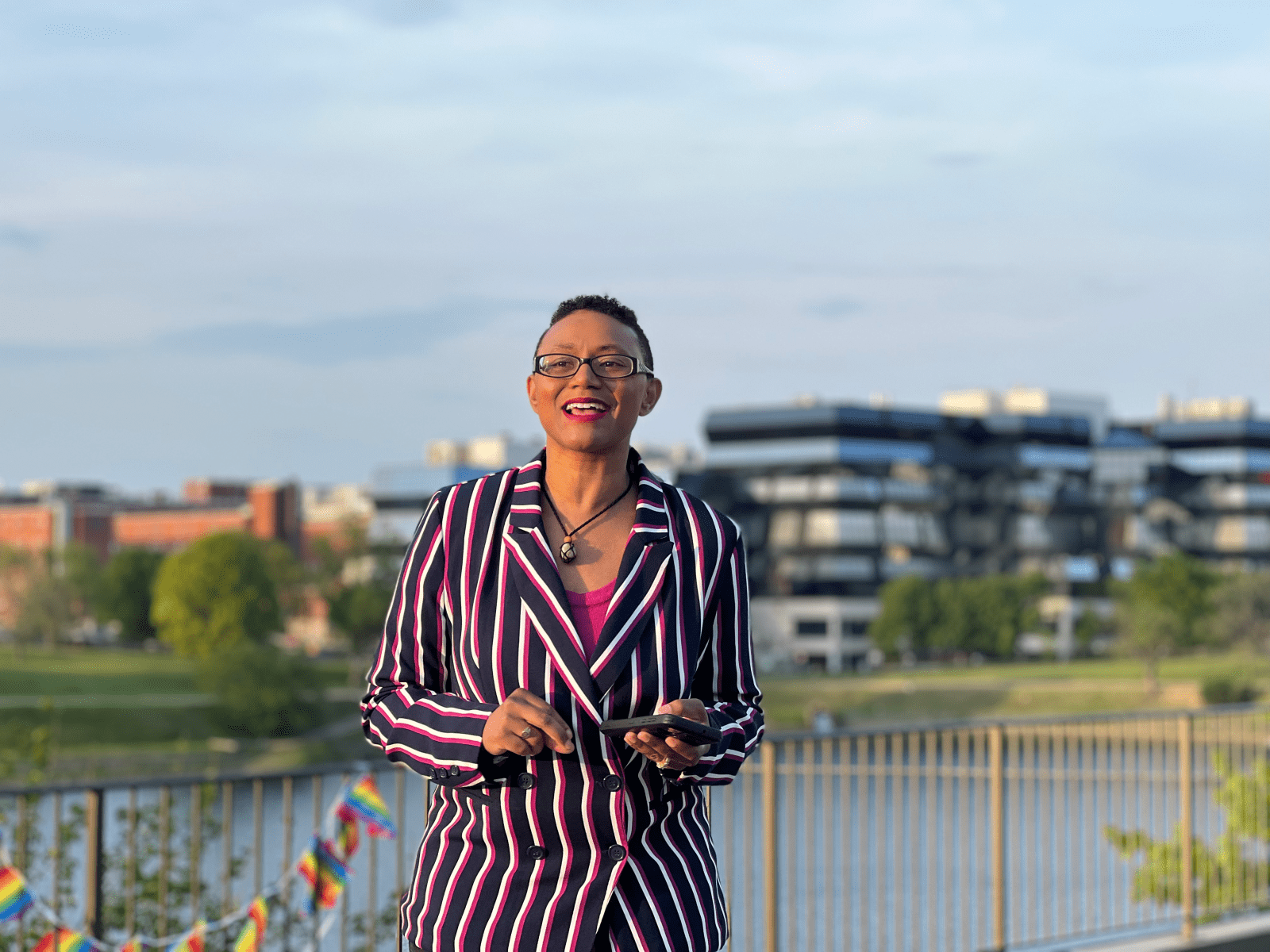 The newly opened Office of Intercultural Affairs hosted the annual Lavender graduation with Victoria Kirby York (BA '09, MAPA '11), deputy executive director of the National Black Justice Coalition as its keynote speaker honoring LGBTQ+ graduates of the class of '22.
School of Law 
The law school welcomed Kristen Clarke, assistant attorney general in the U.S. Department of Justice, as its keynote speaker. She was the first woman and first Black woman to be confirmed by Congress to lead the department's Civil Rights Division. 
"You are a part of the Black Lives Matter generation," she said. "You worked toward your law degree during some of the most sustained and powerful racial justice protests in our nation's modern history."