Xavier Ntamere sat perched on the guardrails in the stands above the pool inside Burr Gymnasium during the Howard University home swim meet with American University last October, watching the swimmers compete. The 16-year-old high school swim team captain and his mother Ebony had traveled from Indianapolis to visit Howard's engineering program, tour the campus, and, on the last day of their trip, see what the Howard swim team had to offer.
And his attention was rapt. Ntamere noted the differences between a high school swimmer and an NCAA Division I athlete – the physical condition of the swimmers, the superior form. "The form overall is so much better. You can tell that they've been doing it for a long time, and not only that, but they really care about their team."
Just like that, Howard University moved to the number one spot on Ntamere's perfect college choice list.
"My focus is on Howard. I want to go to an HBCU [historically Black college and university]," he says. "It would be better than any other program that I've ever been in my entire life. When I see Black swimmers on Howard's swim team, I picture myself with them, cheering on my teammates, and swimming and getting records and accomplishing my dreams. I love seeing Black people excel against stereotypes and beating the competition."
Since 2016, Howard University has had the only NCAA Division I swim program at any HBCU. That year, North Carolina A&T University ended its program, a women's-only team. Prior to the early 2000s, Florida A&M University, Maryland's Coppin State University, and Morgan State University had teams. As the last program standing, the coed Howard University swimming and diving team serves not only as the lone pipeline of high-caliber competitive Black swimmers but also as a beacon of Black swimming for the entire country.
According to a joint study by the USA Swimming Foundation and the University of Memphis with the YMCA, a staggering 64 percent of Black children under 18 lack swimming abilities and they drown at three times the rate of white children. The pool in Burr Gymnasium and Howard's commitment to competitive swimming serve as a rallying spot for fighting drowning among children in the Black community. In some ways, HBCU retrenchment from the sport leaves to Howard the task of advancing the conversation about Black America's complicated relationship with the water.
The Howard swimming and diving program is blessed to have a supportive University administration, which has committed to maintaining the facilities the team needs, including major expenses like the filtration system and chemistry needs of the pool in Burr Gymnasium. Tashni-Ann Dubroy, PhD, Howard University's executive vice president and chief operating officer, served as honorary coach at the Howard-American University swim meet in October.
Black children under 18 lack swimming abilities
64 percent
"It takes quite a bit of investment," says Dubroy, who herself swam competitively in high school in Jamaica. "Dr. Frederick and the Howard administration have been committed because we know we have a unique place in the HBCU sports landscape with our program. Black students can excel academically and swim competitively at Howard University."
Black Americans and the Fear of Water
In world of competitive swimming, the racial divide is clearly a problem. On the visiting side of the pool, the American University team appeared to be nearly all-white; while on the other side, the Howard squad was all Black. Lots of programs around the country look like American University, but not one has the look and feel of the Howard team. Howard opened the meet with a jazzy rendition of the American anthem, which was followed up all night with booming hip-hop.
The community impact of the Howard swim program is always present. At the meet, Yuvay Ferguson, PhD (BBA '03), assistant dean of impact and engagement at the Howard University School of Business, organized to bring to the swim meet her young daughters and more than a dozen kindergarten through third grade students from the Nation's Capital Chapter of Jack and Jill of America, Inc. The kids ate goldfish crackers and were given pom poms to cheer the Howard team.
"We want them to see something different – that Black people can excel at a variety of sports," Ferguson says. She learned to swim as a child and thinks that early exposure can help people become more comfortable with water activities. One thing she noted was that many Black women were taught to avoid getting their hair wet. "Natural hair and protective styles are widely embraced today so, hopefully, that concern is no longer a factor for whether or not young Black girls will learn to swim."
Howard swimmer Rianna Martin, an 18-year-old freshman biology major from Coral Springs, Florida, also challenges the hair notion. "I don't care. My hair is loose curls. I think a lot of Black people are scared for other reasons. If you get in, you'll be fine."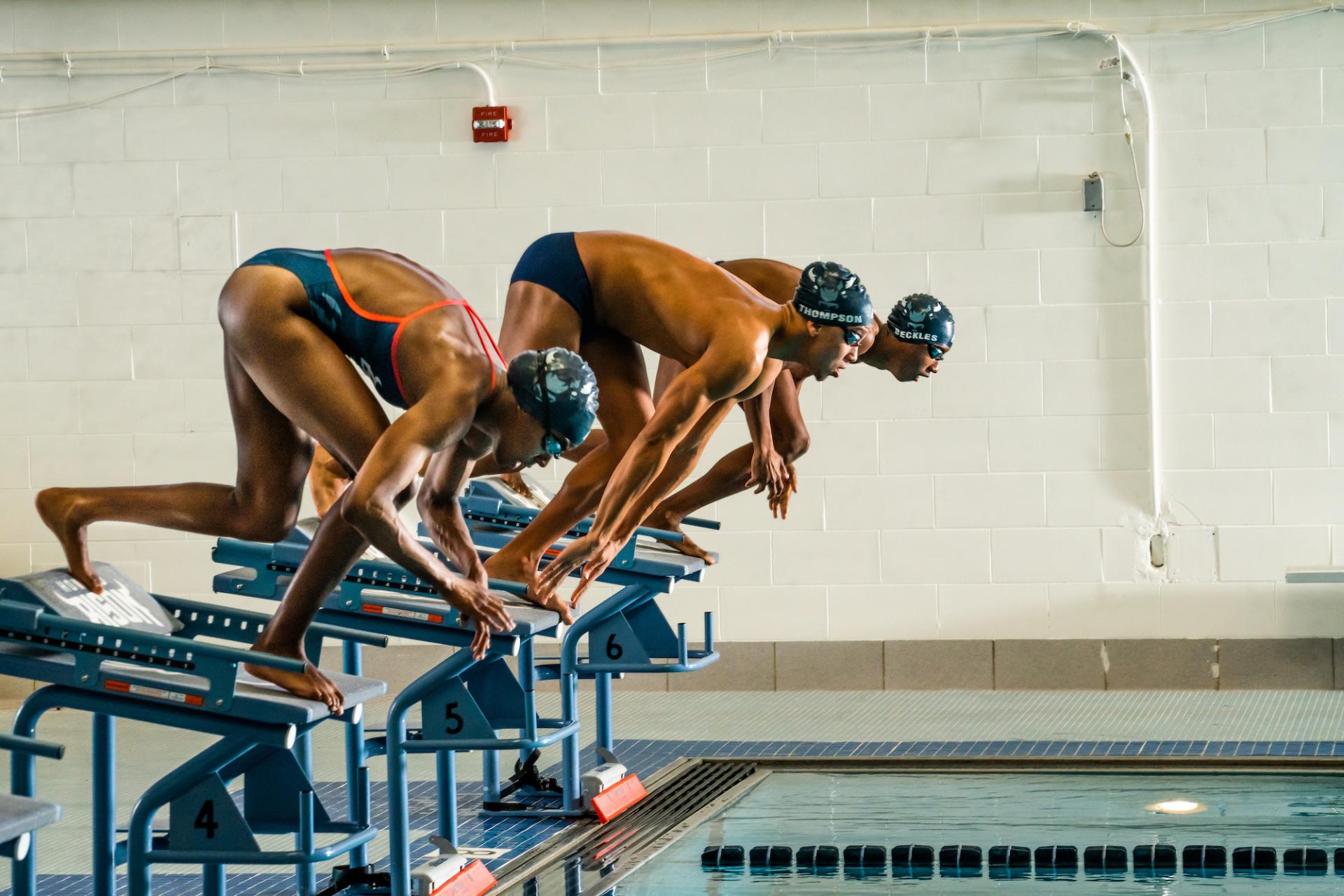 America's history of segregation is generally pointed to as the reason why Blacks don't swim as much as white people. Ferguson spoke about an older family member who said she couldn't swim because Black people weren't allowed to go to pools.
Nicholas Askew (BS '01), HU's head swimming and diving coach, traced the lineage of this problem deeper into America's racist history. He and others reject the idea that among Black people, the fear of water is somehow genetic or intrinsic.
"As a people, we swam well, especially coming from the coast of Africa, where we had to swim for our livelihood," Askew says. Here in America, slave holders lived in fear that their property could escape through the water, and so they punished, beat, and threatened Black people for swimming.
"They forbid them from going to the waters, so we lost the skill," Askew says. "There's a difference between the myth that Black people don't swim and the challenges we have. The challenges can be overcome with proper knowledge." As for the problem of Black women and their hair, he responds: "We have a team full of women with beautiful heads of hair of all textures. They talk about the challenges, but they have also found ways to manage."
As a people, we swam well, especially coming from the coast of Africa, where we had to swim for our livelihood." — Nicholas Askew (BS '01)
Askew also sees the lack of skilled swimmers among the Black population as a public health threat. According to research featured by the Centers for Disease Control and Prevention, 34,315 individuals under the age of 29 died from drowning between 1999 and 2019 in the United States. The drowning death rate for Black Americans was 1.5 times higher than for white Americans; moreover, this disparity in drowning rates actually widened between Black and white individuals between 2005-2019.
"We need to place more value on swimming as a community and as a culture and escape the old mentality that Black people don't swim," Askew says. "The difference at Howard is that not only do we value swimming as a competitive sport, but more importantly, we see the lack of swimming skills and drowning as major public health issues."
The team members volunteer their time teaching swimming skills and water safety knowledge to kids in the Washington area where swimming may not be accessible. Through a partnership with SWIM UP Foundation, the team members teach grade school kids from Southeast D.C. to swim and visit the school to talk about swimming as a sport. The team also hosts free clinics on campus for the greater community in which more than 500 participants have attended.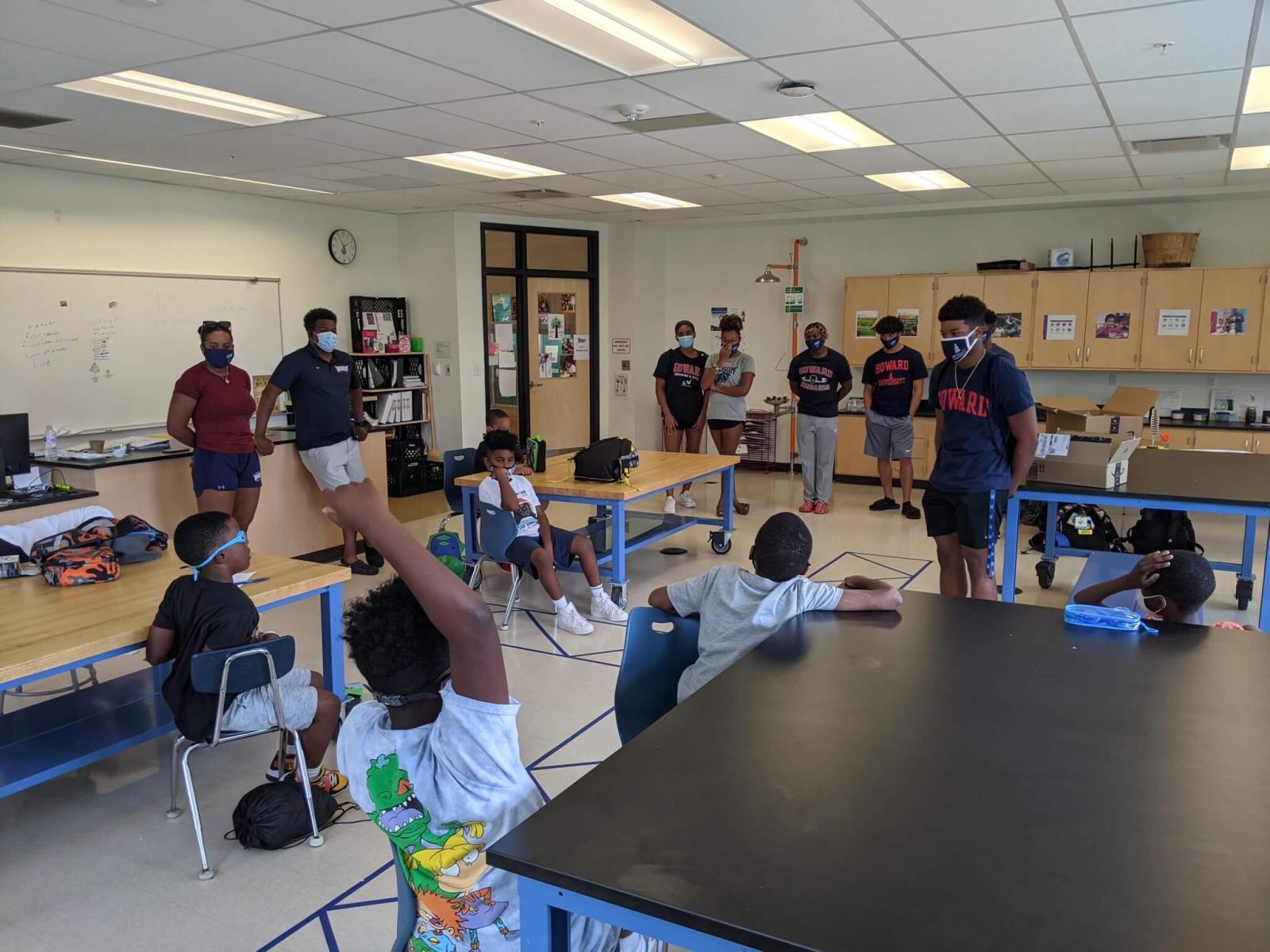 Askew also ensures that his swimmers volunteer or participate in two major swim meets in the Black community. One is the Black History Invitational Swim Meet, held in D.C. The other is the National Black Heritage Championship Swim Meet, held in North Carolina. He says both are crucial as they represent a time when Black swimmers were not welcome at other swim meets; today, they serve as opportunities to grow the sport. "Never shy away from being an inspiration and increase exposure," he remarks.
Swimming at an HBCU
On a recent November afternoon, Askew had the team run through high-impact drills in preparation for battles at mid-season and conference championships. The Howard University swimming and diving team practices in the afternoon amid hiphop music trailing in. The team is large, with 23 men and 26 women. The majority of Howard swim team members are on academic scholarship, and the season goes from September to March.
Askew has been credited with bringing a fresh outlook to the program. He is a former member of the team; he was named MVP for three of the four years he swam. In the sport, while team-wide standings are critical for championships, individual athletes with fast-enough qualifying times have a chance to go to nationals to compete.
The Howard swim program attracts a lot of students like Daylon Daniel, a 19-year-old sophomore from Baton Rouge, Louisiana. Daniel had been swimming since the fourth grade. He says he got serious in his sophomore year of high school when he was also running track. Eventually, he started to pour his energy into competitive swimming.
"I was a better swimmer [than runner]," he says. At practice, Daniel was focusing on the 500-yard free-style race, which is 20 laps in the pool inside Burr. "I always liked the idea of racing."
Daniel knew he wanted to swim but also knew he wanted to attend an HBCU. Howard University had been on his radar because of its prestige and reputation. As he started doing college research, he learned that no other HBCUs had swim teams, and he began to work harder to get on the team.
Daniel says teammates encourage and push each other toward team and individual goals. He says the team has a strong sense of community, especially when the squad comes together to do community service work. At his first meet, the team conducted one of their swim clinics for kids. "I don't think a lot of people have the opportunity to come learn how to swim and have the opportunity to come to a pool."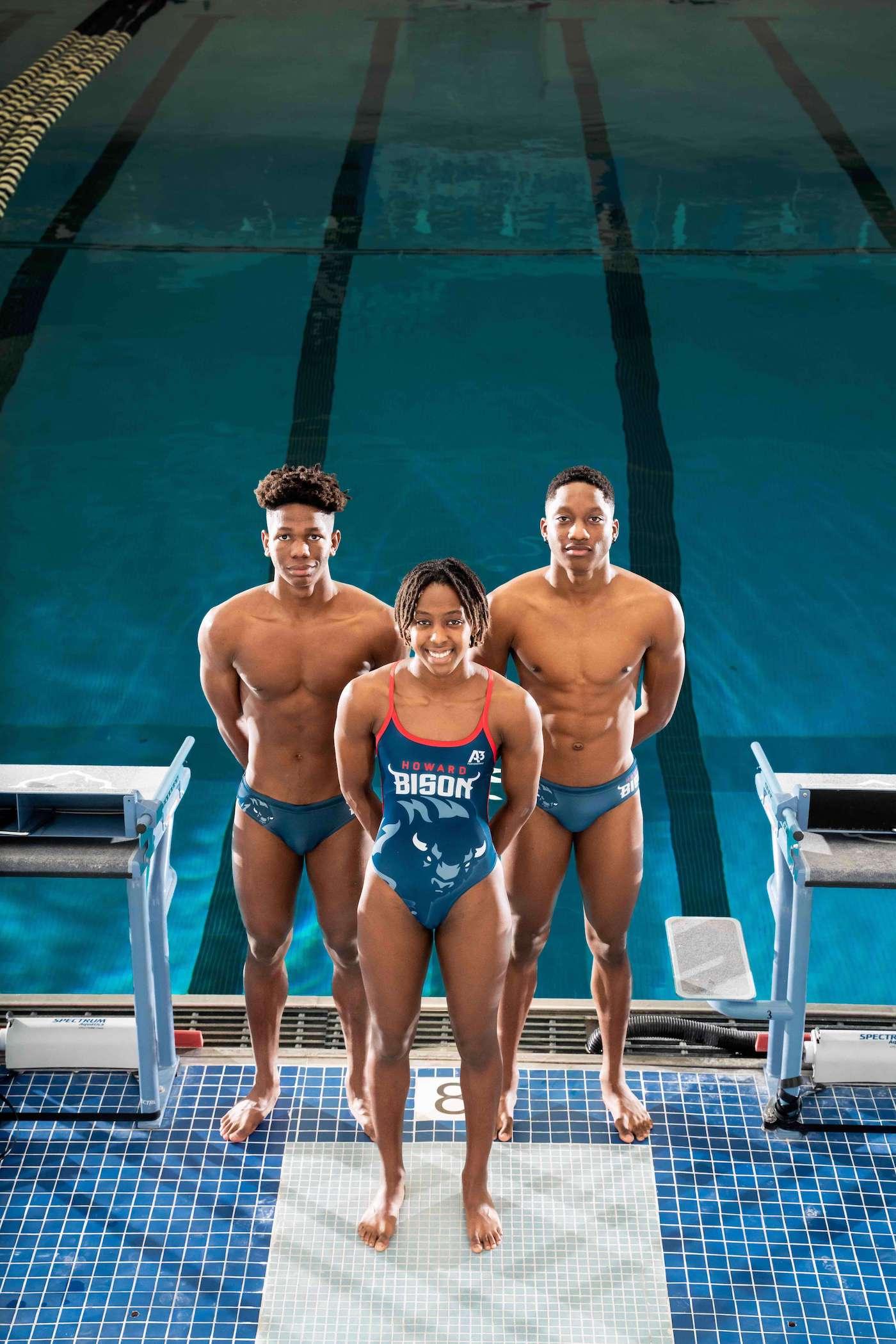 Howard University senior Miguel Davis Jr., is captain of the Howard swim team. Originally fromD.C., Davis started swimming when he was about eight years old. He had followed a mixed martial arts teammate to a swim practice on a club-level team and started to focus on the sport every Summer, and he swam in high school.
"I felt good at it," says Davis, who competes in the 100- and 200-meter breast stroke and the 100-meter free style races. "I realized I like to do my race by myself with no distractions or excuses. I don't have to rely on someone else to pass me the ball." The Howard experience has opened his eyes to Black swimming – and the passion that African Americans have for the sport from all over.
"When I was younger, I didn't think there were a lot of Black swimmers, but as I got older, I saw that there were more," Davis says. He says the fact that Howard had the only NCAA Divison I swim team at an HBCU was unacceptable.
"Looking at the Howard University recruiting list, they come from all over: Florida, Nigeria, many other international students from the Caribbean islands," Davis says. "Why are we the only HBCU swim team? We can only house 45 swimmers. I am proud of what we do but also a little bit frustrated. We need to promote more spaces for Black people to do what they love."
A Beacon for Black Swimmers
Ntamere's mother, Ebony, looked on at her son from a few rows away as he observed the Howard swim meet, trying to get a proper angle to record his reactions. "Xavier is cracking me up, he's so excited. For him to be here and see a whole team of Black students, I think it's so exciting for him – the idea that he wouldn't be seen as strange or different," she says.
Ntamere attends a public high school in Indianapolis, and there is no pool on the campus. He helped establish the swim team at his school last year and is a team leader. He has to travel to another school to practice. His mother says the school officials told the family that a good option for him involved driving out of his school district for 45 minutes to practice, alongside elementary school kids.
"It's critical for our family that there is an HBCU option," Ebony Ntamere says. "I don't like that it's the only option. I think there should be more options, and Xavier should be able to have choice. For us as a family, it's at the top of our list that there be a swimming program to fit his needs. I haven't seen him this excited about somebody else's event, maybe ever."
A Winning Team 
The Howard program has proven to be an indispensable platform for the world's best black swimmers. 
Ngozi Monu (BS '01) was a 2004 and 2008 Olympian, representing Nigeria. She focused on the 50- and 100-meter freestyle events and has been described as Nigeria's most prolific female swimmer. 
Latroya Pina (BS '19), a Cape Verdian swimmer, was a 2020 Olympian and still holds a number of college swim records. After qualifying for the Olympics last year, Pina told Howard Athletics, "I proved to the people of my country that there are no limits, and you can achieve anything. Having this once-in-a-lifetime opportunity is something I will truly cherish forever, and I'm extremely grateful to be a Black face in a predominantly white sport."—SF
High-Profile Bison Swim Team Alumni
Andrew Young BS '51, H'77 Civil rights leader
U.N. ambassador, and mayor of Atlanta 
Dennis Hightower BS '62, MBA'74, H'96
Former president of Walt Disney Television and Telecommunications 
Togo West Jr. BS '65, JD '68
Former secretary of the Department of Veterans Affairs 
Stephanie Elam BA '95
Los Angeles-based CNN correspondent
This story appears in the
Winter 2022
issue.
Article ID: 696
Keep Reading
Antoine Bethea's retirement is only the beginning of his new career.

Eye on the Ball: Howard's women are making inroads in sports media and marketing.