To Rashad Young, Howard University functions like a city. It's the strategic perspective he's taking with implementing Howard Forward, the University's five-year strategic plan. It makes  sense, considering he's spent his career transforming cities: first in his native Dayton, Ohio, and, most recently, the District of Columbia.
Young began his role as senior vice president and chief strategy officer for Howard University in October 2020. In addition to spearheading Howard Forward, he also works on external affairs and real estate.
Are you feeling welcomed at Howard?
I am swagged out. I have sweat- shirts, t-shirts, masks. My kids and wife have paraphernalia. When I wear my HU gear and hear the "HU, You Know" calls, I recognize what I know to be an allegiance and affinity to the University, even though I am not an alumnus.
Are we where you hoped we should be?
I am impressed at the wins already racked up when I started. Of course, we can do more.
For example, our goal in 2024 was to increase enrollment to 10,100 undergraduate students by 2024. We have already blown that out of the water. So, we have to set a new goal toward enrollment and make sure we consider additional faculty, classroom space and housing for students as we grow. We will keep evolving the plan and set new challenges when we achieve the existing ones.
What are some metrics you're using with Howard Forward?
We should have clarity in each of the strategic pillars as to what constitutes success.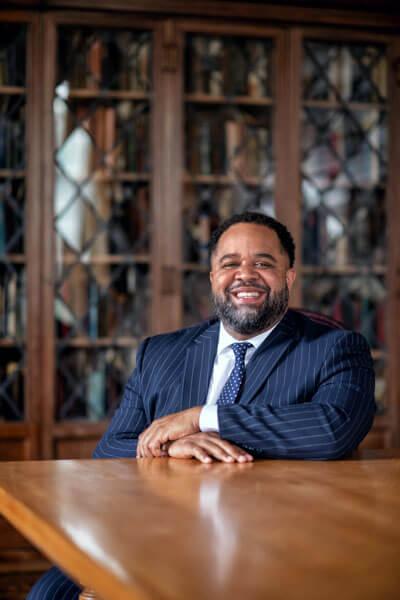 For example: In our "enhance academic excellence" pillar: What percentage of students are graduating in four years and in six years? What is the job placement rate for our graduates? We want to make sure our product – their preparedness for the world – is useful in their social mobility, economic mobility and their ability to contribute to the workforce.
"Inspire new knowledge" pillar: We want to be an R1 research institution. We want to increase the amount of revenue from sponsored research, which helps us reach that classifica- tion and achieve the tenants of pillar five, which is "achieving financial sustainability."
We must look at efficiency (pillar four). How long does it take to process requisitions? How long does it take to hire staff? What savings can we generate with good contract management?
How will we get to the next milestone?
Ideally, the entire campus community will be involved. The strategy office is the organizing and convening force, but it's the rest of the campus who teach our students, that builds our buildings, who maintains our facilities, who manages our contracts, who budgets our finances. Those are the folks who make Howard Forward real.
What happens after 2024?
Let us do it all again. Because the plan should be iterative. As we make progress down one lane, then we should readjust and continue to push ourselves to continue to achieve.