Rashad Young
Senior Vice President and Chief Strategy Officer
"It is the legacy of Dr. Frederick of the positive impact and turnaround in the University's finances, graduation rate, economic impact, and student service that secures Howard University's place as a national treasure committed to excellence in truth and service."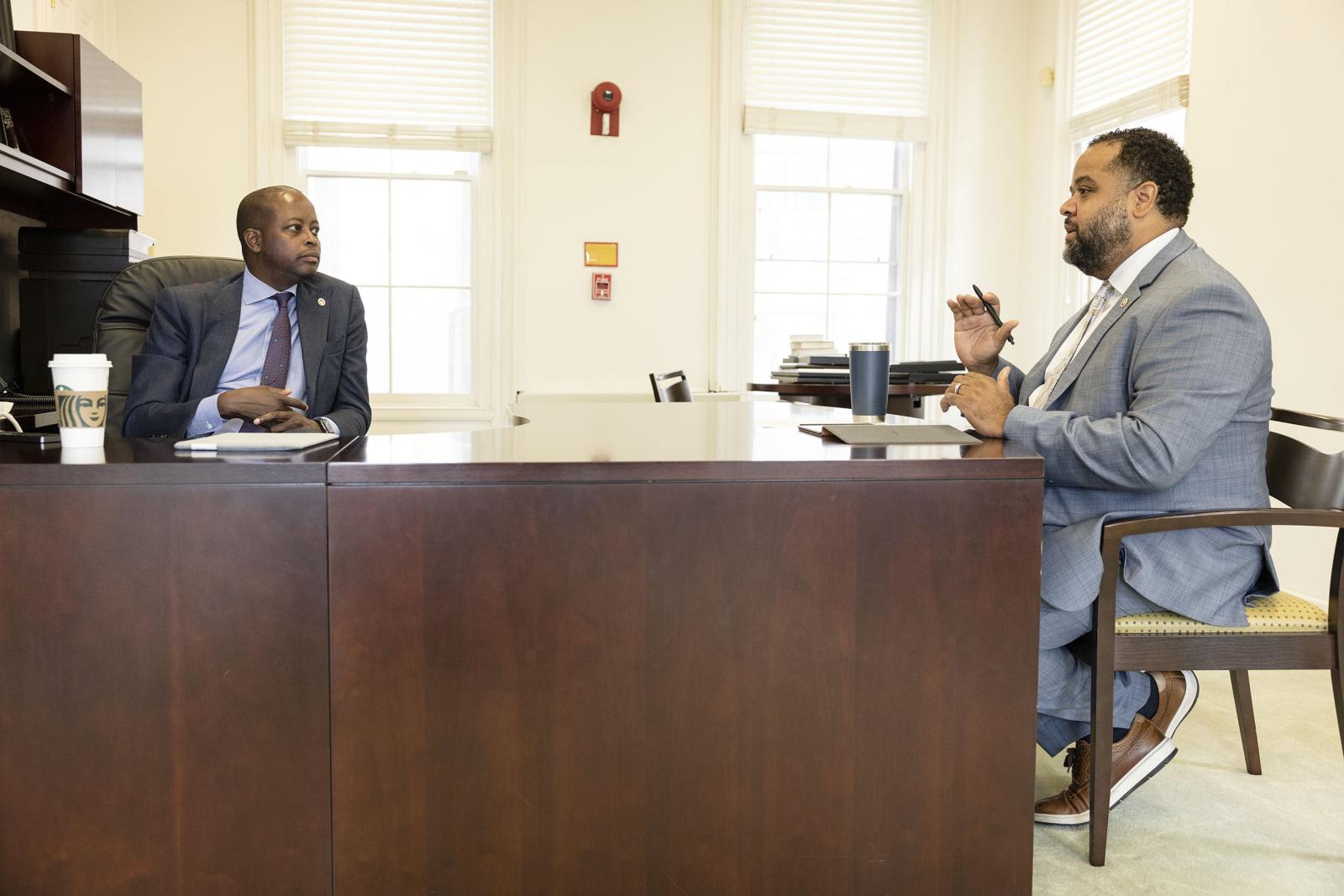 Ranti Akiyode, Pharm.D., BCPS, CDCES
Dean, School of Pharmacy
"Visionary, outstanding leader, social architect, innovator, and change agent."
Anthony Wilbon, PhD, PMP
Dean, School of Business
"It's been an honor to witness his exemplary tactical focus and be a direct recipient of his generosity in sharing winning executive strategies with me." 
Stacey J. Mobley, Esq.
Board of Trustees Chairman Emeritus
"Reestablishing financial stability, raising academic standards, achieving record fundraising, Dr. Frederick's contributions to his alma mater have been immeasurable. His love for Howard University is unwavering." 
Dana Williams, PhD
Dean, Graduate School
"His is an era that will go down in Howard history as an extended watershed moment that propelled Howard into the future boldly." 
Laurence C. Morse, PhD
Chairman, Howard University Board of Trustees
"Wayne A. I. Frederick's love of Howard is matched only by his powerful intellect, unceasing foresight, steadfast determination, and unflinching commitment to excellence.  When the next chapter of Howard's illustrious history is written, it will resound with his extraordinary contributions and legacy. His impact will be indelible."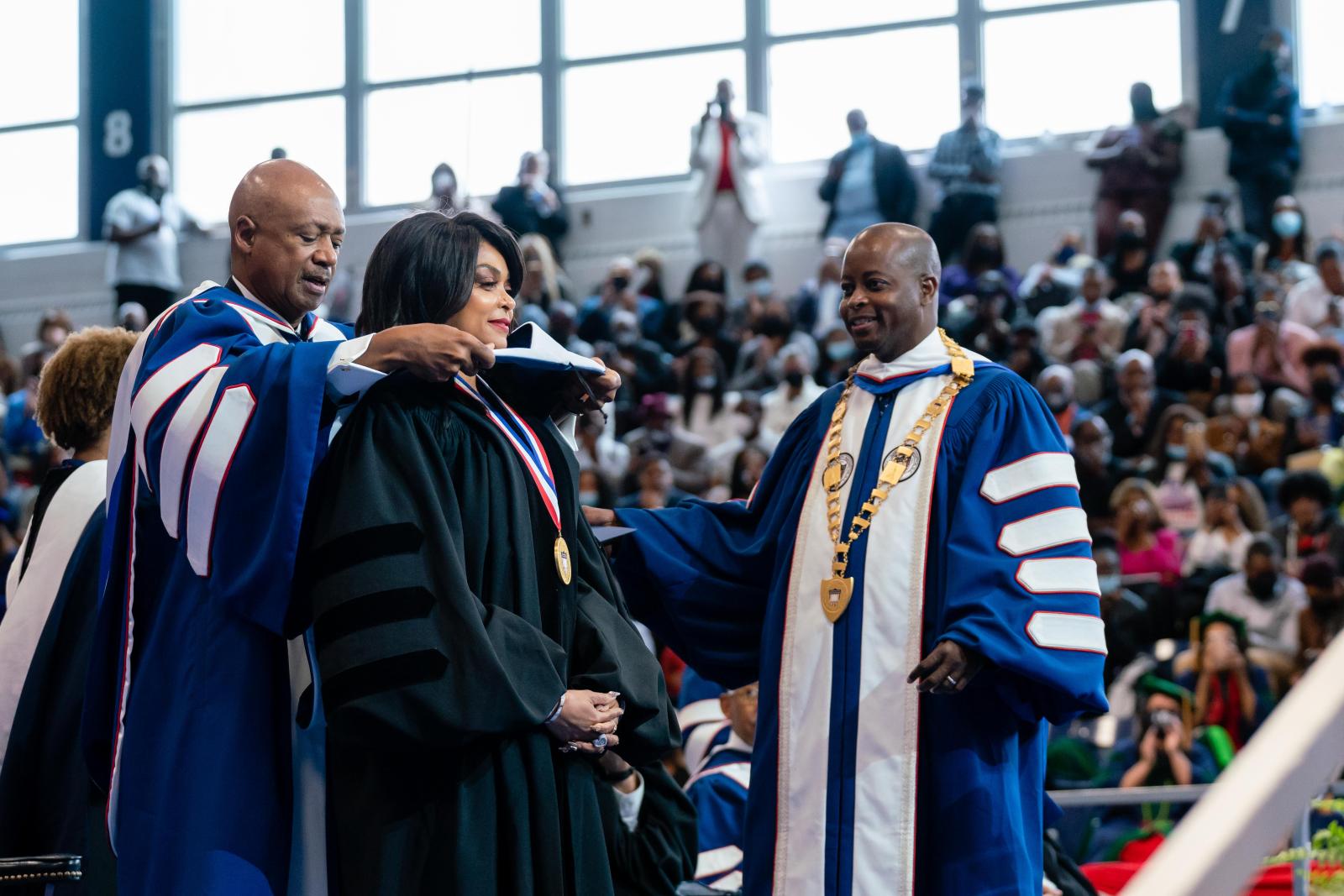 Sandra Crewe, PhD
Dean, School of Social Work
"He challenged me to join him in creating the change we both wanted to see at our beloved Howard University."
Rubin Patterson, PhD
Dean, College of Arts and Sciences
"His exemplary display of leadership and crisis management resonated with me.  I always fashioned myself as a visionary, but observing his presidency closely helped me to better appreciate being a visionary and a manager."
Andrea Jackson, DDS
Dean, College of Dentistry
"Dr. Frederick is an excellent leader whose love for Howard is demonstrated by his dedication, commitment and service and is obvious to everyone he meets."
Joe Leonard, Jr. PhD
Assistant Vice President, External Affairs
"Paul Monteiro and I were tasked with making sure the annual Howard University appropriation was received each year, but we needed to seek $300M in additional funding to help build a new Howard University Hospital and academic medical center.  This funding would double the class size in the College of Medicine from 125 to 250 per year.  The first year, we received $7 million. Paul and I were despondent; we felt we let the University and Dr. Frederick down.  Someone even told us, "If you continue at that rate, it will take about 40 years to reach our goal." However,  Dr. Frederick reassured us: "Stay focused.  We'll get there."
"That vote of confidence went a long way towards our morale and effort, and we followed his advice.  The next year, we aggressively met with any congressional office that would give us an audience while Dr. Frederick worked the phones and met with key congresspeople. This yielded $100 million more toward the new Howard University Hospital and academic medical center; the remaining federal share of the project is in this year's budget."
Allison Bryant, PhD
Chief of Staff and AVP, Corporate Relations
"'Carpe Diem'" – Seize the Day. I thought I knew what that meant until I began working for Dr. Frederick. He makes the absolute most of every day, every situation, every opportunity, and every moment. It is both inspiring and energizing to witness."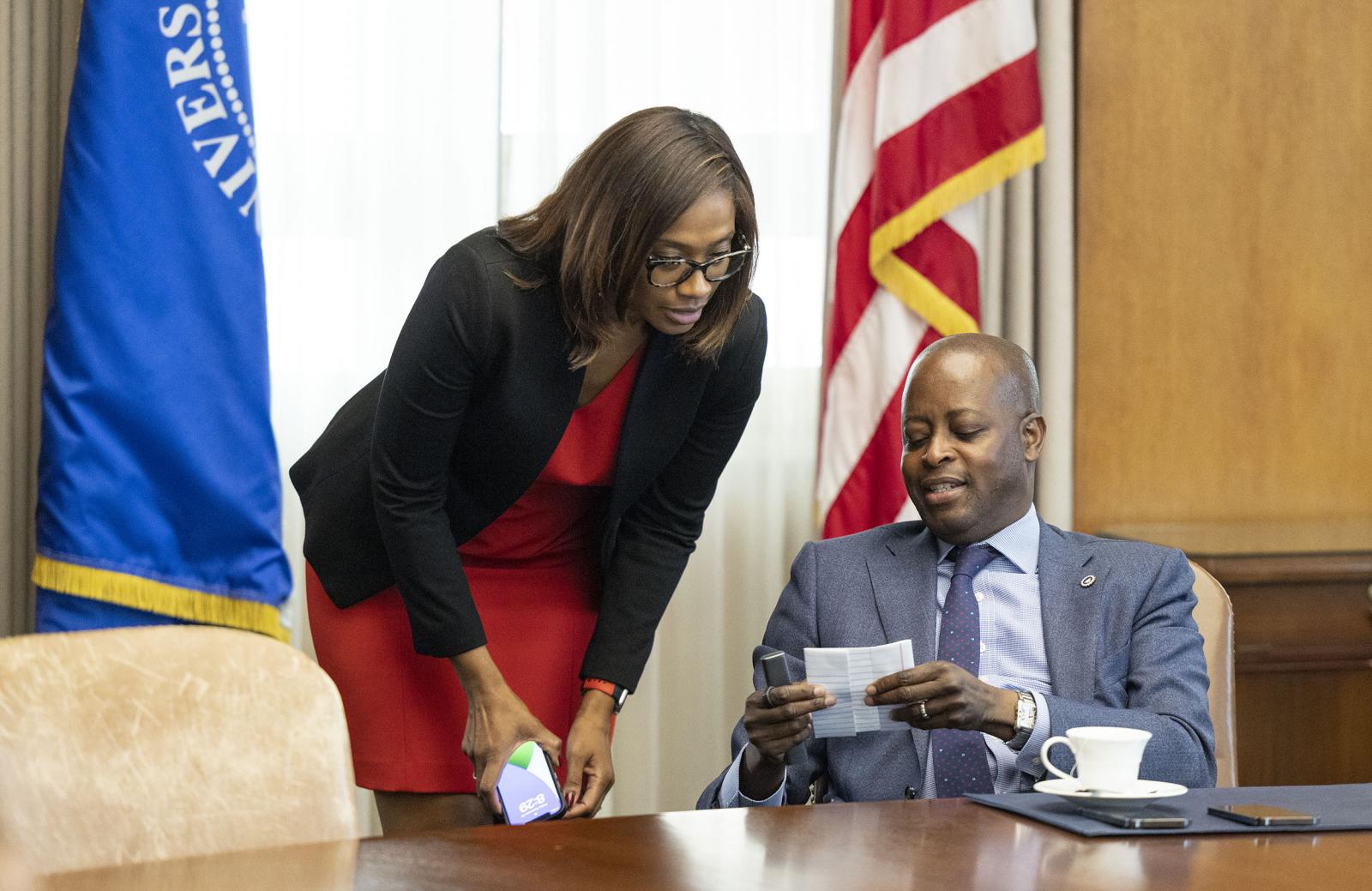 Yolanda Pierce, PhD
Dean, School of Divinity
"His love of Howard is contagious and I am now convinced that HU truly is the Mecca. It has been a privilege to serve under his leadership."
Frank Tramble, MPS
Vice President of Communications and Chief Communications Officer
"I remember standing with President Frederick and President Obama in historic Founders Library, where giants before us once stood, and recognizing that history was in the making. After working with Dr. Frederick over these past few years, I realize that everything we do with Dr. Frederick is history in the making. It has been an honor." 
Danielle Holley, JD
Dean, School of Law
"His bold vision of academic excellence, student success, and acceleration in philanthropy have worked to transform Howard University."
Gracie Lawson-Borders, PhD
Dean, School of Communications
"I was President Frederick's first decanal hire when he was provost. The service and dedication for his alma mater he displayed at our first meeting continues to this day." 
Lewis Paul Long
Former Board of Trustees Art Committee member
"I am most hopeful about the resources that he has poured into STEM programs while making an incredibly bold investment in the resurgence of the arts at Howard."
Monique McClung
President, Howard University Staff Organization
"President Frederick refers to staff as the connective tissue - forming a framework, providing cohesion and internal support for the organs and the body. In this analogy, there is no denying Dr. Frederick is not just the heart, but the lifeblood - pumping strength and vitality back to The Mecca!"
Mark Mason
Member, Board of Trustees
"Dr. Frederick is a transformational leader who embodies the mission and spirit of Howard University better than anyone. From his stewardship of resources, to his vision for a brighter future and his resolve to see it through, he will leave a lasting mark on this institution and its community."
Keep Reading
The Story of Howard University's 17th Presidential Administration, led by Dr. Wayne A. I. Frederick

We asked the Howard community what they believe is the presidency's place at the University.

Dr. Frederick's mother and his experience with sickle cell disease shaped Dr. Frederick's career in medicine.