In the iconic Founder's Library, nine Howard University women are gathered. Morning sunlight peaks through the ornate windows of one of the campus's most historic buildings, casting a glow on the bookcases that line the room. Though their journeys may differ, each of the women arrived at Founders with a shared purpose. These are the women deans of Howard University.
"When I became president in 2014, there was only one fully-appointed woman dean," says President Dr. Wayne A. I. Frederick, MD, MBA. "I was determined to change that."
Howard gave Black women a chance to lead as deans at a time when other universities did not. Lucy Diggs Slowe was Howard's very first, named Dean of Women in 1922. There have been approximately 35 women deans at Howard (31 academic). Each has and continues to overcome challenges. Still, all of them have achieved great success.
"In a world where women, and Black women specifically, are underrepresented in higher education leadership, it is critical that Howard be a leader in changing that tide," Dr. Frederick says. "It's even more important that we start right here on our campus."
On these next pages, we introduce the 10 deans whose leadership, determination, education, experience, knowledge and more are opening up opportunities for future generations of Howard students.
Sandra Edmonds Crewe
School of Social Work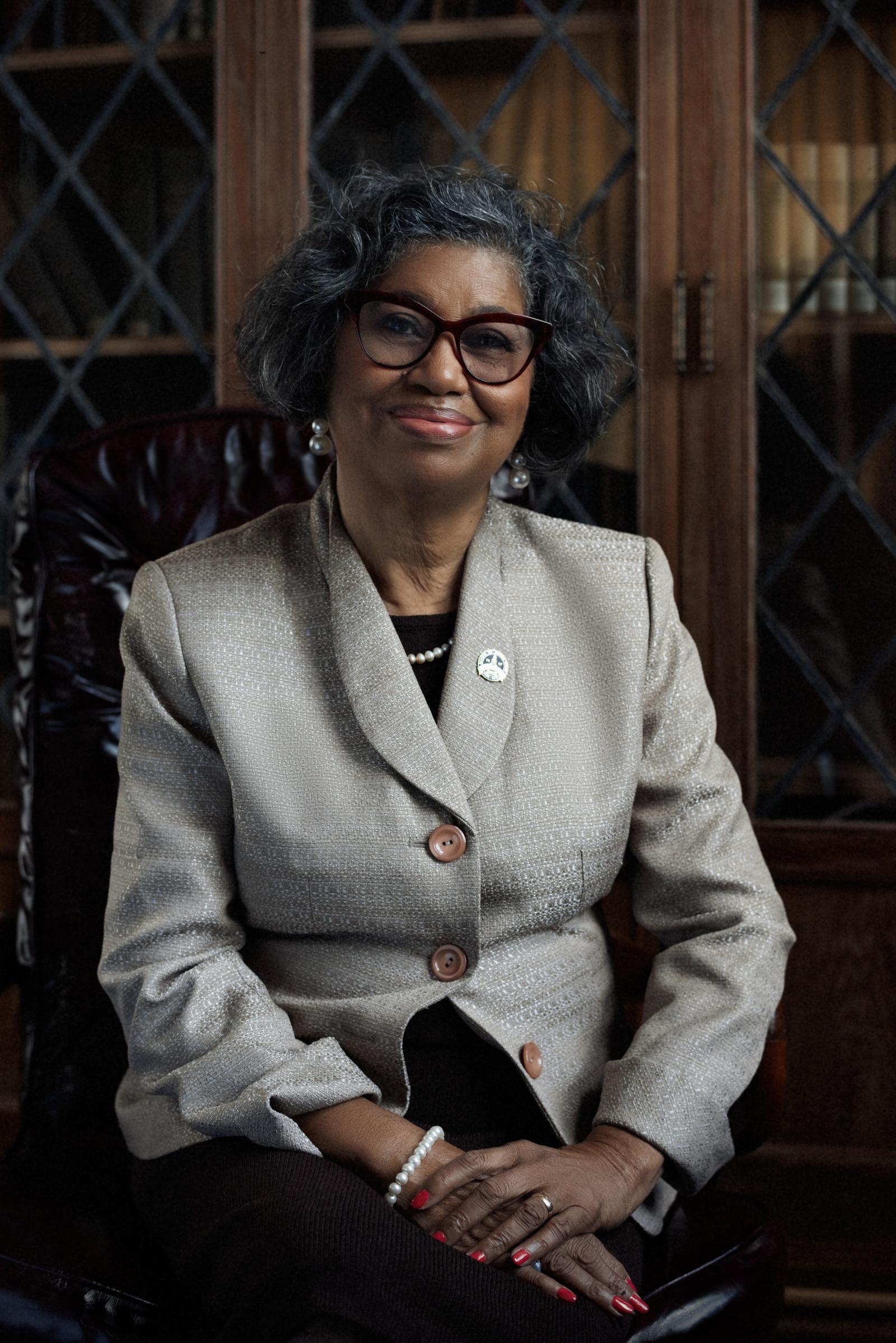 When Dean Sandra Crewe, MSW (PhD '97) speaks, it's always very thoughtfully and with zeal. "Leadership isn't the loudest person," she says. "It is probably the person in the room who has the most passion." And passion in the profession of social work is something that Crewe emanates.
 While social work tends to lean female-dominated, its leadership is more evenly split, she says. And, as a leader, she says battling misconceptions about social work – that it's negative work, designed to dismantle families – is one of her bigger tasks at hand. "We have the role of protecting children and vulnerable families," she says. "And really it should be looked at as one of the highest skill sets we have."
As a dean, she hopes students look upon her as "an advocate for social justice, in all its forms, and that they will see that I am reliable, dedicated, knowledgeable, and a little feisty when necessary." She emphasizes that being a leader requires commitment and dedication; as a woman leader, "you lean in when necessary on issues, and use your lived and practice experiences to weigh in on important matters impacting quality of life."
Andrea Hayes Dixon
College of Medicine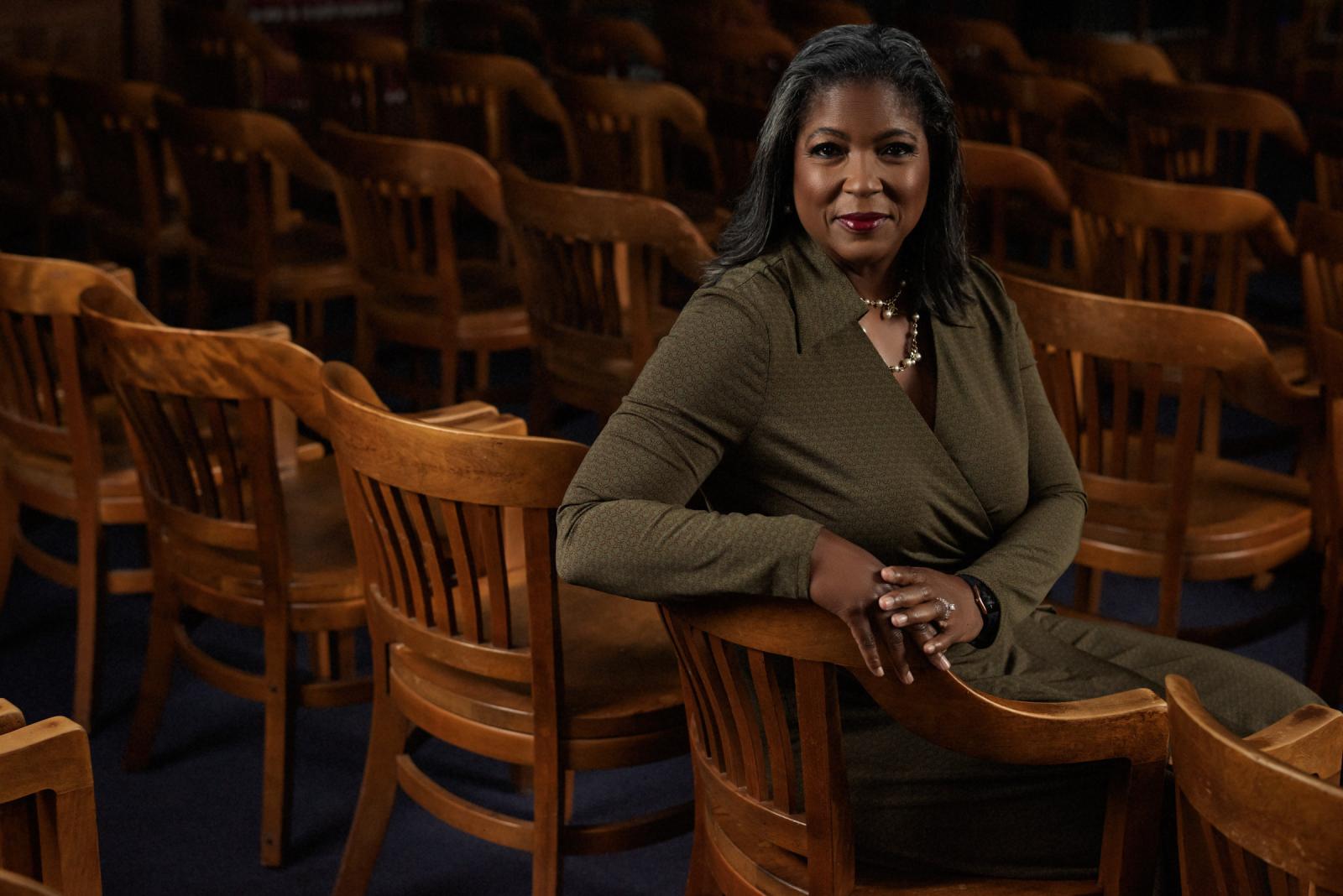 Dean Andrea Hayes Dixon, MD, FACS, FAAP, is familiar with the concept of being first, even though she grew up in a family of educators and women leaders. But it wasn't until someone in medical school pointed out that she was tall and could look other male surgeons in the eye that she realized that her being a woman, and a Black woman, was exceedingly rare in the field.
When she applied for fellowships in pediatric surgery in 1998, there wasn't a single Black female pediatric surgeon in the United States. There wasn't even a single female surgeon of any kind in her medical school. Just to become a surgeon was "an uphill battle, because none of the white male surgeons wanted me in the club," she recalls.
Today, she knows her firsts are important. She is the first Black woman nationwide to become a board-certified pediatric surgeon and the first woman chair of the Department of Surgery at Howard University. In September, she was named the first Black woman to serve as dean of Howard University's College of Medicine. She wants more minority women to join her in the club of surgeons. As dean, she wants students to realize how much they're needed. "I'm just super, super excited to lead this next generation of Black and brown doctors. It's so important for us to have doctors in their communities that look like us."
Danielle Holley
School of Law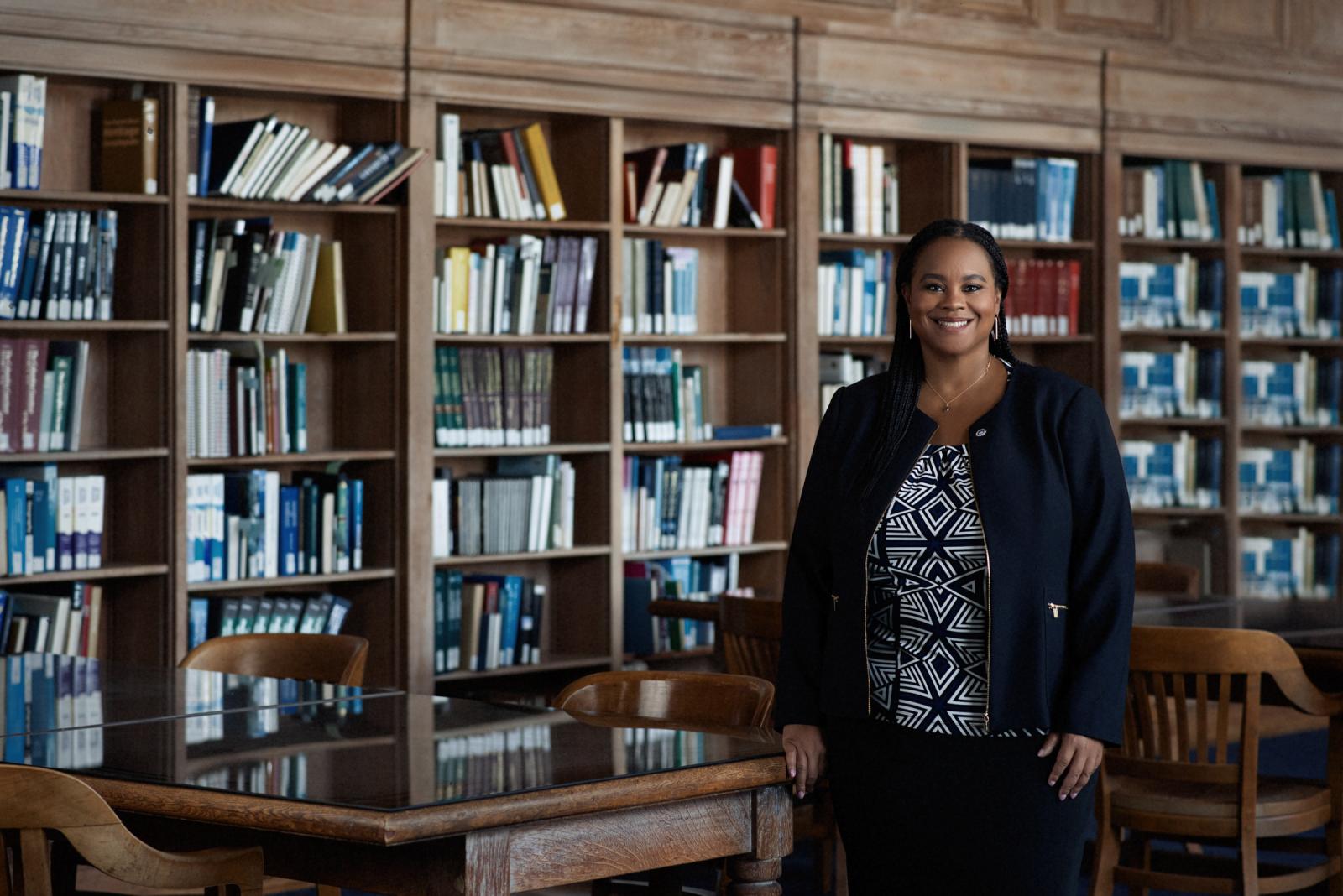 Dean Danielle Holley, JD, grew up in an environment that empowered girls: her mother was an accounting professor, her grandmother was one of the first Black women to attend college in Texas, and her law professor father would take her to his classes at the ripe age of 5. However, she understood the societal structure of the time: that men were default leaders and women had to work twice as hard to prove their abilities.
Holley is the third woman dean of Howard's School of Law, which she notes is almost 70% women students. Outside of Howard's campus, she and her students are a rarity – only about 5% of lawyers are Black (3% are Black women). Having women deans at Howard sets an example, she says. "We are strongly representing what is possible for Black women to do. When we establish that in this setting, we establish it for Black women … in every other sector of industry and nonprofits and universities in the country."
Andrea Jackson
College of Dentistry
Though the field of dentistry was long dominated by white men, Dean Andrea Jackson (BS '80, DDS '82) was undaunted: the combination of her own positive dental experiences plus being unhindered by gender differences growing up encouraged her to remain at Howard to pursue her DDS, after finishing her undergraduate studies in zoology there.
Today, women only make up 35% of all dentists nationwide, and 3.8% of dentists are Black. But at Howard, women are nearly 60% of the dental class, and more than half are Black. Through her years of practice and teaching, Jackson is not surprised, especially as she isn't even the first Black female dean of the college – giving her a completely different perspective than most of her colleagues. "First of all, women are capable, and as long as you are knowledgeable about your passion, willing to listen and be a lifelong learner, [there] is nothing [students] can't accomplish," she says. "There are no shortcuts."
Gracie Lawson-Borders
Cathy Hughes School of Communications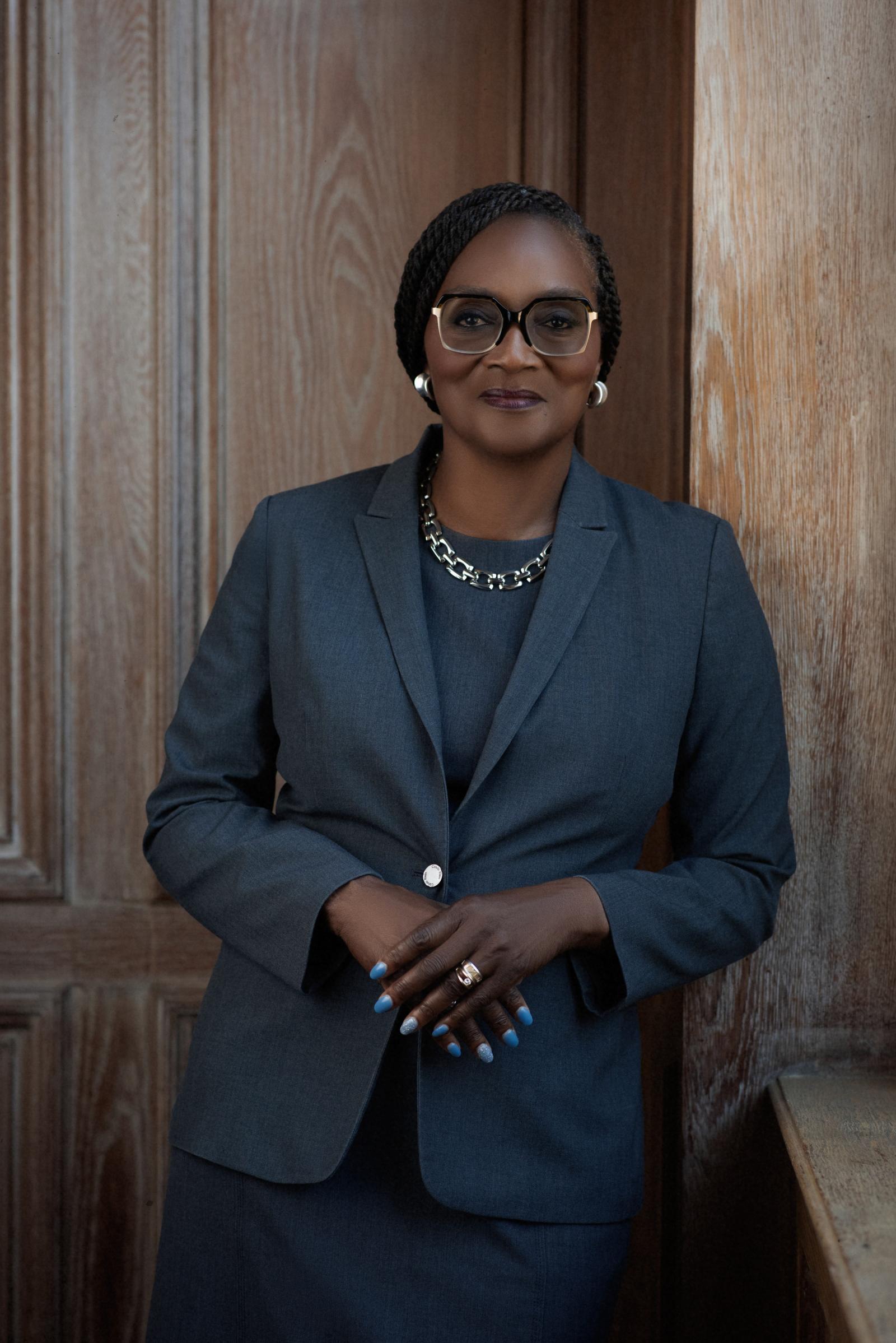 Dean Gracie Lawson-Borders, PhD, knows her position as dean of the school of communications is crucial right now, as America's democracy, its media, and its racial reckoning intersect at a defining crossroads.
"Journalism needs these students. Not just Black students… but all students of color and backgrounds to really help people understand the world," Lawson-Borders says. "They have to know their craft… how we function and what things are happening across this country."
As a Black and female journalist, Lawson-Borders has dealt with her fair share of inequality in the newsroom. She acknowledges that changes are happening in the communications industry, albeit slower than she'd like, where Black women are finally in positions of leadership. But she cautions her students against becoming comfortable with the slow change: "You have to do the work. You have to roll up your sleeves." She emphasizes experiential learning in tandem with their classroom learning, to equip them with the necessary tools upon graduation. She also stresses to never stop filling that toolbox: "To me, that's what contributes to their success… never stop learning and never stop growing."
Yolanda Pierce
School of Divinity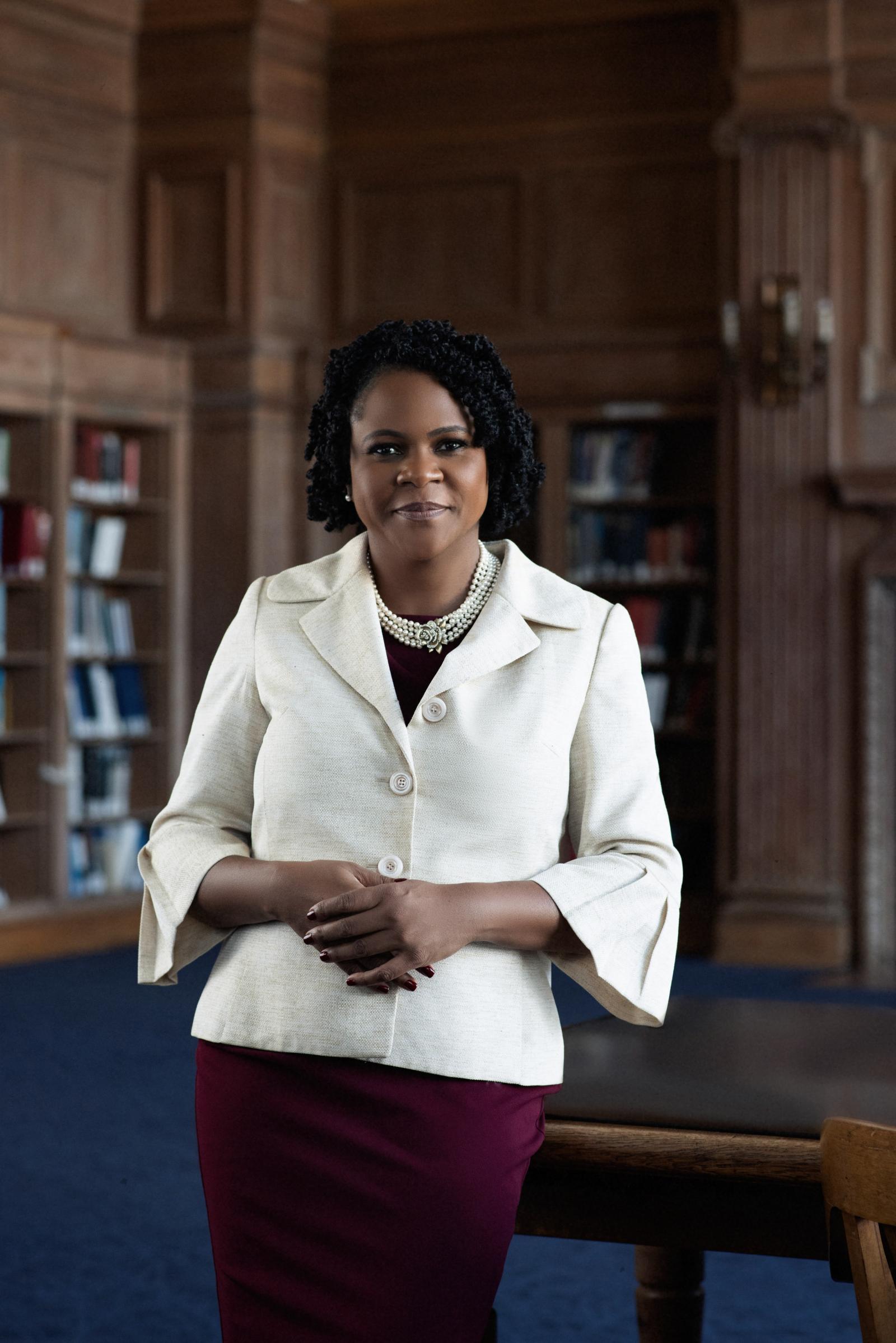 "No one ever put limits on what I could be or who I could become," Dean Yolanda Pierce, PhD, says about her childhood. And it stuck with her up to present day.  
Pierce became the first in her family to attend college. She became the first female dean of Howard's historic School of Divinity. Between college and becoming dean, she was aware that being a woman, and a Black woman, defied certain stereotypes in the field of religious studies, but the idea of being a scholar excited her and she stayed the course with her eye on obtaining her master's and doctoral degrees. 
Pierce aims to serve as a role model for her students. Her goal as dean is to make sure administration, students, faculty, and staff work together smoothly as one. "For me, what is important is… tearing down the silos that exist between different groups, whether between academic fields or administrators and faculty. I love teaching and I look forward to returning back to the faculty and to the classroom one day."
Phylicia Rashad
Chadwick A. Boseman College of Fine Arts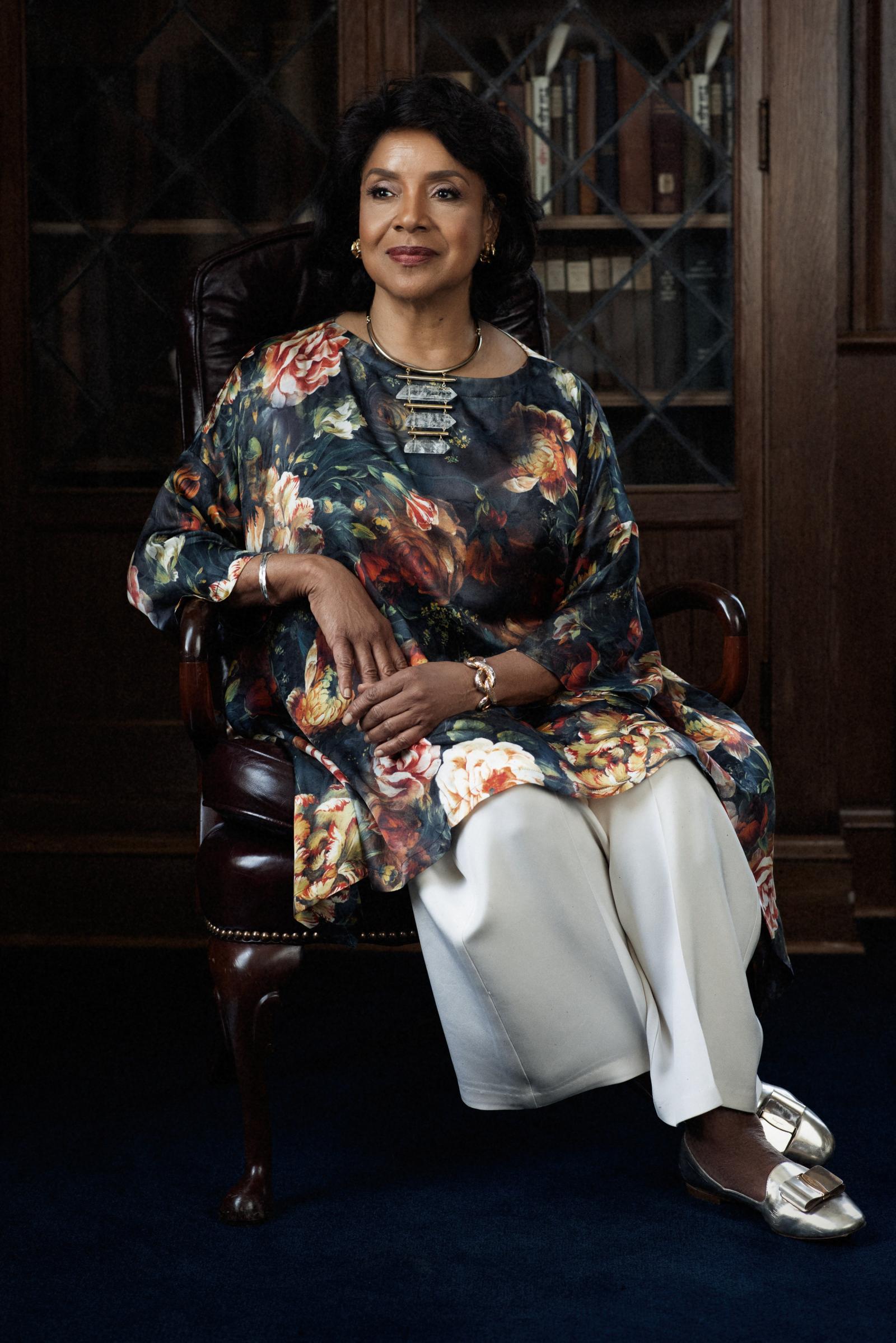 From Clair Huxtable on "The Cosby Show" to Lena Younger in "A Raisin in the Sun," Dean Phylicia Rashad (BFA '70, H '09) has portrayed strong, leading women on stage and on screen throughout her acting career. However, she says offering her best work – not her gender – is what earned her roles as an actor, director, educator, and now as dean.
"I think it has to do with the work I do … and the manner in which I've accomplished it," she says. She wants her students to recognize that giving their best work is necessary to forge ahead in the creative world.
However, when it comes to gender bias, particularly in a male-dominated industry, she says it's about balance. "If a theater company announces we have all these plays [by] all female writers, I'll say, well, wait a minute … did the men stop writing plays? If you swing the pendulum that far to the left, it's going to swing that far back to the right."
She thinks that Howard has struck that balance with its 10 women deans, all of whom she said were clearly chosen for their abilities. "Howard is a very progressive environment. It shouldn't be a shock and surprise to anyone that this University is recognizing excellence in women."
Gina Spivey-Brown
College of Nursing and Allied Health Sciences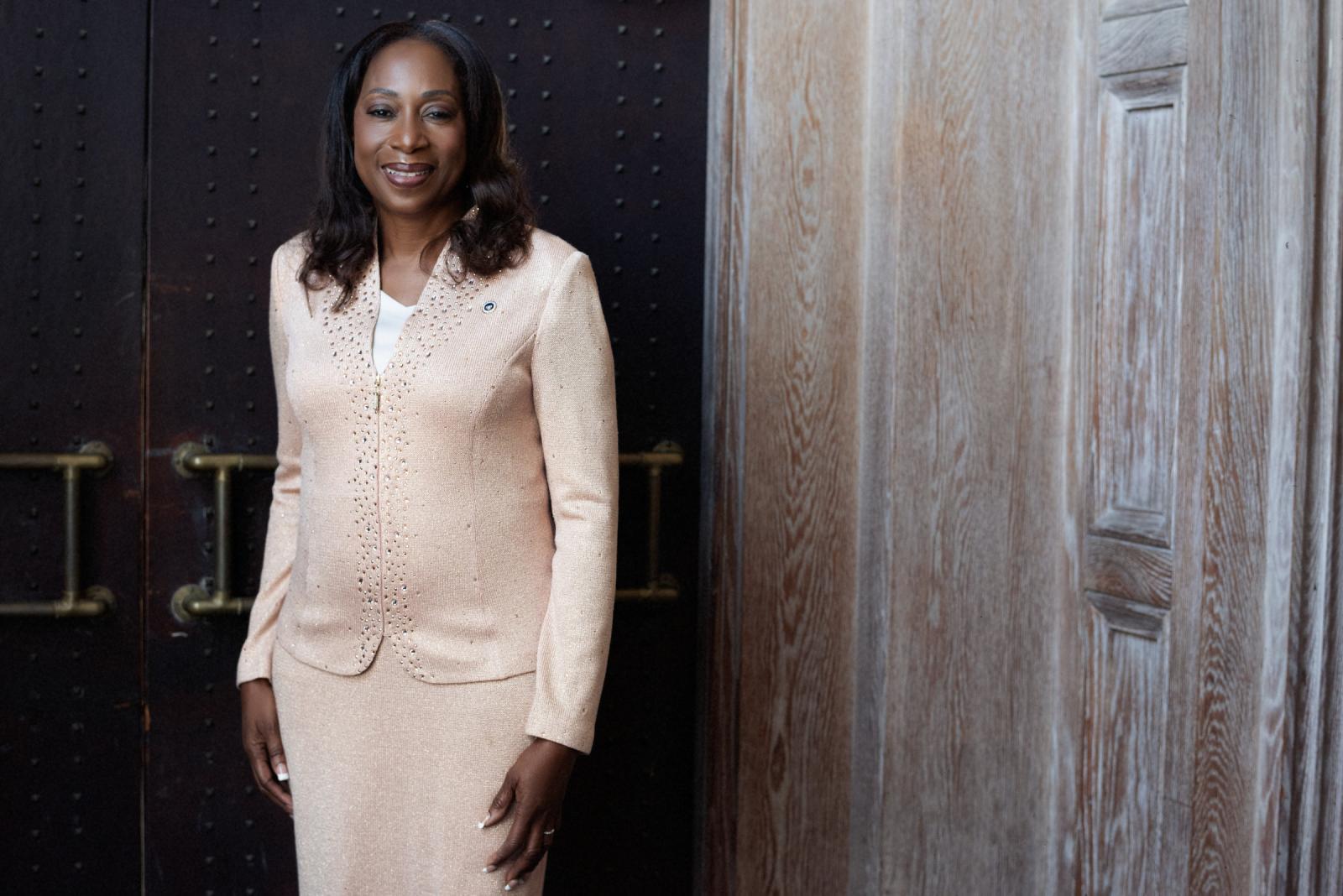 Being a woman was not the barrier that Dean Gina Spivey-Brown, PhD, MSA, RN, faced; it was being Black, she says. She remembers a patient who refused Brown's treatment because she was African American, and the times people didn't think she was the nurse in charge. But she was in charge; and coupled with her degrees in health services administration and nursing administration, she knew she was well-positioned to change things. 
"I could make a difference, as a Black leader, as a female … in nursing, where the minority of nurses are Black," she says. Black nurses make up only 6.7% of all nurses nationwide. "I knew that I had the ability, the brilliance, knowledge and the aptitude to make a significant difference in someone's life."
In a field dominated by white females, she has the reverse position of helping male students adjust comfortably to the profession (12.6% nationwide are men, of which 7% are Black). She emphasizes the difference between equity and equality. Her leadership approach, both as a nurse and as a dean: treat everybody as you would want to be treated. "Don't look down on people who may not have reached your status in life," she says. "There is no difference between me and that person, except that I've chosen to do some things in life that were different, by God's grace."
Dana Williams
Graduate School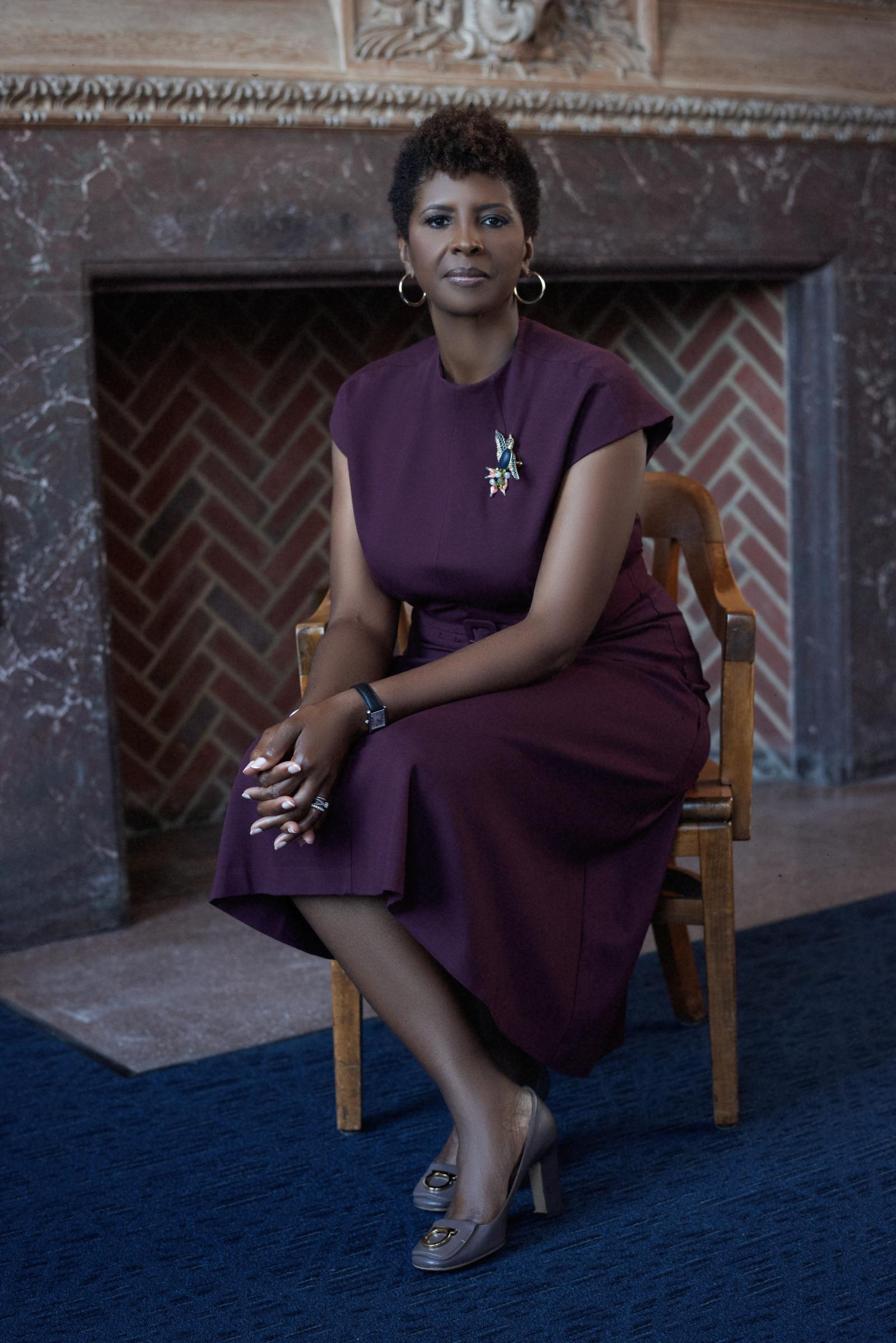 Dean Dana A. Williams (MA '95, PhD '98), a literature scholar, sees her role as more than administrative. "I am always trying to model what it means to be a scholar, even as an administrator," she says.
At Howard, she is the first permanent woman dean of the Graduate School, and one of the few who has had a humanities background – a rarity in graduate schools nationwide, which Williams says are typically very STEM-based. "Graduate deans are often seen as research deans, and the fight to consider the humanities as critical research continues. So a research dean who is a humanist is still too rare," Williams added. As a woman leader, when all things are equal, Williams believes talent makes room for itself. As a former basketball player, she likens being tapped for administrative work to being a successful rebounder: "To be good at it, you have to be attentive enough to the game to know where the ball is likely to land. That's mostly a talent and skill. But there's also a bit of luck."
Among the Howard deans, male and female, there's no microaggression that might occur at another university, she says. "That gives us a freedom to do the real work. We can be as serious and thoughtful about innovation and research as anybody anywhere, while also enjoying ourselves."
Dawn Williams
School of Education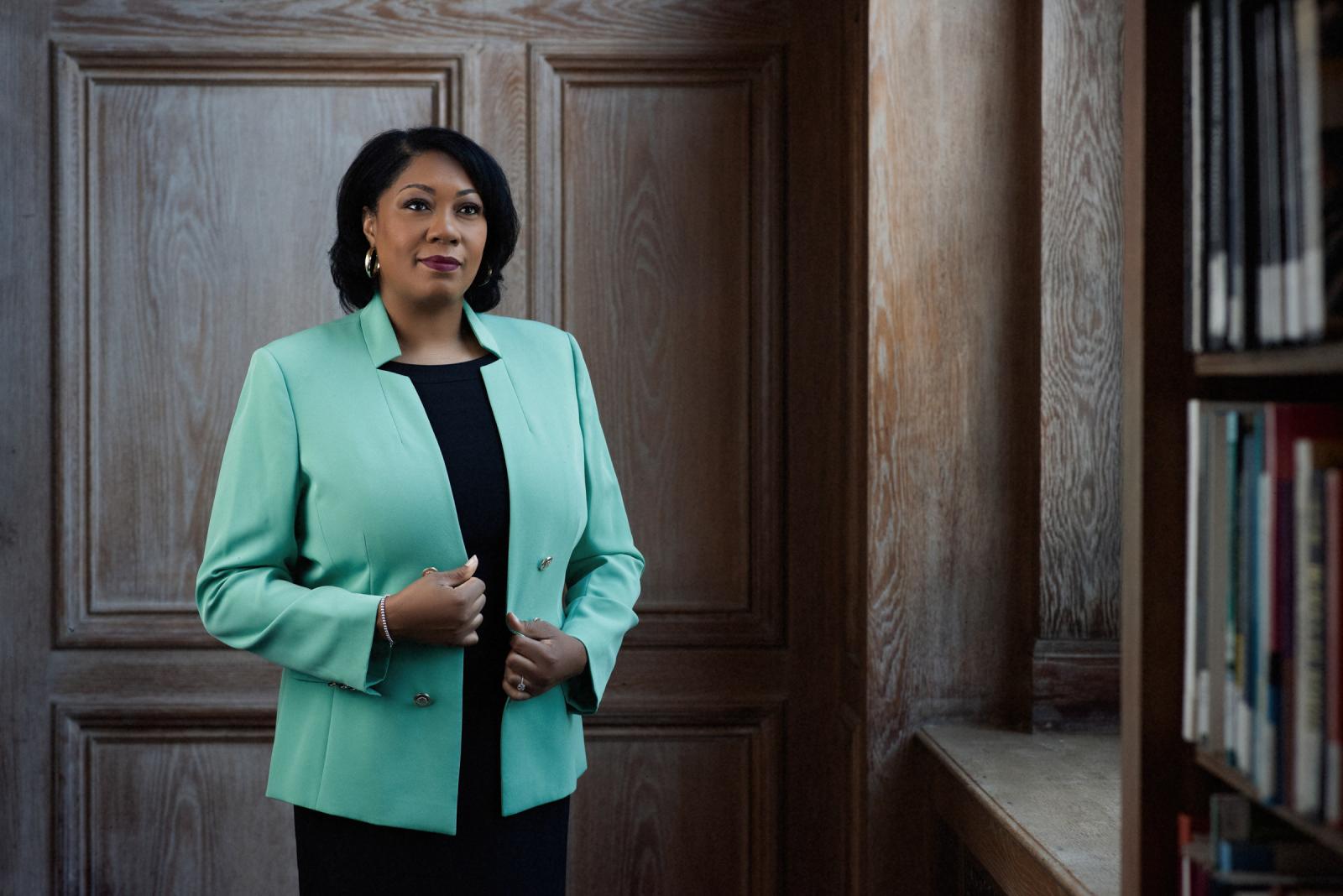 In the family of Dean Dawn Williams, PhD, it took one generation to go from an unfinished education to dean of Howard's School of Education.
 Her father is a product of the segregated South, where schools refused to desegregate and instead closed for five years – preventing him from completing his education.  Since then, she's dedicated much of her own education and life's work to challenging inequitable practices and increasing access to educational opportunities  – her doctoral dissertation, for instance, is dedicated to him. "I look at all that he has done and all that he has accomplished … in spite of the opportunities that were really stolen from him."
Williams said she was always been called to leadership roles – whether as high school track team captain, sorority president, and later as dean, with students telling her it is motivating to see a person who looked like them in a leadership role. Williams grew up in the New York City public school system and taught elementary and high school, all of which she says was integral to her focused study of urban education and in her role as dean. "[I] have a perspective… of having been a product [of the system], having also had the opportunity to teach and lead in schools, and being empathetic to the needs, but then also realistic to the challenges."
This story appears in the
Fall 2022
issue.
Article ID: 1081