The world of sports and athletics has grown exponentially over the past decade, generating billions of dollars. During that period, there has often been discussion regarding the athletes who helped generate the money from their efforts on the courts and fields. But there was also concern over the lack of representation from African Americans in front of the camera or behind the scenes.
That is where Howard University comes in. The Mecca has made significant progress in that area and can rival any university in terms of alums who have and are making great strides in broadcasting, production, sports reporting and areas of marketing, management and the various regions of behind-the-scenes influence.
Though Black males have had more success than their female counterparts in paving the way for the next generation in the sports business, the road up is still a bumpy one. According to a research group Zippia, Caucasian sports reporters make up almost 67% while Hispanics (13%), Asian Americans (almost 9%) are ahead of African Americans, who make up less than 7% of all reporters.
And according to The Institute for Diversity and Ethics in Sport (TIDES)'s 2021 report card, an overwhelming majority of those working in sports reporting were white men. Of sports editors, 79.2% were white; 72% of assistant sports editors were white, 77.1% of columnists were white, 77.1% reporters were white, 77% copyeditors and designers were white, and 72.4% of web specialists were white.
The good news: Black percentages rose among sports editors, columnists, and reporters. But to continue this upward trajectory means opening doors to those who have room to move up. Recognizing this need, many of the older male Howard alumni work hard pay it forward in an effort to bring up the younger ones into the business.
Paving the Way
It was only a generation ago that Black men sportscasters were chipping away at a glass ceiling and clearing a path for future ones. Recognizing how much harder it was for Blacks interested in the sports business to gain professional opportunities, many set out to ensure that they didn't have to "pay their dues" as much as the first generation did.
One such individual was Glenn Harris (BS '74). The pioneer in sports broadcasting, Harris was a standout baseball player at Howard who went into radio, where he was sports director at WHUR, Howard's commercial radio station. Harris provided coverage of Bison sports while simultaneously mentoring many young interns in the process. He would eventually move on to television, serving as an occasional anchor at the WRC TV 4, the NBC affiliate in Washington, DC. Soon after that, Harris hosted one of the first-ever sports talk shows, "Let's Talk Sports," on TV News Channel 8. During his career at WHUR, he was instrumental in developing numerous HU students, including famed broadcaster Gus Johnson (BA '90).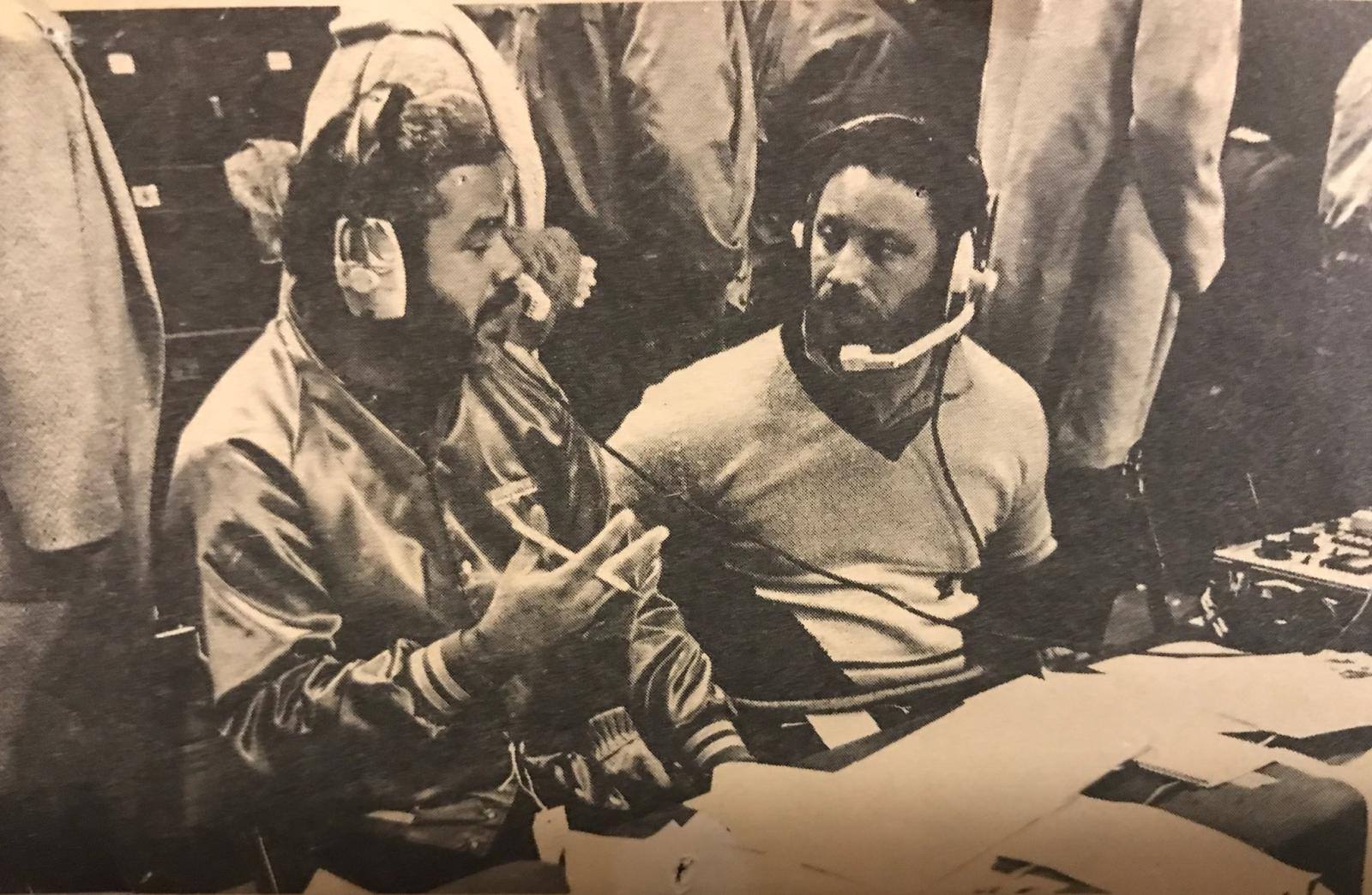 "I owe so much to Glenn," says Johnson, who also played baseball for all four years of undergrad. "He took me under his wing as an intern and showed me how to be a professional. He understood the challenge of being Black in the profession and how to establish yourself."
Harris has since retired. "At that time, there were very few Blacks in the profession," he says of his time at WHUR. "I saw potential in Gus, [Jim] Trotter and other students. The first time that I heard Gus do play by play, I knew that he was going to be special. He called and asked what I thought and I told him that he just needed to slow down because he was going fast."
It was the small tips and pointers that he carefully noted to help cultivate their skills, knowing even the small details could help improve and polish their performance. It paid off. "I am very proud of them and what they have done," he says.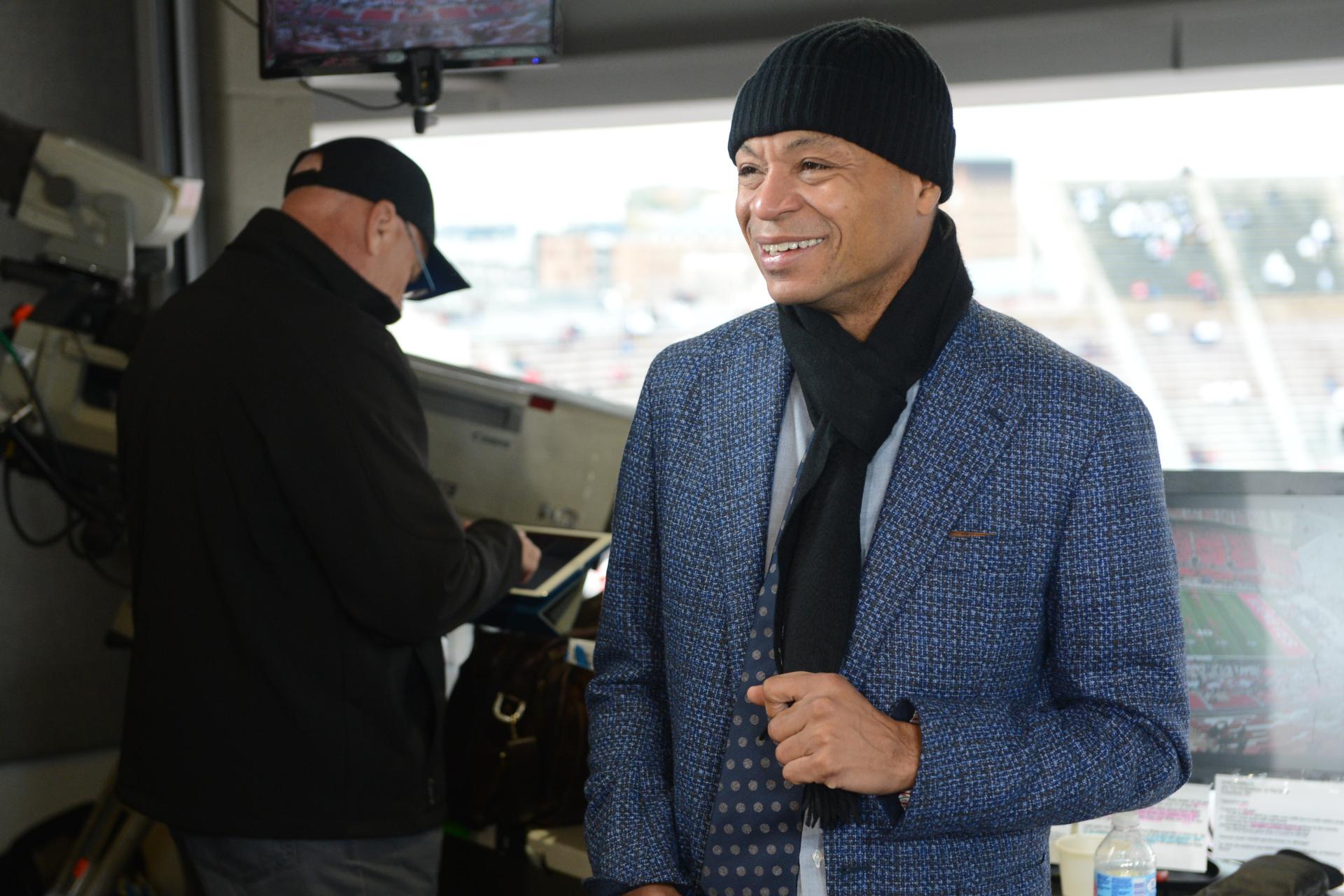 Bruce Speight (BA '90) has similarly been instrumental in mentoring many young African Americans interested in entering the profession. As one of the few Blacks to serve as director of media relations for an NFL franchise, Speight started as an assistant with the Carolina Panthers before accepting the head position of vice president for media relations with the New York Jets. After serving there with distinction for 11 years, Speight was lured back to the Panthers, where he now serves as the VP for communications.
"I initially started out thinking I was going to be a sports broadcaster," notes Speight. "I recall being in a class and hearing a voice that was so smooth and tailor made for broadcasting. Little did I know that it was the voice of Gus Johnson."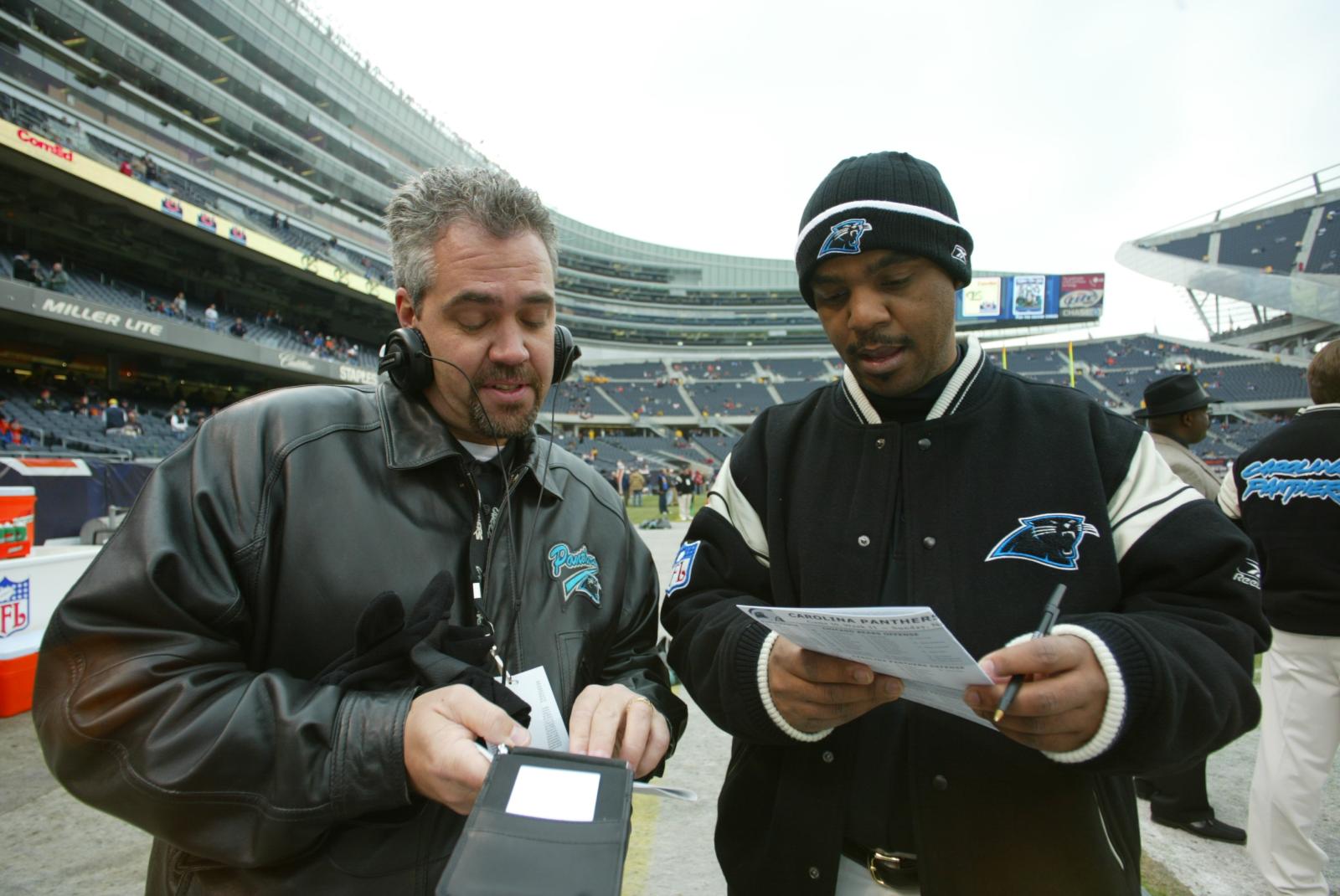 Speight switched lanes and turned his focus to sports journalism, writing sports for the Community News before landing internships with Washington Football team. That is where things changed for him.
"During my internship with the Redskins, I met [former Redskins player] Bobby Mitchell and asked how things worked in terms of pursuing a career. He directed me to the director of media relations with the team and that started my career. It made me appreciate the opportunity for Mr. Mitchell to direct me to that opportunity. That's when I decided to make sure that I show my gratitude by helping others who need a little time and guidance."
I'm always amazed at the shortage of Blacks covering the NFL. There are more covering the NBA because the thinking is that we know basketball better."
7%
Sports reporters who are Black
71.8% NBA players are Black

58% NFL players are Black
Beyond Basketball
One challenge that many of the earlier Black broadcasters faced was the idea that they were best at covering basketball, even though 58% of players in the National Football League (NFL) are Black.
"I'm always amazed at the shortage of Blacks covering the NFL," says Steve Wyche (BA '89), who serves primarily as studio host for the NFL Network. He has been there since 1989. "There are more covering the NBA because the thinking is that we know basketball better."
Part of the problem lies in the fact that despite the paths carved by Black predecessors, there are still very few people of color in decision making positions, Wyche notes. In order to have more people of color in positions of power, there needs to be more people of color in positions that lead to the top in the first place.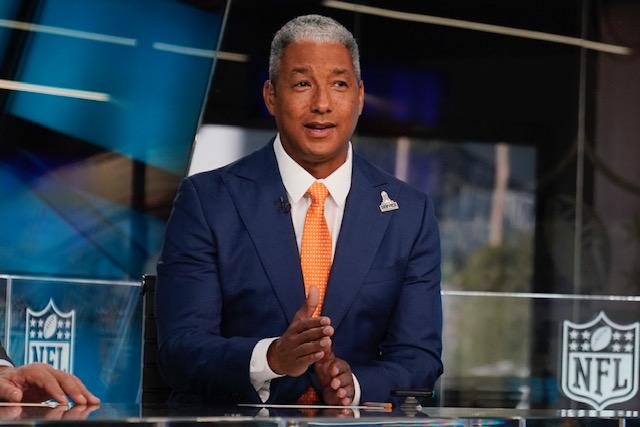 Wyche got his start at Howard as editor-in-chief for the Community News student newspaper. He would pay his dues by covering high school sports with the Miami Herald, then college football, the NBA (Washington Post) and the NFL (Atlanta Journal and Constitution) before transitioning from print journalism to television.
Jim Trotter (BA '86) joined Wyche at the NFL network in 2018. He was sports editor of the Hilltop before covering the San Diego Chargers for the San Diego Tribune and a short stint at SI.com. Trotter has been a member of the Pro Football Hall of Fame selection committee since 2007 and is currently president of the Pro Football Writers of America.
When you look around in the press room and post-game conference, you still see too few Blacks. I will admit that there has been some improvement but it's still a ways to go."
Despite his accolades and contributions to sports, Trotter recently became as victim of his voice for equality.
During recent conference with NFL Commissioner Roger Goodell, Trotter asked the commissioner about accountability and what the NFL is doing to bring equality in the head coaches ranks among Blacks.
There is speculation that the NFL apparently did not appreciate Trotter's inquiry, and his contract was not renewed with the NFL Network.
"It is hard to understand why 60 to 70% of the leagues is played by Blacks, yet there are only three African American head coaches and the program also exists in the sports desks and among beat writers," Trotter says, who has since been hired as a columnist for The Atlantic. "It stands to reason that the players are not getting the empathy they deserve.  The players are maligned or misunderstood by those who can't accurately tell their stories.  It is important to share the culture of how [they] grew up, how [they were] raised and other factors.  If you do not have that identity, then you cannot understand and fairly tell his story. I have a problem with that."
Like Wyche, Trotter shares his concern with the disparity in coverage. "When you look around in the press room and post-game conference, you still see too few Blacks. I will admit that there has been some improvement but it's still a ways to go."
Incidentally, Trotter was recently rewarded for his courage and respected work as he was awarded the prestigious award, given by the Football Writers of America to a journalist for their contributions to the profession.
Reaching Back
Despite what he's experienced in his career so far, Trotter tries to help lift other Black professionals up when he can, often speaking up when he spots lack of diversity and provides suggestions for improvement. "At this point, I try to be a sounding board and support system for young Blacks entering the profession," he says, noting that remaining quiet with his head down does not make change.  "I would like to think that some of my efforts will someday make a difference."
That's what makes Howard so amazing is that it has people who are willing to help pull up others as they try to navigate their way through a challenging profession as young African Americans."
To bridge the gap and expose HU students, Wyche helped start the Black Business Symposium two years ago, which provides mentorships to HBCU students to introduce them to various opportunities in sports. He has also helped coordinate the Legacy Bowl football game, showcasing the talents of HBCU players to professional scouts. Around the event, Wyche has helped start a job fair to employment opportunities in the profession.
"The talent is rich at Howard. We are well represented. Jim Trotter, Gus Johnson, Stan Verrett, D. Orlando Ledbetter and I form a cluster. Howard is a name brand and if there is one HBCU that America is familiar with, it is Howard," says Wyche. "Gus is following me and others are following him. That is what makes this so rewarding when we see the legacy in sports and athletics."
NFL media director Bruce Speight, who helped many up-and-coming Howard alums in the sports business, also counseled Michael Lindo (BS '13), director of player and family engagement for the Detroit Pistons.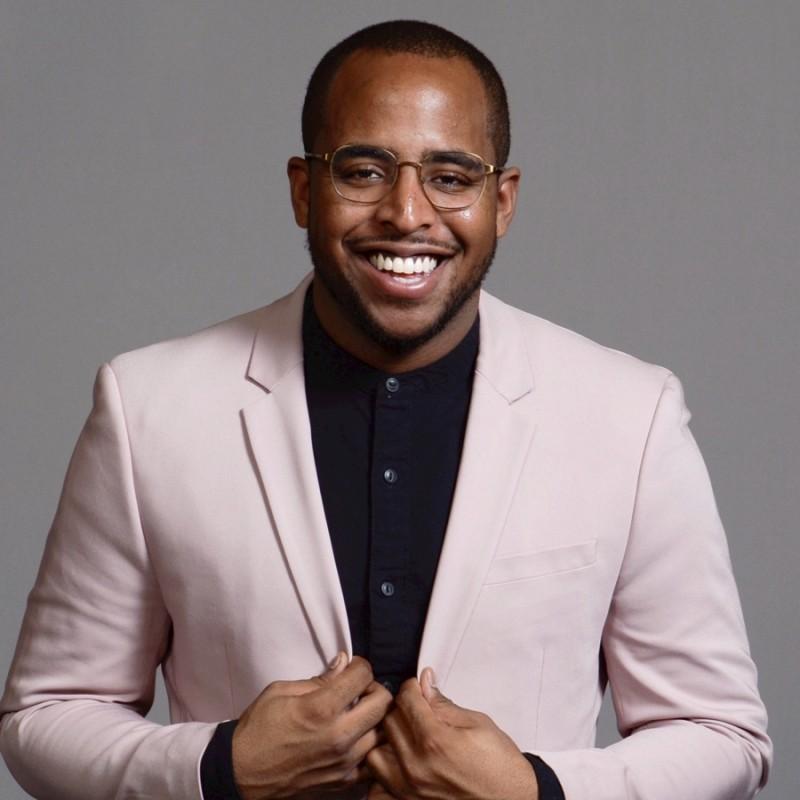 Lindo sharpened his teeth at HU, serving as manager for the men's basketball team, a reporter for the Hilltop, color commentator for the broadcast of the HU football games, and an intern with the Washington Post before landing a position with Under Armour. With the Pistons, Lindo is responsible for all aspects of the players and families off the court. His duties will include assisting the rookies in their transition emotionally, mentally, physically and financially as they adjust to their lives as professional athletes.
"I was fortunate to have HU alums like Jim Trotter, Bruce Speight, and Lamont Fain as advisers," says Lindo. "They took the time out of their busy schedules to provide me with direction, even though I may not have been looking to pursue something in that space. They helped me navigate my way. That's what makes Howard so amazing is that it has people who are willing to help pull up others as they try to navigate their way through a challenging profession as young African Americans."
While there is still ways to go for African American representation, Speight feels that improvement is on the horizon.
"Things are slowly changing," says Speight. "There are more opportunities like scouting, personnel, general counsel, ticketing, digital media, and PR department. I think you will see more Howard grads and HBCU alums getting these positions in the future."
Winning Back Their Credit
Sports journalist, filmmaker, and content creator Mark Wright (BA '95) spent the lion's share of his career (15 years) at ESPN, starting at ESPN The Magazine, moving on to ESPN Events and rounding out at The Undefeated (now Andscape), where he wrote about soccer, culture, race, and HBCUs. He and his journalist wife (Heather Keets Wright) established Wright Creative, bringing award-winning creativity and sensibilities to marketing, content strategy, and platform-building.
One way he gave back to Howard was by writing and producing his most meaningful project, "Redemption Song," a 30 for 30 film — executive produced by Spike Lee — about his beloved Howard winning a national soccer championship. It was the first HBCU to win a NCAA Division 1 national championship – of any kind. In this case, it was against St. Louis University.
But the game didn't end there. Three weeks after the victory, the NCAA began investigating the Howard team, alleging several violations by Howard players – that they hadn't taken proper entrance exams, that they weren't eligible to play for Howard, and so forth – issues other universities also had, but were not being questioned over. The team felt it was an overtly racist approach to stifle their victory. The NCAA continued to investigate the team throughout the next year and the year after as it qualified for semifinals, forcing Howard to suspend players and play short-handed. The team members felt lost, purposeless. In 1974, the team banded together and finally won the championship with four overtimes.
Nearly 40 years later, in 2016, Wright screened his film at Howard, and players from the teams of 1970-1974 all attended.
"For 40-some years, these players have been walking around with a chip on their shoulder knowing that they went through hell to do something that had never been done," Wright said in an interview with Boston Public Radio WBUR. "And their story had never been told. Their grandkids don't know. Their kids don't know. They had no link to share. And so this story was redemption. It still means everything to me."
 
Resources for Black professionals in sports
National Society of Black Sports Professionals
https://blacksportsprofessionals.com/
Black Sports Business Symposium
Minorities in Sports Biz